Summer location
Caribbean Virgin Islands (US)
Winter location
Caribbean Virgin Islands (US)
Light, spacious, with high-level performance, Source of Wander offers you all the pleasures of the sea, both under sail and at anchor where relaxation goes hand in hand with comfort and pleasure

Source of Wander is a spacious Fountaine Pajot Saba 50 crewed catamaran equipped with accommodation for up to 6 guests in 3 cabins.


The crew cabin is on the starboard side forward. The other three cabins; one on the starboard side aft and two on the port side, including the owners suite are all available for guests use. All cabins have private heads and showers.
Price Details
● ***SOURCE OF WANDER is fully permitted to sail BVI waters***

● BVI CRUISING PERMITS, CUSTOMS FEES AND TAXES:
For 7-night charters, additional costs of $250 per person, for 6-night charters or less, divide weekly rate by 7 nights x by number of nights.

● SAINT MARTIN / SAINT BARTHS RELOCATION FEE:
Relocation fee of $2,000, minimum 72 hour turn required on either side of charter dates for boat transit. Please inquire for availability.

● ADDITIONAL FEES: Cruising Permits, customs fees, and Taxes to be paid by the Charterer upon entry to Cruising Grounds or Ports for all charter locations.

● MINIMUM NIGHTS: 5

● LESS THAN 7 NIGHT CHARTER RATES: For 6 night charters, divide weekly rate by 7 nights X 6 nights. For 5 nights or less, divide weekly rate by 6 nights X number of nights.

● SLEEP ABOARD:1/2 the daily rate. Dinner ashore at client's expense. Includes; boarding after 4pm, welcome cocktail and breakfast the next morning and early start.

● HALF-BOARD OPTION: $100 discount per person
Includes; 7 breakfasts, 4 lunches & 3 dinners, all other meals to be eaten ashore at client's expense.

● LOCAL FARE OPTION: $75 discount per person
Includes; 7 breakfasts, 5 lunches & 6 dinners, all other meals to be eaten ashore at client's expense.

● TURN AROUNDS: 24-hour turn arounds available for $250 per charter, otherwise 48-hour turns are standard

● HOLIDAY RATES:
CHRISTMAS: 10% surcharge to be applied to standard charter rates. Must end no later than Dec 26th.
NEW YEARS: Flat Rate $24,000 Must begin no sooner than Dec 27th

● EMBARKATION: 12PM
DISEMBARKATION: 12PM

● TURN AROUNDS:
48-hour turn arounds required - inquire for 24-hour turns

●ALL-INCLUSIVE RATE INCLUDES:
Meals & Beverages onboard
Fuel
Mooring fees
Private Yacht & Service of the crew (captain, chef/mate)
Insurance for the yacht and the passengers (civil liability)
Accommodation in private air-conditioned cabins each with an ensuite bathroom and
bedding, towels, and beach towels.
TOYS ONBOARD:
Stand Up Paddle Boards
Snorkel gear
Swim platform

● ALL-INCLUSIVE RATE DOES NOT INCLUDE:
BVI cruising permits, customs fees, and taxes - to be paid by the Charterer at prior to
embarking on vessel.
Special provisioning requests (inquire for further details)
Cancellation insurance and private insurance
Airport transfers to/from yacht base
Personal Expenses

● TIP:
It is customary to tip your crew at the end of your charter. The amount you leave is totally at your discretion and should be based on the level of service provided. The suggested gratuity is 15%-25% of the total charter fee.

● CONTRACT SPECIAL CONDITIONS:
The Charter Fee does not include the British Virgin Islands (BVI) cruising taxes and permit, BVI National Park permits and BVI customs fees (collectively the "BVI Fees").

● If the CHARTERER requests to include the BVI in the Charter itinerary, and the Yacht is legally allowed to cruise in the BVI, the BVI Fees shall be paid by the CHARTERER prior to embarkation on Yacht.

● If the Yacht is NOT allowed entry into the BVI, FOR ANY REASON, during the time of charter, the charter will take place in the USVI waters.

● Payment of BVI Fees amount to $250 per person (total $****). Payment is due at final payment stage as listed in payment schedule.
Inclusive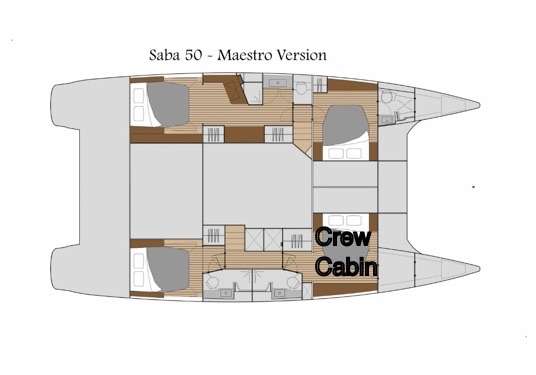 Toys:
Water toys include:

x3 Paddle boards
Snorkel gear
floating dock that seats at least 4 guests

Forepeak trampoline has a cover with four headrests for comfort
Meet the crew!

Captain Jean Paul (JP): Your Captain aboard Source of Wander was raised in a Sea-faring Family. Having grown up in and around the Sea, JP's affinity for sailing is in his blood. His first voyage with his father at age 6 cemented his love for all things Sea, Sailing and Ships. Decades later, Paul, was also so very fortunate be able to complete his father's last voyage on the Sea, together, as father and son, a memory of a lifetime.

Rest assured you are in the best of care with Captain Paul. As his USCG License reads, Master of Sail, Steam & Motor Upon Oceans and Unlimited Pilots from Galveston Sea Buoy to the Houston Ship Channel Turning Basin, Capt. Paul is always willing and ready to share his knowledge with guests on board.

After 27 years as a State commissioned Houston Ship Pilot moving over 12,000 ships, he retired to his 46' catamaran with his wife, Donna. Retirement did not last long as his friends and cohorts continued to want to sail with them. Paul hauled himself out of retirement in order to share his love of the water. He enjoys turning people on to the beauty, the jewels of the Virgin Islands, and some his favorite secret hideaways!. As Capt Ron famously iterated, "If its gonna happen…its gonna happen out there! Now let's get out there!" Can't wait to see you "out there" aboard Source of Wander.


Chef Ashley: Ashley was born in Pennsylvania. Here she attended school, where she cultivated her passion for music and played classical violin in the local chamber orchestra. During her sophomore year she moved to Virginia, finishing out her scholastic career and working several different jobs including but not limited to LifeGuarding, as well as various food service jobs. Loving nature, the Appalachian trail is where she went and hiked after graduation. It was on the trail that Ashley found her beloved four legged friend, Majik, whom she still loves to this day.

Ashley soon became the parent of a wonderful daughter and in her new parenthood moves into a home in Virginia to raise her daughter and continue her work pursuing greatness in the restaurant industry. After raising her daughter and being ready for a change, Ashley sought a move that would give her the opportunity to use her honed skills in a meaningful way, and thus in the fabulous Florida keys she landed. After working in the restaurant industry the last fifteen years, becoming an Eco marine kayak and paddleboard tour guide was the perfect way to kick back and give back to those who also enjoy nature conservatorship. While providing fun, informative and
interactive Eco marine tours through the FL keys mangroves, Ashley found her way to the charter boat industry. Indeed you can rest
assured that your meals will be nothing shy of consistent elegance, no less than the atmosphere and the service she provides on your next trip on board Source of Wander.

Stew/first mate Mischa: Mischa is a born and raised South African city boy that fled to the ocean as soon as he had the chance. Since then he has conquered oceans and learnt to enjoy country music. He still claims that South Africans are better at barbecuing and doesn't plan to change his mind anytime soon. He pours a mean drink and overall knows how to have some fun.

Start date: Jun 03, 2023, End date: Jun 10, 2023 - Booked: Crown Bay, St Thomas* to Crown Bay, St Thomas*
Start date: Jul 01, 2023, End date: Oct 31, 2023 - Unavailable: Crown Bay, St Thomas* to Crown Bay, St Thomas*
Start date: Dec 28, 2023, End date: Jan 04, 2024 - Booked: Crown Bay, St Thomas* to Crown Bay, St Thomas*
Start date: Jan 05, 2024, End date: Jan 05, 2027 - Unavailable: Crown Bay, St Thomas* to Crown Bay, St Thomas*