Summer location
Croatia
Winter location

A 2020 launch, the brand new luxury sailing catamaran Sunreef 50 SOLITAIRE will join the Croatia charter fleet. This stunning yacht not only features a smart and charter-friendly layout but boasts some impressive social areas at the bow, stern cockpit and flybridge. Whether you are vacationing with your family or want to reunite with your friends this spacious and powerful catamaran is hard to beat.

Sunreef 50 SOLITAIRE comfortably accommodates 8 in 4 spacious elegant guest cabins all ensuite, with separate cabins for crew. In each cabin, there is A/C unit with individual controls, plugs, adaptors, 4 pillows, quilt and complimentary bottled water. At every bathroom, guests will find bath towels, hand towels, cosmetic tissues, hair dryer, complimentary L'occitane toiletry. The cockpit is stocked with beach towels and complimentary sunscreen lotion. SOLITAIRE is available in Croatia from May 2020 from Split, and as the optional pick-up/pick off port Dubrovnik.

The crew of two (captain & stewardess/cook), all trained professional with experience in their fields, will make You feel like you are on your own yacht and make sure you have the privacy but still be catered to.
Charter Brand New Sunreef 50 in Croatia. The Sunreef 50 SOLITAIRE luxury catamaran has superyacht quality in a compact package. She is an all-around sailing leisure yacht ideal for exclusive getaways, accommodating up to 8 clients in 1 owner & 3 double luxurious, all ensuite cabins. Solitaire is a modern catamaran with outstanding deck space, where guest can relax in the foredeck, dine in the cockpit or take in sailing acting from the flybridge. Be it a couples expedition or a family vacation, exploring Adriatic Sea on Sunreef 50 Solitaire is the premier sailing experience
Price Details
PRICE LIST 2023 CROATIA ( 13% VAT is included in the price)

UNTIL MAY 13, 2023 Price per week: 16500 EUR + APA
MAY 13 - MAY 27, 2023 Price per week: 21000 EUR + APA
MAY 27 - JUNE 10, 2023 Price per week: 25500 EUR + APA ;
*week 27 May - 3 June is under 15% SPECIAL DISCOUNT, new price is 21,675.00€
JUNE 10 - JULY 1, 2023 Price per week: 26000 EUR + APA
JULY 1 - SEPTEMBER 2, 2023 Price per week: 30500 EUR + APA
SEPTEMBER 2 - SEPTEMBER 30, 2023 Price per week: 25500 EUR + APA

7000 EUR APA Advance Provisioning Allowance: on board found serving to cover the costs of Croatian Tourist Tax (10 HRK per person/per day- approx.: 1.40 € or 1.50 USD per person/day), requested supplies, port, mooring, other legal charges and fees, diesel, fuel, communications and other extras depending on guest particular request for services, itinerary, food, beverages etc. The Captain will keep an accurate record of spending and at the end of the charter guest will be refunded or asked to pay the difference if additional operating costs are incurred

The prices include:

• Yacht and the service of the crew (skipper & hostess/cook/deckhand)
• Insurance for the yacht and the passengers (civil liability)
• use of onboard water sports equipment:
Black Pischel ALU HD 4,2m Rib with Yamaha 60 hp outboard, snorkeling gear, water-skis,water tube, towing ring,2 x paddle board (SUP) fishing gear, Floating mats
***eFoil 5'0" Sport - Brushed White: 2,500.00 € per week
• Bedding, towels, beach towels & toiletry
• WI-FI 75 GB/WEEK
• Preparation of breakfast and lunch are included in the price


Plus Expenses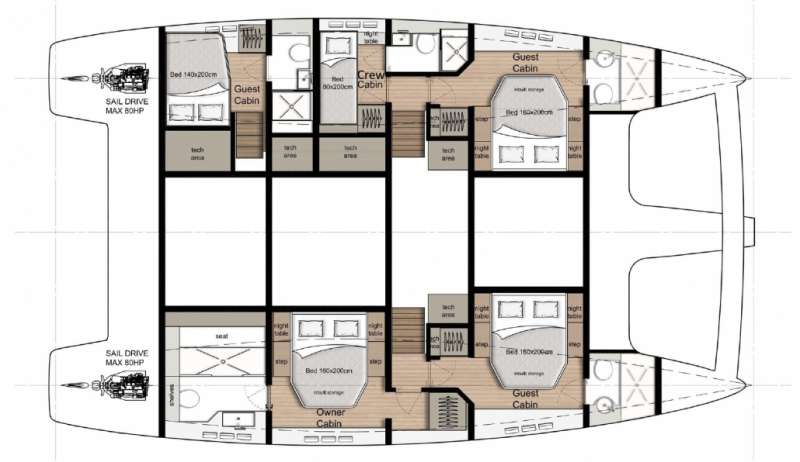 Toys:
RENT OF THE SEABOB is posible with surcharge!
CAPTAIN BOŽO PAVLOVIĆ (Born 1982)
With the degree from the University of Physical education and sport, majoring in SAILING, Bozo can teach You everything about the skill and art of sailing. During his student time, Bozo supported himself working as a skipper on different yachts up to 50bt, gaining experience that will lead him to a permanent captain position on the new SUNREEF YACHT MODEL SUREEF 50 SOLITAIRE. Last few winters Bozo spent employed as the Physical Education teacher in elementary school in his hometown of Ploce, Croatia.
Captain Bozo absolutely loves his job and takes pride in his work, He is extremely hard-working, displaying both a committed and flexible approach with strong people skills. He has an outgoing personality, is good with children, and always a great disposition. His interests include sport, traveling, and underwater photography.

Languages: English, Croatian
Previous Yachts: S/Y Arctic Prince
Favorite place on the Adriatic Coast: Vis & Mljet.


STEWARDESS/COOK MARINA ANDRIJAŠEVIĆ (Born 1982)

Marina Andrijasevic was born in1982 in Zagreb, Croatia. From her early age, she was drawn to the art of food preparation and didn't take long before she was pulled in and is still mesmerized by it. Being a visual person, Marina makes everything prettier, whether it is the meals she prepares, drinks she serves, or making the yacht clean and tidy. Fluent in English Marina is
happy to share with our guests her knowledge about Croatian history, art & design, whether traditional or contemporary. Her interests include product design, gardening, photography and most of all - cooking and exploring local cuisines. Marina joined our team in 2016 as the stewardess/chef aboard s/y Lagoon 560 Arctic Queen, and quickly adjusted to the strict regime of living and working on the sea. She is hardworking and has eye for details. Later she joined the crew onboard S/Y Lagoon 620 Opal, where she worked for two summer seasons. Marina is fluent in English & Italian. She is a bachelor of visual communication & graphic design, graduated from Academia Italiana/Firenze

Languages: English, Italian, Croatian
Favorite place on the Adriatic Coast: Her favorite spot in the Adriatic is the island of Vis where someday, she hopes to grow old. :)


Start date: Jun 10, 2023, End date: Jun 17, 2023 - Booked: Split / TBC to Split / TBC
Start date: Jun 18, 2023, End date: Jun 24, 2023 - Booked: Split, Croatia to Dubrovnik, Croatia
Start date: Jun 25, 2023, End date: Jul 01, 2023 - Booked: Dubrovnik, Croatia to Split / TBC
Start date: Jul 02, 2023, End date: Jul 08, 2023 - Booked: Split / TBC to Split / TBC
Start date: Jul 09, 2023, End date: Jul 15, 2023 - Booked: Split / TBC to Dubrovnik, Croatia
Start date: Jul 16, 2023, End date: Jul 21, 2023 - Booked: Dubrovnik, Croatia to Split / TBC
Start date: Jul 22, 2023, End date: Jul 29, 2023 - Booked: Split, Croatia to Split, Croatia
Start date: Jul 30, 2023, End date: Aug 04, 2023 - Booked: Split, Croatia to Split, Croatia
Start date: Aug 05, 2023, End date: Aug 11, 2023 - Booked: Split / TBC to Split / TBC
Start date: Aug 12, 2023, End date: Aug 19, 2023 - Booked: Split / TBC to Dubrovnik, Croatia
Start date: Sep 02, 2023, End date: Sep 09, 2023 - Booked: Split / TBC to Split / TBC
Start date: Sep 10, 2023, End date: Sep 16, 2023 - Booked: Split, Croatia to Split, Croatia
Start date: Sep 23, 2023, End date: Oct 07, 2023 - Booked: Split / TBC to Split / TBC