Summer location
W. Med -Naples/Sicily, W. Med -Riviera/Cors/Sard., W. Med - Spain/Balearics
Winter location
W. Med -Naples/Sicily, W. Med -Riviera/Cors/Sard., W. Med - Spain/Balearics
Atumavu has the ideal layout for anyone looking for more outdoor living space as she comes equipped with a flybridge that includes a lounge area, table, sunbed and optional exterior speakers and shade awning. Access is provided by floating stairs leading up from the aft cockpit. An important distinction compared to similar sailboat flybridge configurations is that while under sail, guests can move about the flybridge with ample headroom and never worry about interference from the boom. The entire styling of Atumavu will provide you with a stylish, spacious and luxury charter experience.


1 master cabin with queen berth, lounge area and en-suite bath, electric toilet and a shower.

2 x queen cabins each with en-suite bath with electric toilet and showers.

Salon has lounge area, galley, nav station, formal dining area and door opening to front cockpit as well as aft deck. Salon can be opened with beautiful natural breeze and is also fully air conditioned for guests comfort.

Top fly-bridge lounge area with 360 degree view, table, sunbed and lounge area with table.
Price Details
● Availability dates and locations:

- Period 1: 12/10/22 to 12/25/22 - Windward Islands
- Period 2: 02/27/23 to 04/02/23 - BVI
- Period 3: 04/23/23 to 05/13/23 - BVI

● BVI CRUISING PERMITS, CUSTOMS FEES AND TAXES:
For 7-night charters, additional costs of $250 per person, for 6-night charters or less,
divide weekly rate by 7 nights x by number of nights.

● SAINT MARTIN / SAINT BARTHS RELOCATION FEE:
Relocation fee of $2,000, minimum 72 hour turn required on either side of charter dates
for boat transit. Please inquire for availability.

● MINIMUM NIGHTS: 5

● LESS THAN 7 NIGHT CHARTER RATES: For 6-night charters, divide the weekly rate by 7 nights X 6 nights. For 5 nights or less, divide the weekly rate by 6 nights X number of nights.

● HALF-BOARD OPTION: $100 discount per person
Includes 7 breakfasts, 4 lunches, & 3 dinners, all other meals to be eaten ashore at the client's expense.

● LOCAL FARE OPTION: $75 discount per person
Includes 7 breakfasts, 5 lunches & 6 dinners, all other meals to be eaten ashore at client's expense.

● CHILDREN DISCOUNT:
$100 discount per child

● CABIN CONFIGURATION:
Inquire for change of cabin configuration. Relocation of crew to alternative cabin will incur additional charge of $250 per night, to be paid prior to embarking on yacht. Please inquire for availability.

● SLEEP ABOARD:1/2 the daily rate. Dinner ashore at the client's expense. Includes boarding after 4 pm, welcome cocktail, breakfast the next morning, and early start.

● GUEST PAX: 6

● 2021/2022 HOLIDAY RATES:
XMAS: 10% surcharge to be applied to standard charter rates. Must end no later than Dec 26th.
NEW YEARS: Flat rate of $29,500 for 2-6 guests and a 7-night minimum. Must begin no sooner than Dec 27th.

● EMBARKATION: 12PM
DISEMBARKATION: 12PM

● TURN AROUNDS:
48-hour turn arounds required - inquire for 24-hour turns

● ALL-INCLUSIVE RATE INCLUDES:
Meals & Beverages onboard
Fuel
Mooring fees
Private Yacht & Service of the crew (captain, chef/mate)
Insurance for the yacht and the passengers (civil liability)
Accommodation in private air-conditioned cabins each with an ensuite bathroom and
bedding, towels, and beach towels.
Snorkel gear

● ALL-INCLUSIVE RATE DOES NOT INCLUDE:
BVI cruising permits, customs fees, and taxes - to be paid by the Charterer at prior to
embarking on vessel.
Special provisioning requests (inquire for further details)
Cancellation insurance and private insurance
Airport transfers to/from yacht base
Personal Expenses

●TIP:
It is customary to tip your crew at the end of your charter. The amount you leave is totally at your discretion and should be based on the level of service provided. The suggested gratuity is 15%-25% of the total charter fee.

● CONTRACT SPECIAL CONDITIONS:
The Charter Fee does not include the British Virgin Islands (BVI) cruising taxes and permit, BVI National Park permits and BVI customs fees (collectively the "BVI Fees").

● If the CHARTERER requests to include the BVI in the Charter itinerary, and the Yacht is legally allowed to cruise in the BVI, the BVI Fees shall be paid by the CHARTERER prior to embarkation on Yacht.

● If the Yacht is NOT allowed entry into the BVI, FOR ANY REASON, during the time of charter, the charter will take place in the USVI waters.

● Payment of BVI Fees amount to $250 per person (total $****). Payment is due at final payment stage as listed in payment schedule.

Inclusive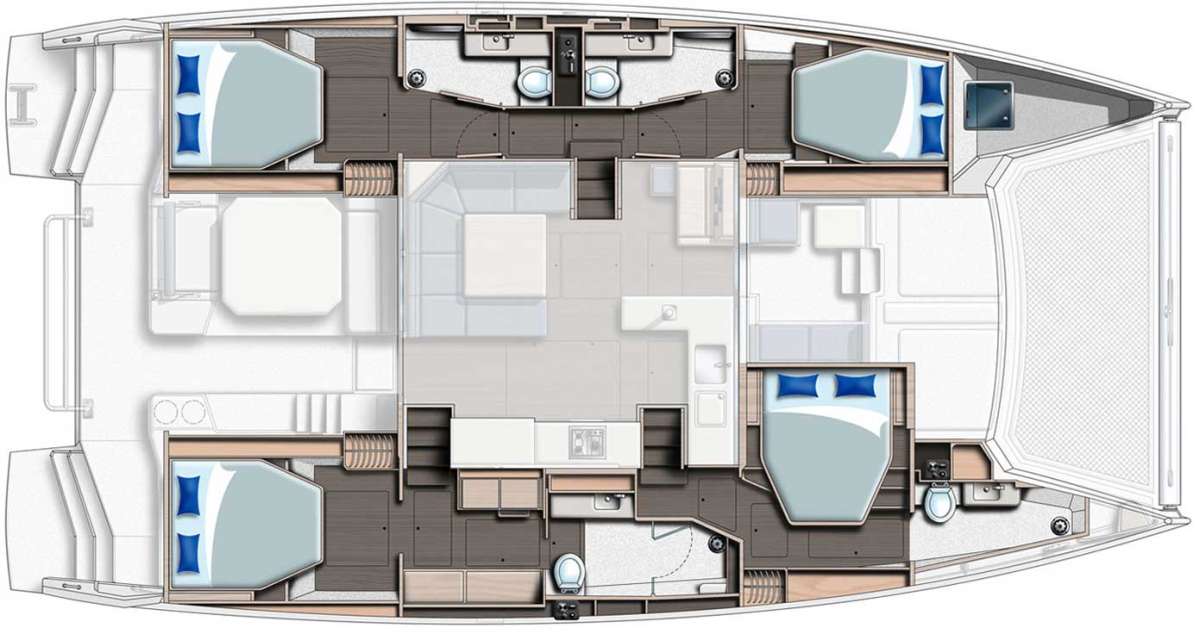 Entertainment:
- Electrical power: 1000AH lithium batteries, 1750W solar panels, 8KW generator and sterling power with 120A alternators on each engine. Additional plugs throughout the vessel and outside for 220V and 12V.
- Split air conditioning controlled within each cabin.
- Forward sun deck is cushioned with sun cushions loungers with additional sun loungers on the top sun deck
- Fully equipped galley with dish washer, ice maker and Delonghi coffee machine, gas oven and additional microwave/oven, 5 fridges (The standard Fridge and freezer Vitifrigo in the galley plus the aft cockpit fridge plus two further Domestic fridge/freezers.
- Washer/Dryer
- Full sound system with separate zones, galley, rear cockpit, front cockpit and upper sundeck with controls in each area.
- Highfield 3.8M dinghy with 25HP Yamaha with consul steering
- Aft dingy/swimming platform
- Underwater lighting
- Remote control lighting to enable the aft lights to be turned on and off when leaving the boat
- Modified hand rails down to the sugar scoops to allow people to stand when boarding from/to the dinghy. Additional grab rails around the exterior for guests to hold
Start date: May 16, 2023, End date: Jun 30, 2023 - Unavailable: Corsica, France to Corsica, France
Start date: Sep 03, 2023, End date: Nov 03, 2023 - Transit: Corsica, France to St Martin