Summer location
Caribbean Virgin Islands (US/BVI), Caribbean Virgin Islands (US), Caribbean Virgin Islands (BVI)
Winter location
Caribbean Virgin Islands (US/BVI), Caribbean Virgin Islands (US), Caribbean Virgin Islands (BVI)
This beautiful 2018 Fountaine Pajot, S/V Katrina, features an upper deck lounge that has sectional couch and sunbed area with 360 degree view. The forward deck has spacious lounge area with adjustable reclining seating, trampolines and sunning areas with an aft deck that offers lounge area plus alfresco dining area. The salon offers lounge area with coffee table plus flat screen TV with many movies and USB capabilities. For guest comfort, she has three spacious queen cabins, each with private ensuite bath with electric toilet, wash basin and separate shower stall and one double cabin. The master stateroom has desk space, separate toilet room, and a walk-in shower. All cabins have air conditioning, two fans, 110v outlets and dimmable recessed lighting. Paired with the all-star crew duo Ed and Erin, guests are sure to have the time of their lives!

TOYS: 2 Stand Up Paddle Boards, Snorkeling Gear, 1 Large Floating Mat, Tubes, 1 Knee Board, 1 Scurf Board, 2 Fishing Rods & Onshore Games.

DIVING: Offered via rendezvous only
(3) queen cabins, each with private ensuite bath with electric toilet, wash basin and separate shower stall. Spacious master stateroom has desk space, separate toilet room, and walk-in shower. 1 Double cabin. All cabins have air conditioning, a fan, 110v outlets and dimmable recessed lighting.



STANDARD CABIN CONFIGURATION: 3 QUEENS & 1 DOUBLE



Crew occupy aft starboard cabin or will move to double mid-ship cabin for additional fee ($1,500) Please inquire first.



Upper deck lounge has sectional couch and sunbed area with 360 degree view.



Forward deck has spacious lounge area with adjustable reclining seating, trampolines and sunning areas.



Aft deck offers lounge area plus alfresco dining area.



Salon offers lounge area with coffee table plus flat screen TV with many movies and USB capabilities.



Upgraded 4 zone sound system provides music throughout all indoor and outdoor areas.



Berth measurements:

Forward staterooms

Length 76"

Width 62 1/2"



Aft staterooms

Length 79"

Width 62 1/2"
Price Details
<font color="#e36532">This vessel is legal to conduct charters in the BVI</font>

Preferred pick up is St. Thomas. BVI pick ups are possible but limited to 7 per season.

GENERAL NOTES:
MINIMUM NIGHTS: 5, Inquire for less
For 6 night charters, divide weekly rate by 7 nights X 6 nights. For 5 nights or less, divide weekly rate by 6 nights X number of nights.

BVI PORT FEE: B.V.I. customs and cruising permit fees are included in the rate.

HALF-BOARD:
SUBTRACT $150 per person from weekly rate: Includes 7 breakfasts, 4 lunches and 3 dinners. Other meals ashore at client expense.
2@$18,700 3@$19,550 4@$20,400 5@$21,250 6@$22,100 7@$22,950 8@$23,800

LOCAL FARE:
SUBTRACT $75 per person from weekly rate: Includes 7 breakfasts, 5 lunches and 6 dinners. Requires 2 lunches and 1 dinner ashore at client expense.
2@$18,850 3@$19,775 4@$20,700 5@$21,625 6@$22,550 7@$23,475 8@$24,400

SLEEP ABOARD: Available for half of the daily rate. Includes boarding after 4pm, snacks, welcome cocktails & continental breakfast. Dinner ashore is additional. Select option upon booking. EXCLUDES: Christmas and New Year's weeks.

CHRISTMAS 2023: 8 night minimum, 2-8 guests $30,500 - full-board only. Must end by 12/26
NEW YEARS 2023: 8 night minimum, 2-8 guests, $32,500 - full-board only. Must begin 12/27 or later.

**SEE BROKER NOTES FOR MORE INFORMATION - WAIVER REQUIRED IN ADDITION TO CONTRACT**

Copy link below & paste into browser to submit waiver:
https://bit.ly/cyawaiver




Inclusive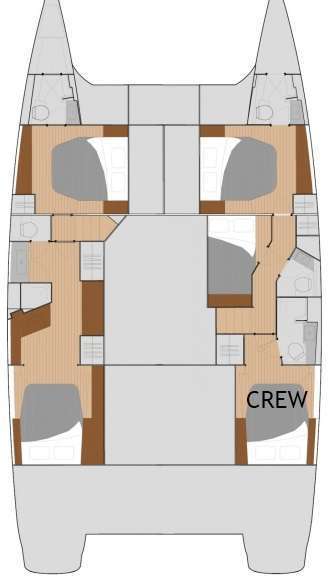 Toys:
Big splash pad
8 saddle seats
Capt. Ed Irwin
I guess you can say I have spent most of my life trying to get lost in the outdoors. Born in Newfoundland, Canada I spent as much time as I could outside, fishing the streams for trout and getting lost in woods. As a small boy I would drive my mother crazy by wandering off only to come home with pockets full of the fish I caught, or birds and small animals I captured that I wanted to keep as pets.

I have enjoyed back country camping, hiking, canoeing my entire life. The Boundary Waters lakes and portages one of are my favorite places to get lost in. To ride my motorcycle, lightly packed for finding remote fly-fishing streams, not really having a destination in mind, is my perfect get away.

I grew up on the small lakes of Northern Illinois, driving to school in my small motorboat. The first time I was on a sailboat I instantly fell in love with the simple act of the wind taking my boat anywhere.

After sailing Lake Michigan for many years, Erin and I created a plan to take off on our own boat and sail to as many places of the world that we could. We found an abandoned Cape Dory 36 and rebuilt it and outfitted it for long distance travel. Years of hard work paid off in a beautifully restored and perfectly outfitted classic sailboat that allowed us to live our sailing dreams.

We have sailed and lived aboard our boat for the past 4 years. We have sailed the Great Lakes, the Chesapeake, off shore from Norfolk around Bermuda to the Caribbean. We then sailed back north to Maine, sailing "down east" for the summer and headed back down the eastern seaboard to head off shore again to the Caribbean.

We have spent the past 2 seasons in the Virgin Islands, US and BVI exploring and finding amazing coves, anchorages, becoming PADI scuba certified, and learning why everyone says that once you make it to the Caribbean- you don't want to leave. I am looking forward to showing guests why the Caribbean is a sailing paradise.


Chef Erin Irwin
My childhood playground was Tower Marina in Saugatuck, MI. My family bought a River Queen houseboat when I was 10 and we spend every weekend and all of the summers until I was 18 playing on Lake Michigan's waters. I loved everything about being on the water and was always the first and last one to jump into the water, no matter what temperature!

I am always up for an adventure and tend to do life in a bigger than life way. I am nearly 100% Irish and definitely have the gift of gab and will tell stories all day. I am a care taker, the oldest daughter of a big family, mother of 5 kids, a nurse/midwife for 25 years, and as professor for a good part of my life I am a natural teacher.

When cooking for my family I wanted them to have a healthy diet. Most of our meals were whole foods from our garden, cooked from scratch. My cooking style has an emphasis on a healthy balance of the Mediterranean foods, Asian cuisines, and comfort foods that are adapted to healthy, but rich versions. I have spent a good portion of my life in Chicago, and have become an obsessive foodie, constantly searching for the perfect meal at the perfect restaurant which is an endless quest that has taught me so much about the experience of eating well.

As the oldest daughter of a big family , and the mother of a large family, I was always the center of planning family gatherings and parties. I love finding unique themes and creating relaxed, special-moments and memories together. Ed and I have found the outdoors, especially sailing, to always be the perfect setting for finding that moment to connect to each other, but to something bigger. It has always been the best stage for us to find joy, peace, adventure and excitement and we want to share that.

We especially look forward to having families find that elusive real time together. There just isn't anything like being on a sailboat to allow for everything else to fade away and be connected to the people you love. We can't wait to help others find that perfect spot- that perfect moment that will be a memory that holds forever.
Start date: May 25, 2023, End date: May 31, 2023 - Booked: Yacht Haven Grand to Yacht Haven Grand
Start date: Jun 18, 2023, End date: Jun 26, 2023 - Booked: Red Hook, St. Thomas, USVI* to Red Hook, St. Thomas, USVI*
Start date: Aug 01, 2023, End date: Oct 31, 2023 - Unavailable: Puerto Rico* to Puerto Rico*
Start date: Mar 09, 2024, End date: Mar 16, 2024 - Booked: Yacht Haven Grand to Yacht Haven Grand
Start date: Apr 08, 2024, End date: Apr 17, 2024 - Booked: Owner Use - BVI, USVI, SXM to Owner Use - BVI, USVI, SXM
Start date: Apr 18, 2024, End date: Apr 23, 2024 - Booked: Red Hook, St. Thomas, USVI* to Red Hook, St. Thomas, USVI*