Summer location
Belize
Winter location
Belize
Interior

3 Double Cabins

3 Private in suite heads with showers

Air Conditioning & Cabin fans

Large sitting/dining area

(integrated cockpit/salon)

Light oak alpi and non skid laminated wenge for the wood floor


Price Details
Rate includes all meals, standard bar with local rum, beer, House wines (Chilean/Argentinian wines - 1 bottle per couple per day), juices and soft drinks, fuel, and roundtrip airport transfers. Check-in at the marina is between noon and 3 pm.

Rates exclude 10% tax, pick up or drop off in other locations, Guatemala entry/exit fees, rendezvous diving, ASA courses, gratuity, meals, or purchases onshore.

One Way Pickup or Drop Off in San Pedro/Caye Caulker $500 each way; Placencia $700 each way.

4-night minimum year-round, except Christmas/New Year, which is a 7-night minimum. Holiday rates are based on the 6 pax rate and incur a 10% holiday premium.
Inclusive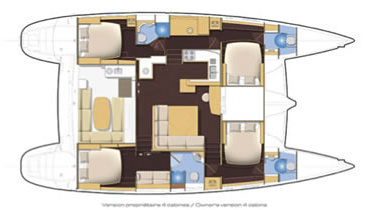 Toys:
Standup Paddleboard
ASA Sailing & Navigation Instruction Courses Available
Shaded Flybridge
Forward Cockpit seating just aft of the Trampolines
Aft Cockpit with Wet bar & Drink Fridge
Entertainment:
We offer rendezvous scuba diving in various Belize Dive Sites throughout the country. Spectacular Belize diving locations include the Blue Hole, Hol Chan Marine Park (Shark-Ray Alley), Turneffe Atoll, Lighthouse Reef, Ambergris Caye, and various locations throughout the world's second largest barrier reef. Scuba Diving in Belize is made easy allowing you to travel in style and luxury and meet up with the top Belize Dive operators who provide ith knowledge of the best sites, with local dive masters & instructors to create the ultimate Belize diving experience. We provide flexibility and diversity that will satisfy the most avid diver and appeal to non-diving companions, families and groups. PADI Certification, Belize Dive Packages, and Resort courses also available.

Communication:
Cellphone,
Laptop Computer,
VHF Radio and Portable VHF Radio

Crew schedules are subject to change. We will reconfirm your crew 30 days before arrival.

Dave Underill

The ocean is Captain Dave's playground and life, having been fortunate to begin sailing Hobie cats as a child and moving on to own monohull yachts and then Lagoon catamarans, which were his homes and livelihoods in the charter world. Dave is an outgoing people person, having worked in the very 'face to face' profession of Optometry before moving on to captaining charters in amazing destinations including the British Virgin Islands, Puerto Rico, the Turks and Caicos, Mexico, Guatemala and now Belize.

In addition to sailing the azul Belize waters, Dave has some interesting and fun accolades under his belt, including being the co-author of "The Captain's Guide to Hurricane Holes of the Caribbean and Bahamas", completing the Hawaiian Ironman and being named top beach guard lifeguard in Florida. With Captain Dave, you can always be assured of safety, experience, adventure and fun!

Brianna Samuels

Brianna has been part of Belize Sailing Vacation's family for many years, since her father Sherman has been our chief detailer and maintenance wizard for over 10 years! Brianna joined the team 3 years ago working in detailing, food and beverage management and charter preparation and is now in her second season working as Chef / 1st Mate, so knows how to run a tight ship.

Brianna grew up cooking with her mother, Patty, as soon as she could walk. Her mother owns a popular food establishment in Belize and is known to be the cook of legends. Brianna's loves to prepare delicious impromptu dishes with the day's catch and embellish her Belizean recipes with international twists. Watch out if you enjoy games night – rumour has it she's a handy poker player too!
Start date: Jun 01, 2023, End date: Jun 05, 2023 - Booked: Belize* to Belize*
Start date: Jun 17, 2023, End date: Jun 24, 2023 - Booked: Belize* to Belize*
Start date: Jul 01, 2023, End date: Jul 08, 2023 - Booked: Belize* to Belize*
Start date: Jul 11, 2023, End date: Jul 15, 2023 - Booked: Belize* to Belize*
Start date: Jul 31, 2023, End date: Aug 06, 2023 - Booked: Belize* to Belize*
Start date: Aug 12, 2023, End date: Aug 19, 2023 - Booked: Belize* to Belize*
Start date: Aug 24, 2023, End date: Oct 31, 2023 - Unavailable: Belize* to Belize*
Start date: Dec 28, 2023, End date: Jan 04, 2024 - Booked: Belize* to Belize*
Start date: Feb 11, 2024, End date: Feb 17, 2024 - Booked: Belize* to Belize*
Start date: Mar 10, 2024, End date: Mar 15, 2024 - Booked: Belize* to Belize*
Start date: Apr 03, 2024, End date: Apr 13, 2024 - Booked: Belize* to Belize*