Summer location
Croatia
Winter location
Croatia
4 double and 1 bunk bed cabins, all en-suite
Price Details
22 April - 13 May 2023: €15,020 + charter pack + APA
13 May - 27 May 2023: €18,020 + charter pack + APA
27 May - 3 June 2023: €21,290 + charter pack + APA
3 June - 17 June 2023: €21,840 + charter pack + APA
17 June - 1 July 2023: €22,600 + charter pack + APA
1 July - 15 July 2023: €23,920 + charter pack + APA
15 July - 29 July 2023: €25,940 + charter pack + APA
29 July - 19 August 2023: €27,300 + charter pack + APA
19 August - 26 August 2023: €25,120 + charter pack + APA
26 August - 2 September 2023: €22,660 + charter pack + APA
2 September - 9 September 2023: €21,840 + charter pack + APA
9 September - 23 September 2023: €21,290 + charter pack + APA
23 September - 30 September 2023: €18,020 + charter pack + APA
30 September - 14 October 2023: €15,020 + charter pack + APA
14 October - 21 October 2022: €13,100 + charter pack + APA

APA (Advance Provisioning Allowance) at €7,000 per week

Charter rate includes:
Accommodation on the yacht, Skipper and Hostess, Croatian 13% VAT, Wi-Fi 40GB, Stand up Paddle board, kayak, water tube, seas doo, snorkelling sets, all bathroom equipment, galley equipment with espresso coffee machine. Preparation of breakfast and lunch OR dinner. (Dinners are normally taken onshore. The crew can book the restaurants for the guests. If a dinner is prepared on board, there would be an extra charge of Euros 150 per dinner for the preparation. This rate will vary for less than 4 guests on board.)

Obligatory extra: Charter package - Euros 900 per week, includes: Final cleaning, cooking gas, full water tanks, Wi-Fi Internet on board, transfer from/to airport.

EAGLE OF NORWAY operates on Saturday to Saturday charter.
Embarkation at 5pm,
Disembarkation at 9am
Plus Expenses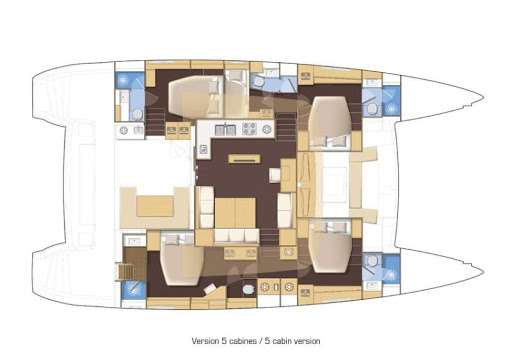 Entertainment:
Bose lifestyle V25 home cinema, Speakers in saloon, cockpit and flybridge
Marko Kasal
Captain

Born in Zagreb, Croatia, Marko grew up in Dugi Otok and has been inseparable with the sailing and sea ever since. This unique connection eventually brought him into the charter business where he has been working for the past fourteen years. He skippered both sport and luxury sailing yachts as well as motor yachts up to 70ft all around the Mediterranean and the Black Sea. He also sailed the North Atlantic making the crossing from Europe to the Caribbean.
From all the seas, he is especially keen on the precious hidden corners of the Adriatic that he knows as his back pocket. Friendly, communicative and efficient, he will make your holiday dreams come true. Tailored to fit your special needs and wishes, his services will make your discover the freedom only a boat can offer. Whether you are looking to enjoy a laid-back day on the beach, jump into an active holiday, indulge into the local fine wine and dining, discover the culture, appreciate the nature or just do nothing at all - he will help make it happen.

Nera Kraljevic
Hostess

Born and raised in Split, Croatia, NERA has been sailing ever since she was a little girl. The love for the sea grew as she got older and she ended up working in the charter business summer after summer. It has now been 10 years that she is working as a hostess on all types of sailing yachts up to 70 ft. The Adriatic is her "home sea". She has also sailed and worked in the Caribbean.
Fluent in 4 foreign languages, she makes sure nothing gets lost in translation. Her policy is to run the boat as a 5 star hotel, keeping high standards and meeting all demands possible. She is also Eagle's head and only chef. Her cuisine is where the traditional Mediterranean meets the world in a tasty blend, simple jet imaginative. She puts an emphasis on fresh and natural groceries selected and/or caught in the wild, that together with high quality wines, fresh herbs, locally produced honey, cheese and olive oil for delicious meals, will leave you craving for more.
Start date: May 27, 2023, End date: Jun 02, 2023 - Booked: Trogir, Croatia* to Trogir, Croatia*
Start date: Jun 10, 2023, End date: Jun 16, 2023 - Booked: Dubrovnik, Croatia to Trogir, Croatia*
Start date: Jun 17, 2023, End date: Jun 23, 2023 - Booked: Trogir, Croatia* to Trogir, Croatia*
Start date: Jun 24, 2023, End date: Jun 30, 2023 - Booked: Trogir, Croatia* to Trogir, Croatia*
Start date: Jul 01, 2023, End date: Jul 07, 2023 - Booked: Trogir, Croatia* to Dubrovnik, Croatia
Start date: Jul 08, 2023, End date: Jul 14, 2023 - Booked: Dubrovnik, Croatia to Trogir, Croatia*
Start date: Jul 15, 2023, End date: Jul 21, 2023 - Booked: Trogir, Croatia* to Trogir, Croatia*
Start date: Jul 22, 2023, End date: Jul 28, 2023 - Booked: Trogir, Croatia* to Dubrovnik, Croatia
Start date: Jul 29, 2023, End date: Aug 04, 2023 - Booked: Dubrovnik, Croatia to Trogir, Croatia*
Start date: Aug 05, 2023, End date: Aug 11, 2023 - Booked: Trogir, Croatia* to Trogir, Croatia*
Start date: Aug 12, 2023, End date: Aug 18, 2023 - Booked: Trogir, Croatia* to Trogir, Croatia*
Start date: Aug 19, 2023, End date: Aug 25, 2023 - Booked: Trogir, Croatia* to Trogir, Croatia*
Start date: Sep 02, 2023, End date: Sep 08, 2023 - Booked: Trogir, Croatia* to Trogir, Croatia*
Start date: Sep 09, 2023, End date: Sep 15, 2023 - Booked: Trogir, Croatia* to Trogir, Croatia*
Start date: Sep 16, 2023, End date: Sep 22, 2023 - Booked: Trogir, Croatia* to Dubrovnik, Croatia
Start date: Sep 23, 2023, End date: Sep 29, 2023 - Booked: Dubrovnik, Croatia to Trogir, Croatia*
Start date: Oct 07, 2023, End date: Oct 13, 2023 - Booked: Trogir, Croatia* to Trogir, Croatia*