Summer location
Bahamas, Caribbean Leewards, Caribbean Windwards
Winter location
Caribbean Virgin Islands (US/BVI), Caribbean Leewards, Caribbean Windwards, Turks and Caicos
3 double cabins with ensuite bathrooms

1 double cabin for crew
Price Details
Zylkene 1 looks forward to welcoming guests onboard for the 2022 - 2023 season beginning Dec 1, 2022

FULLY CREWED CHARTER (6 pax - 2 crew)

CARIBBEAN DECEMBER - APRIL / MYBA terms

weekly fee: $22,000 USD + APA*

Christmas and NYE weekly fee: $25,500 USD + APA*

BAHAMAS APRIL - AUGUST / CYBA TERMS

weekly fee :

2 pax / $22,000 USD per week + APA*
4 pax / $24,000 USD per week + APA*
6 pax / $26,000 USD per week + APA*

For 6 nights or less, divide weekly rate by 6 nights X number of nights.

Delivery Fee may apply - inquire with Central Agent

Included in these rates are :
Private yacht and service of the crew in compliance with our quality charter, insurance for the yacht and the passengers (civil liability), bedding, towels and beach towels, use of on-board leisure equipment ( Watersport depending boat equipment : snorkeling, fishing gear, kayaks, wakeboard,....... - Board games Video and HiFi, DVDs, CDs, games, books....)

Not included in these rates are :

- *A.P.A : 25% SY to cover all costs in advance : fuel & provisioning, special requests (champagne, fine wines, specific alcoholic drinks & excessiv alcoholic beverage consumption), permit, cruising & government** taxes and fees, dockage & marina fees, use of communication means available aboard & crew gratuities (between 5 and 15%)

OR

- All inclusive formula : 100$/ day / person (a minimum of 400$ if less of 4 passengers) including : Full board (breakfast, lunch and dinner including soft drinks, table wine and local aperitif), consumables for the yacht (diesel and benzine include for 4 hours on engines), one hour dinghy per day for nautical sports and excursions
& not including: special requests (champagne, fine wines, specific alcoholic drinks & excessiv alcoholic beverage consumption), permit, cruising & government taxes and fees, dockage & marina fees, use of communication means available aboard & crew gratuities (between 5 and 15%), transfers aiport/yacht/hotel

- Half board formula (lunch or dinner) : 70$ / day / person (a minimum of 300$ if less of 4 passengers) and same conditions than above.

- **VAT in EC water / 4% in Bahamas

*APA :The Advance Provisioning Allowance is a deposit made to cover expenses incurred during the course of the charter such as fuel, food, beverages, mooring fees, visa fees, harbour fees, park fees, local taxes, and other expenses not included in the Charter Fee. It is paid in full with the Charter Fee, and is managed by the captain who can present the accounts on request. If during the course of the charter, the provision becomes insufficient, the client will be advised by the captain and be required to supplement the sum. The captain will present the detailed accounts at the end of the charter and any remaining APA will be reimbursed directly.

Winter Base Port: Saint Martin / Martinique
Summer Base Port : Nassau / Staniel Cays / Providenciales

All rates are for the entire yacht and are subject to change without notice prior to actual reservation. A crew gratuity, at your discretion, but typically 10% to 20% of the rate is not included
Plus Expenses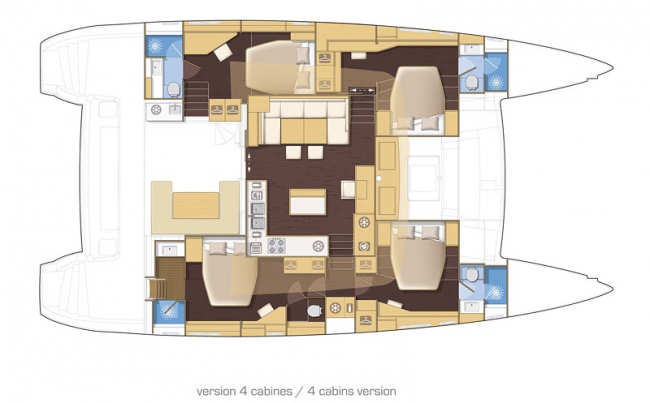 Fausto is a great host. Sailing instructor, offshore skipper, excellent cook, he will make your stay on board a memorable experience ! He always has very positive attitude at work and is extremely hard working, displaying both a committed and flexible approach to all that he does.

He sailed in the Caribbean and the Mediterranean on sailing yachts, catamarans and motor yacht. He knows very well the whole Caribbean islands.
Fausto is fluent in Italian, French and English and speaks very good Spanish as well.



Valentina offers culinary and hospitality talents that will surpass your expectations.

Thanks to their past experiences, passions and love of yachting; Fausto and Valentina have developed excellent interpersonal skills and can adapt to all types of charter guests.

They look forward to welcoming you on board for an exceptional yachting holiday!
Start date: Mar 15, 2023, End date: Dec 31, 2023 - Unavailable: TBA to TBA