Summer location
Greece
Winter location
Greece
Accommodates 10 guests in 4 Queen(s), 1 Twin(s)cabins
Price Details


Rates 2023
July/August : 23.940 EUR per week plus expenses
June/September: 21.630 EUR per week plus expenses
Low Season: 16.730 EUR per week plus expenses

VAT rate is determined by applicable tax legislation and may be subject to change without prior notice or responsibility on the Broker, the Stakeholder or the Owner. Should any changes in applicable tax legislation take place after the issuance of a charter agreement resulting in changes in total amount(s) due then the difference will be credited or debited accordingly to the Charterer

Charters for less than a week are only available upon request and the weekly rate is divided by 6.

She operates on a Saturday to Saturday basis. Embarkation at 17:00pm, disembarkation at 09:00 am

Plus Expenses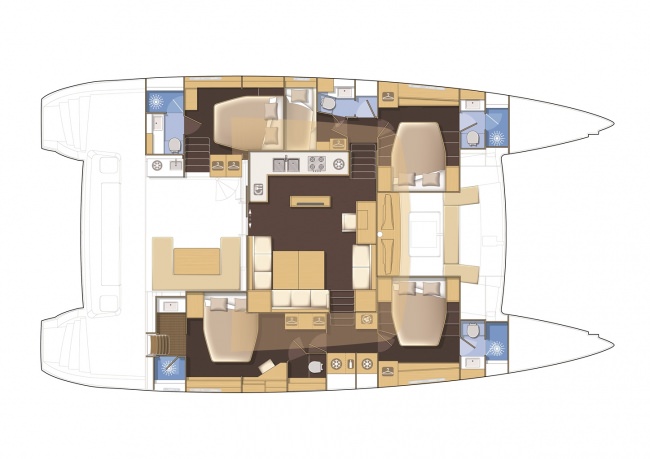 Toys:
4,20 m RIB
Water Skis
Wakeboard,
Tubes,
Kayak,
SUP,
Fishing gear
Snorkelling
2 x Sea Scooter
12 m2 inflatable platform
Extra Towables
Entertainment:
Refit 2022

New Bimini
New Sprayhood
New Cushions
Extra sunbathing area at aft deck
Extra poofs
Extra awning at bow area
Swimming platform extension
Dinghy refit
New sea scooters
New kayak
New Waterskis plus children water skis
New wakeboard
Captain Thanasis Damalidis
Thanasis was born in Athens in 1990.At the age of 11 he had his first experience in sailing as his family used to charter yachts for holidays. Sailing was his true passion so he decided to expertize it and start working in the sea. He started gaining experience by assisting the delivery of newly launched mono hulls and catamarans from the shipyards abroad as well as everywhere in Greece. His charter experience started from smaller size yachts, going to bigger and bigger year after year. Especially last year with 21 weeks of non stop charters and many many happy customers! Thanasis holds an offshore sailing license by HORC club and a powerboat license from Greek authorities. He also holds a first aid license from Greek Red Cross and in his free time he is a volunteer in Red Cross Samaritans, Rescuers and Lifeguards. Skipper Thanasis is always ready to welcome his guests, aiming to ensure a hospitable experience on board and show them the most beautiful hotspots of the Greek islands. He speaks English fluently. His hobbies are diving, training and shooting club.

Chef Lefteris Mihail
Lefteris was born in Greece in 1991. He grew up in Trikala, Thessaly, where he came into contact with cooking for the first time, as he had the opportunity to watch closely his beloved grandmother to cook traditional exquisite recipes and dishes in the restaurant she owned! As a result, he also loved cooking, later going to the city of Athens to study and graduate from Institute Le Monde! In his spare time he likes to listen to music, read books about cooking but also travel His love for travel led him to combine his profession with his hobby and so he decided to join yachting in 2020 working in various catamarans in Santorini. He is a cheerful, social and communicative person who loves to offer joy and pleasure with his food to his guests! He has attended a large number of Cook seminars. Lefteris speaks English and Greek.

Stewardess Marianna Armaou
Marianna was born in 1989 in Greece. The love that she has for the sea and her willingness to learn more about sailing made her to take her decision to move to the yachting industry. Her positive attitude along with her polite personality will make all of her guests feel like home. Marianna speaks Greek and English.


Start date: Jun 11, 2023, End date: Jun 16, 2023 - Booked: Mykonos, Greece to Mykonos, Greece
Start date: Jun 18, 2023, End date: Jun 23, 2023 - Booked: Mykonos, Greece to Mykonos, Greece
Start date: Jun 25, 2023, End date: Jun 30, 2023 - Booked: Mykonos, Greece to Mykonos, Greece
Start date: Jul 09, 2023, End date: Jul 14, 2023 - Hold: Mykonos, Greece to Mykonos, Greece
Start date: Jul 16, 2023, End date: Jul 21, 2023 - Booked: Mykonos, Greece to Mykonos, Greece
Start date: Jul 22, 2023, End date: Jul 28, 2023 - Booked: Mykonos, Greece to Athens
Start date: Aug 12, 2023, End date: Aug 18, 2023 - Booked: Athens to Mykonos, Greece
Start date: Aug 26, 2023, End date: Sep 02, 2023 - Booked: Athens to Athens
Start date: Sep 03, 2023, End date: Sep 08, 2023 - Hold: Athens to Athens
Start date: Sep 17, 2023, End date: Sep 29, 2023 - Booked: Athens to Athens
Start date: Aug 31, 2024, End date: Sep 07, 2024 - Booked: Athens to Mykonos, Greece