Summer location
Caribbean Virgin Islands (BVI)
Winter location
Caribbean Virgin Islands (BVI)
A3 is a stunning 2016 56' Lagoon Catamaran featuring 3 queen cabins and a bunk cabin, each with private ensuite baths including electric heads, vanity and separate showers. She boasts multiple areas to sit and relax or sip a cocktail and enjoy the cool trade winds over the beautiful blue Caribbean water! The salon will comfortably seat up to 8 guests in comfort for lounging or dining. The exterior offers alfresco dining for up to 8 guests, top deck seating and lounge area in front of helm plus forward lower deck lounge area behind trampolines. With numerous lounging areas, there is plenty of space for gathering as a group or finding a private place to really unwind. Water toys include snorkeling gear, floating mats and tube, 2 stand-up paddleboards, and 2 fishing rods.

DIVING: A3 offers onboard diving with a qualified PADI Instructor. Dives for certified divers are $50 per person per dive, payable to crew directly. Maximum 6 divers at a time and 4 dives per week (depending on number of divers). Resort course offered at $150 per person (maximum number of resort courses offered per week is 4). Rate includes use of boats dive gear.
1 Master cabin with queen bed and 2 spacious guest cabins with queen-sized beds. In addition, there is one cabin with single-sized bunk beds (38"x75"L). All cabins come with en-suite heads and showers, fans, and private A/C controls. Memory foam mattress toppers on all berths for guests comfort.



Bunk dimensions:

Top Bunk

78"Lx34"W and the foot tapers to 21 1/2"

Bottom Bunk

80"Lx34"W
Price Details
GENERAL NOTES:

A3 is a BVI based vessel. Please use BVI ports only.

MINIMUM NIGHTS: 5, Inquire for less.
For 6 night charters, divide weekly rate by 7 nights X 6 nights. For 5 nights or less, divide weekly rate by 6 nights X number of nights.
If cruising area includes BVI, rates are PLUS permits, licenses and fees which are to be paid by client.

HALF-BOARD: Includes: 7 breakfasts, 4 lunches & 3 dinners. Requires 3 lunches & 4 dinners ashore at client expense.
2/$29,200 3/$29,550 4/$29,900 5/$30,250 6/$30,600 7/$31,450 8/$33,300

LOCAL FARE MEAL PLAN:</B></U> Includes: 7 breakfasts, 5 lunches & 6 dinners. Requires 2 lunches and 1 dinner ashore at client expense.
2/$29,350 3/$29,775 4/$30,200 5/$30,625 6/$31,050 7/$31,975 8/$33,900

SLEEP ABOARD: Sleep aboard the night before charter dates. Available for $600 per cabin, with a 3 cabin minimum. Includes snacks, welcome cocktails & continental breakfast. Dinner is to be taken ashore at client expense.

CHRISTMAS/NEW YEARS: 7 night minimum
CHRISTMAS: 1-8 guests @ $40,000, charter must end on 12/26 or earlier
NEW YEARS: 1-8 guests @ $42,000, charter may not start prior to 12/27

**SEE BROKER NOTES FOR MORE INFORMATION - WAIVER REQUIRED IN ADDITION TO CONTRACT**

Copy link below & paste into browser to submit waiver:
https://bit.ly/cyawaiver


Inclusive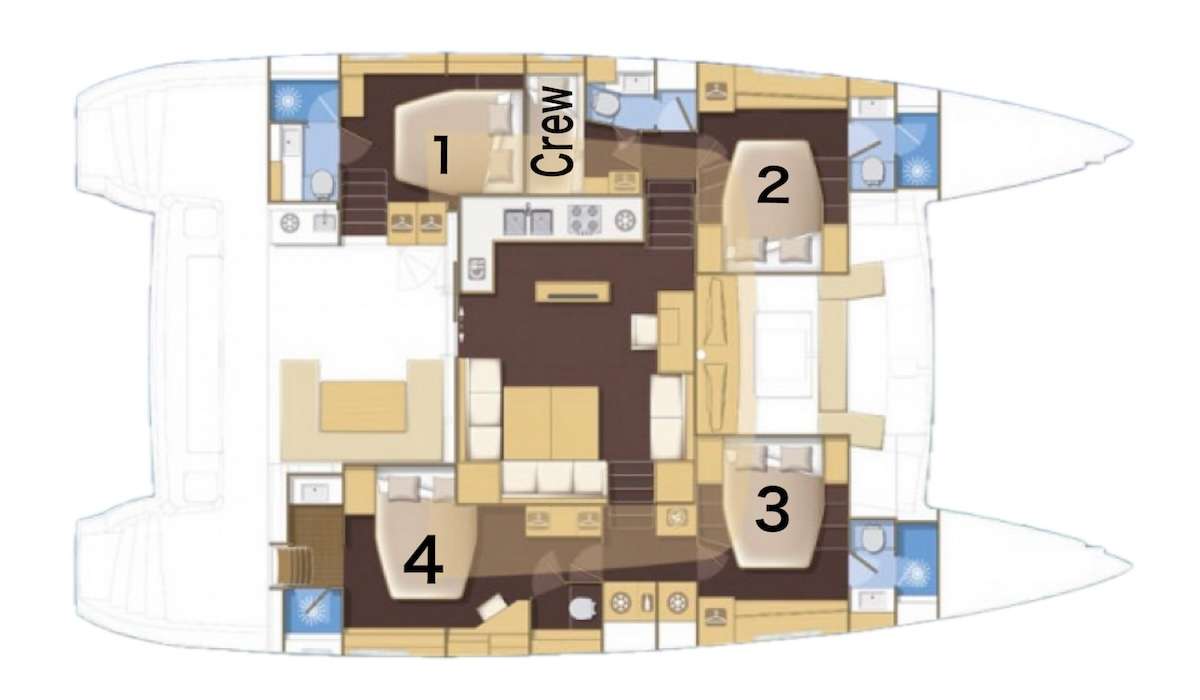 Entertainment:
A3 does have a safe onboard for guest use.
Communication:
WIFI available aboard the yacht.
Capt. Colleen Korona
Colleen was born and raised in Florida, where she grew up playing on the water. She bought her first sailboat when she was 24 years old, decided to live on it and then sailed it to the Bahamas.

Colleen stepped out of the boating world for a while and managed a mental health office with 10 doctors for several years before moving on to working at a nuclear brain-imaging facility. Then the recession came, and she was unemployed. It didn't take much prodding to head back out on the ocean and do some more sailing. She literally sold almost everything, packed the rest up and spent the next year sailing the East coast and exploring the cruising grounds from Florida to Rhode Island. There happened to be a group of boats heading to the Caribbean in Virginia and she thought, "What the heck! Let's check it out and head to the Caribbean!" 14 days later they arrived in Tortola, BVI.

She spent another year playing, exploring and sailing down to Trinidad, and then the money ran out. Colleen started to pick up jobs on charter boats here and there to have some money in her pocket. Over the next few years, Colleen worked as a first mate on a tall ship and sailing day-charter boats, as well as a stewardess and deckhand on a trimaran and crew on mega yachts in New England. But nothing beats working in the Caribbean! Colleen then got her captain's license, and now feels very fortunate to have a great office at sea where she can share the beautiful place with guests.

Chef Matt Proto
Matt has been in the customer-service industry for the past 25 years. His career as a professional chef has lead him to the Caribbean where he now uses his culinary skills to create the perfect onboard dining experience for guests. He draws from a wide range of experience to deliver a broad spectrum of flavors and genres, keeping each new day full of fresh ideas. Matt grew up in Florida and has spent most of his life either in or on the water, and he's been an avid scuba diver since 2006. In 2012, he got rid of everything except for one suitcase full of clothes and started doing seasonal work as a traveling chef. After living in Hawaii, Alaska and Cozumel, he found himself in St. Thomas working in a food truck on the beach when a friend approached him with a job offer as a chef on a charter boat. This is where he met Colleen and discovered the perfect gig. Since then, Matt has combined his love of food with his love of the ocean to create the perfect charter for more than just a vacation experience—but a passion for life and nature, and the desire to share those things with like-minded individuals. Matt is a PADI Dive Instructor and will be happy to show you the beautiful underwater world of the Virgin Islands.

Onboard A3, we try to create a fun and safe environment for families to enjoy. We offer a wide variety of activities geared towards keeping a younger audience entertained, even when the weather is not ideal. In the galley, kids have an opportunity to get some hands on culinary training, making cookies, fresh pasta, ice cream, or anything else that might spark their interest. In the salon, we have have an extensive collection of games for all ages, and are always up for challenge. We have thousands of movies to choose from that can be viewed on the outdoor theater, and of course can be enjoyed with the flavor popcorn of your choosing. In the water, we have plenty of toys, including tubes and skis that can be pulled behind the dinghy, as well as scuba and snorkel gear for all ages. If celebrations are your thing, come on down! We love doing birthday parties, holidays, anniversaries, or any other reason you can think of to throw a party! So if you're thinking of bringing the family on vacation, let A3 help make it a memorable one!

****CREW HAS BEEN FULLY VACCINATED FOR COVID-19****
Start date: May 28, 2023, End date: Jun 03, 2023 - Booked: Tortola, Village Cay, BVI to Tortola, Village Cay, BVI
Start date: Jun 05, 2023, End date: Jun 11, 2023 - Booked: Tortola, Village Cay, BVI to Tortola, Village Cay, BVI
Start date: Jun 15, 2023, End date: Jun 22, 2023 - Booked: Tortola, Village Cay, BVI to Tortola, Village Cay, BVI
Start date: Jun 24, 2023, End date: Jun 29, 2023 - Booked: Tortola, Village Cay, BVI to Tortola, Village Cay, BVI
Start date: Jul 01, 2023, End date: Jul 08, 2023 - Booked: Tortola, Village Cay, BVI to Tortola, Village Cay, BVI
Start date: Jul 22, 2023, End date: Jul 29, 2023 - Booked: Tortola, Village Cay, BVI to Tortola, Village Cay, BVI
Start date: Jul 30, 2023, End date: Nov 17, 2023 - Unavailable: Tortola, Village Cay, BVI to Tortola, Village Cay, BVI
Start date: Nov 18, 2023, End date: Nov 25, 2023 - Booked: Trellis Bay, Tortola to Trellis Bay, Tortola
Start date: Dec 01, 2023, End date: Dec 09, 2023 - Booked: Tortola, Village Cay, BVI to Tortola, Village Cay, BVI
Start date: Jan 06, 2024, End date: Jan 13, 2024 - Booked: Tortola, Village Cay, BVI to Tortola, Village Cay, BVI
Start date: Jan 15, 2024, End date: Jan 22, 2024 - Booked: Tortola, Nanny Cay, BVI to Tortola, Nanny Cay, BVI
Start date: Feb 21, 2024, End date: Feb 28, 2024 - Booked: British Virgin Islands* to British Virgin Islands*
Start date: Mar 13, 2024, End date: Mar 20, 2024 - Booked: Tortola, Nanny Cay, BVI to Tortola, Nanny Cay, BVI
Start date: Apr 13, 2024, End date: Apr 20, 2024 - Booked: British Virgin Islands* to British Virgin Islands*