Summer location

Winter location
Croatia
8 guests in 4 double cabins, fully air-conditioned with en-suite facilities.
Price Details
July/August 2023 : 22000 EUR per week
June/September 2023: 16000 EUR per week
Low Season 2023: 12900 EUR per week


plus expenses
Charter taxes, where applicable, will be due according to the rules and regulations of the chosen cruising destination.
Croatian Vat is currently at 13%
APA 20-25% on initial charter fee
Charters for less than a week are only available upon request and the weekly rate is divided by 6.
Plus Expenses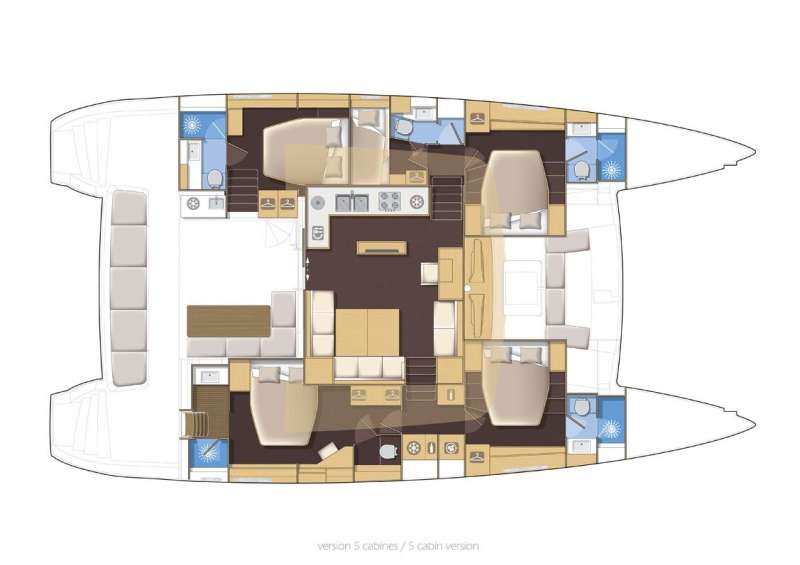 Toys:
Rib 4,30 with outboard engine 50 hp,
kayak double, SUP 2 pieces, wake boards, water skis, snorkeling, tube

Entertainment:
Air conditioning, Hair dryers, water maker, ice maker, BBQ, generator, inverter, deck shower, swim platform
Captain: Alexey Ursul
Captain Alexey was born on the 5th of May 1984 in Novorossiysk, Russia. At the age of 12 he joined a Junior Sailing school where he developed a passion for sailing and the Ocean. He sailed competitively for many years and took part in numerous Regattas. Alexey then decided to make a career out of his passion and obtained his Captain and Engineering licenses. Alexey enjoys water sports such as windsurfing and wakeboarding and enjoys teaching anyone who is keen to learn! Alexey's cool and calm demeanour make him a pleasure to be around and his caring nature guarantees the ultimate relaxing holiday.
Yacht Master Offshore certificate, Chief Engineer Certificate, GMDSS General operator certificate, Radar Observer certificate, STCW 95 Certificate, Proficiency in fast rescue boat certificate, Medical first aid certificate, Security-related training for all seafarers certificate


Cook/Stewardess Iryna Shmatko
Iryna was born in 1985 in Ukraine, growing up near the sea which is her passion. She has gained great experience over the years, working as a cook and chief stewardess for several motor yachts. Guests used to say about her hospitality, cleanliness and willingness to make their vacation a special experience for them and tend their special needs and requests. She speaks English and Russian and Ukrainian. Guests will have the chance to taste delicious and unique dishes. She will provide superior hospitality service with friendliness and welcome you warmly with a genuine smile!



Co skipper/steward: Alexander Grebenyuk
Alexander was born in 1988 in Novorossiysk, Russia and is a childhood friend of Alexey. Introduced to sailing from a very young age by his father who was a sailor, Alexander quickly learned the ropes and became a Captain at the age of 20. . When he is not sailing, Alexander spends time in the mountains where he snowboards. Coastal Skipper CertificateHACCP Certificate (Food Safety & Hygiene)GMDSS General operator certificateRadar Observer certificateSTCW 95 CertificateProficiency in fast rescue boat certificateMedical first aid certificateSecurity-related training for all seafarers certificate



Additional knowledge:

Languages: English
Start date: May 21, 2023, End date: May 28, 2023 - Booked: Sibenik to Sibenik
Start date: Jun 04, 2023, End date: Jun 09, 2023 - Booked: Sibenik to Sibenik
Start date: Jun 18, 2023, End date: Jun 25, 2023 - Booked: Sibenik to Sibenik
Start date: Jul 01, 2023, End date: Jul 06, 2023 - Hold: Sibenik to Sibenik
Start date: Jul 09, 2023, End date: Jul 14, 2023 - Hold: Sibenik to Sibenik
Start date: Jul 18, 2023, End date: Jul 30, 2023 - Booked: Sibenik to Sibenik
Start date: Aug 06, 2023, End date: Aug 11, 2023 - Booked: Sibenik to Sibenik
Start date: Aug 14, 2023, End date: Aug 19, 2023 - Hold: Split, Croatia to Dubrovnik, Croatia
Start date: Aug 22, 2023, End date: Aug 29, 2023 - Booked: Dubrovnik, Croatia to Sibenik
Start date: Sep 15, 2023, End date: Sep 20, 2023 - Hold: Sibenik to Sibenik