Summer location
Bahamas, USA - Florida East Coast
Winter location
Bahamas, USA - Florida East Coast
185' STARSHIP has 4 King Staterooms and 2 Twin Staterooms.



Her Master suite which is located on the Main Deck forward is full width of the beam and has a King-sized bed. This luxurious cabin has a seating area and desk and a 32" flat-screen TV with surround sound. The suite boasts a semi-circle His and Hers ensuite with separate wash closets and bidets linked by a Spa Pool tub and large shower stall.



There is a VIP Cabin on the Bridge deck offering 360 degrees views. Below deck, there are 2 VIP cabins with a King bed and ensuite and 2 large Twin cabins with a seating area.



The 2 Twin cabins each come outfitted with 2 Queens rather than single beds. Each Cabin has an ensuite, SAT TV and iPod Stations linked to a surround sound system. Movies and music on demand. Creston control and remote systems including Creston Concierge- guests can order off a special menu direct from their cabin 24/7.
Price Details
TERM CHARTERS: Weekly Rate plus 35% APA plus 4% Bahamas Taxes plus 10% Bahamas VAT

***8hr DAY CHARTERS***

$45,000 plus 4% Bahamas Taxes, plus 10% VAT for up to 12 guests.
20% mandatory crew gratuity – needs to be collected at the time of contract (FOR DAY CHARTERS ONLY!)




Plus Expenses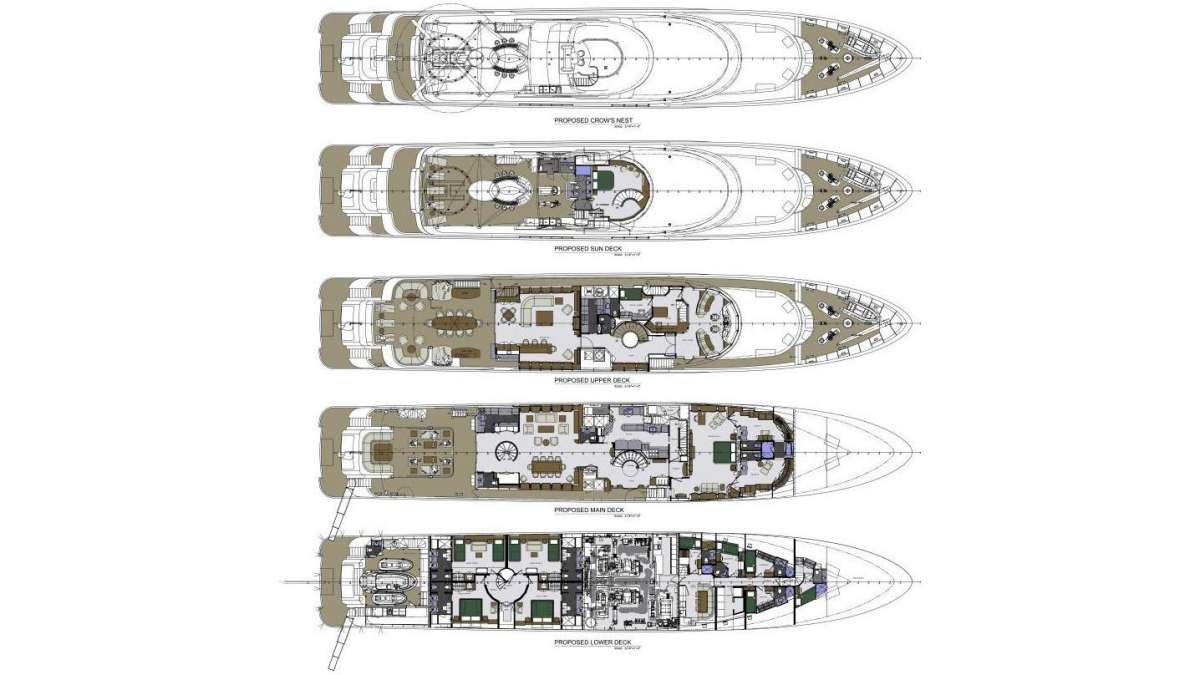 Toys:
2011 3x350 Yamahas 40' Intrepid 400 towed tender
4x F5S Seabobs
E-foil
4x Yamaha VX Deluxe Waverunners
36ft Water Slide from sundeck to water level
2x Single Person Inflatable Kayaks
2x Inflatable Paddle boards
1x Water skis
1x Wakeboard
Towable Banana that seats 5 persons
Full snorkel gear
14 sets of scuba gear - carry 12 dive tanks and a compressor
Deep-sea fishing gear - 10x fishing rods
Inflatable Swimming Pool - 15 x 15
Inflatable Trampoline - 15ft bouncer
Inflatable Platform
Inflatable Jetski dock
Diving onboard for certified divers

Custom beach set up including BBQ, lounge chairs, tents, umbrellas, etc.
Entertainment:
Gym equipment:
Peloton
Precor Elliptical
Exercise Bench
Adjustable Dumbles
Yoga Mats
Rubber Bands
Sauna
Communication:
Internet via VSAT, cellular or dockside wifi accessible throughout the boat
Captain: Steve Feldman
Languages Spoken: English

Captain Steve, originally from New York, has now been in sunny Florida for over 20 years after making the move to start his own boat repair business. Being a boater for most of his life, the transition to the yachting industry seemed like it was the natural thing to do. He has now been in yachting for nearly 30 years and still loves it as much as his first time on board.

Captain Steve has been with Starship since 2003 and has evolved the charter program to a once in a lifetime and experience with service that exceeds every guest's expectation. He ensures that every charter runs smoothly from start to finish, with every detail being accounted for. He is a Captain with tons of knowledge to share and enjoys the company of guests in the Bridge while they sail. Although he is adaptable to all types of charters, he naturally favors families as he has two daughters of his own - ages 8 and 19.

His passion is 'go fast' boating and spends most of his free time with other boaters in central Florida or driving around sports cars.
Chartering on 185' Starship is to charter with one of the industry's best captains alongside his dynamic crew who will ensure an experience like no other.




German Sabin - Chief Officer
Education/Certifications: Bachelor's Degree in Marine Navigation
Languages Spoken: English, Russian, Lithuanian

German grew up in Lithuania, Klaipeda which is based on the coast of the Baltic Sea. During his childhood, he was a professional swimmer for 12 years before slowly transitioning to CrossFit as a fulltime hobby. After four years of studies at the Maritime Academy, German graduated and joined commercial fleet, following in the footsteps of his father and brother. After one year working in the industry, he discovered yachting, and has loved working his way towards Captain ever since.
German has now been boating for five years. He has previously worked onboard, M/Y TURQUOISE, M/Y HAMPSHIRE, M/Y KATHARINE, and M/Y AVALON. He has become the go-to crew member for all things watersports. During his time in the industry, he has cruised all five Great Lakes, Norway, the majority of the Caribbean Islands, Bahamas, the Mediterranean, and more.
Outside of yachting, German hopes to accomplish being a good husband, father and son. Additionally, he would love to start his own business one day that will allow him to earn passive income in order to spend more time with his loved ones.
German wants every charter guest to walk away from their time onboard STARSHIP amazed of the outstanding service the crew provided.


Chief Stewardess – Tessa Haggard
Nationality: South African

Tessa comes from the small agricultural town of Molteno, in the heart of the Eastern Cape, South Africa where she grew up on a farm. She then attended boarding school from the age of six before following her desire to explore the world and experience different cultures. This pursuit of travel eventually led her to yachting where she has spent the last eight years cruising the Mediterranean, Caribbean, and the Bahamas. Tessa has a great sense of adventure and is always eager for new experiences. Tessa continually strives to provide the highest standard of guest care and prides herself in ensuring your experience aboard M/Y Starship is seamless and unforgettable. When not on board, Tessa enjoys horseback riding, hiking, painting, and
water sports.



Second Stewardess – Mikaela Swanepoel
Nationality: South African/UAS.

Mikaela was born in Westville, South Africa and has recently become a US Citizen. She studied Culinary Arts and Advanced Pastry in South Africa. Because of her love for the ocean, people, food and travel she was soon introduced to the yachting industry by her uncle. During Mikaela's 7 years in the industry, she has been lucky enough to visit places such as Cuba, Bahamas, Central America, French Polynesia, Tonga and Fiji. Her love and respect for the ocean continues to grow. She looks forward to creating a memorable experience for you and your family to enjoy onboard Motor Yacht Starship
Fun fact, Miks has worked with Captain Steve on both Starships!



Third Stewardess – Gricel Arcia Fernandez
Nationality: Panamanian.

Gricel, a vibrant and compassionate individual from Panama, has led a dynamic life dedicated to both personal growth and cultural exploration. Born 27 years ago, Gricel has always cherished the company of her family, and her passion for travel has taken her to an impressive 38 countries across the globe. In her free time, she engages in activities that nourish both body and mind, including exercising, meditating, dancing, and savoring new cuisines. Gricel is dedicated to treating others with the same warmth and respect that she values, making a positive impact in every interaction she has. Her zest for life and genuine kindness have made her a cherished presence in the lives of those around her."



Fourth Stewardess – Chloe Collins
Nationality: American.

Chloe was born and raised in Eden Prairie, MN. A town in the SE suburbs of Minneapolis. She has two younger sisters whom she's very proud of. Chloe started her yachting career in October last year which makes her the baby onboard. Most of her experience so far has been day working until she got this position. Chloe joined yachting because she wanted to get away from her hometown and get a chance to experience the world. Chloe hope to one day work her way to becoming a great Chief Stew. Outside of yachting she hope to get to experience new cultures and foods in the places travel to. Chole's hobbies include crocheting, swimming, houseplants/gardening, backpacking/hiking, and trying new experiences. One thing she could teach anyone about is identifying different types of plants and how to care for them. She used to have so many plants in her bedroom back home that it was like a mini jungle. Chloe's life motto is to try everything at least once. Because you will never know if you don't like something if you don't try it.



Gary Thomas – Chef

Education/Certifications: Trade Certificate in Cookery, Auckland Hotel & Chefs Training School, MCA Food Hygiene level 3, Ships Cooks Certificate, Rescue Diver, STCW 10, RYA Power Boat Level 2, IRB Crew and Driver certificates
Languages: English
Nationality: Scottish

Gary was born in Scotland and his family moved to New Zealand in 1982. He spent most of his time in Auckland where he did his schooling and worked as a lifeguard on the west coast beaches.
Gary first entered the yachting industry by doing temp work on M/Y UYLSSES. He moved to yachting full time in April 2013 and has since worked on a variety of motor and sailing yachts.
Gary has excellent culinary skills with 27 years of galley and kitchen experience. He is comfortable cooking healthy Organic, Pacific Rim, classic French, Italian, and modern Asian-style foods, which enables him to relate well to a diverse range of people. He is happy to accommodate all dietary requirements and will ensure allergies and special requests are handled with great care. Gary is able to easily adapt to any given environment and enjoys being a part of a committed and enthusiastic team who is fully committed to providing a 5-star dining experience.
When Gary is not busy preparing immaculate dishes, you can find him playing water sports, mountain biking, fly and saltwater fishing, or doing underwater photography.
As one his favorite quotes states, "A recipe has no soul. You, as the chef, must bring soul to the recipe" and Gary can't wait to bring his dishes alive to his next guests on board STARSHIP.



Gregorio Gonzalez – Chief Engineer (Rotational)
Education/Certifications: Chief Engineer Unlimited, STCW 2 010, SDSD
Languages Spoken: English, Spanish

Gregorio was born in San Francisco, Mexico. He grew up in Bahia de Banderas, a fisherman town on the Pacific Coast. Gregorio started in commercial in 2009 and has been working on yachts since 2016. He has always been involved with mechanical engineering and thought being on a yacht allow him to keep working on different types of vessels. Since his time in the industry, he has been onboard M/Y UBIQUITOUS, M/Y CORUS, M/Y BELBIER, and M/Y LEGACY. With fishing be a passion of Gregorio's, when he's not busy in the engine room he'll be sure to join guests for a fishing excursion, sharing all of the knowledge he has to offer.
Once Gregorio has finished his time on board, he would like to start his own maintenance company focused on yacht repairs. In his free time Gregorio loves participating in outdoor sports such as running, hiking, snorkeling, and of course fishing. He is a loving father of a five-year-old and very family-oriented.
Gregorio eagerly awaits the next guests to provide them with a safe and enjoyable luxury vacation onboard 185' STARSHIP.



Engineer – Hosang (SIMON) Ramone (Rotational)
Nationality: Jamaican

Simon was born and raised on the beautiful island of Jamaica, on the north coast surrounded by rivers and ocean. This is where he found his love for swimming and water activities. As a young man Simon would spend most of his time racing cars or playing around under the hood, pulling stuff apart and trying to put it back together. A little engineer in the making. In 2017 Simon was persuaded to do marine engineering by his older brother who is a chief engineer on merchant vessels. After completing his studies, he was working with his brother on oil tankers until he was convinced by a friend to try yachting and never looked back.



Santiago Orozco Lusiardo – Bosun

Education/ Certifications: PADI Instructor, Yachtmaster Offshore, AEC Transport Malta, Undergraduate Degree - Marketing
Languages: English, Spanish, Conversational in Italian
Nationality: Uruguayan

Santiago was born in Montevideo, Uruguay but grew up in Argentina with his parents and two sisters. He has always been very active playing futbol, tennis, rugby, and can play the guitar as well.
He started yachting about four years ago on a yacht that belonged to the father of one of his best friends. Just before this, he had been working in marketing for the past eight years. After traveling for a bit, Santiago realized the office life wasn't for him and when the opportunity for yachting arose, he didn't think twice.
Santiago believes his greatest asset to be his personality. Easygoing, extroverted, and a lover of meeting new people are all ways to describe him. Santiago's ultimate goal is for charter guests to have the experience of a lifetime. To be able to not only enjoy beautiful landscapes but to get the most of their time, enjoying personal and friendly interaction with all of the crew.
As he continues his journey in the yachting industry, Santiago wants to gain as much experience as possible leading him to become an all-around professional and an outstanding captain in the future.
Santiago's greatest passion is dogs but he also loves scuba diving, working out, playing tennis, and learning new songs to play on his guitar.



Deckhand – Leon Eben Phillips
Nationality: South African.

Leon grew up on a beautiful farm in South Africa. Most of Leon's family are in the yachting industry, so it was inevitable that he follows in their footsteps. Over the past 5 years in the industry, Leon has enjoyed making memories, particularly playing golf, and fishing meaning that his clubs and rods travel with him wherever he goes. He his 6ft4 and great at pretty much all sports so on "SURVIVAL DAY" he is the one you want on your team!!



Deckhand/Engineer – Travon Emile Musgrove
Nationality: Bahamian

At the spirited age of 24, Tray is the very embodiment of adventure, creativity, and passion. Growing up amidst the gentle sway of boats and the rhythmic stories of the sea, thanks to a father who had saltwater running through his veins, yachting was not just a choice but a destiny. Every journey aboard holds the promise of fresh experiences and the thrill of the uncharted – from breathtaking excursions with guests to crafting memories that last a lifetime. With dreams as vast as the ocean, Tray is charting a course to rise through the yachting ranks, with a Captain's hat on the horizon. And if you ever want a tale of sheer unexpected thrill, ask about that time on an island teeming with pigs! Adventure truly is around every corner.
Start date: Dec 06, 2023, End date: Dec 10, 2023 - Unavailable: Bahamas - Nassau to Bahamas - Nassau
Start date: Mar 18, 2024, End date: Mar 27, 2024 - Booked: Nassau, Bahamas* to Nassau, Bahamas*
Start date: Mar 29, 2024, End date: Apr 05, 2024 - Booked: Nassau, Bahamas* to Nassau, Bahamas*
Start date: Apr 30, 2024, End date: May 05, 2024 - Booked: Nassau, Bahamas* to Nassau, Bahamas*