Summer location
Croatia
Winter location
Croatia
Launched in May 2020, this new luxury crewed motor sailer is available for charter along the stunning Adriatic coast, appointed central agency. Aurum Sky is by all means, a unique yacht on the charter market. At 43.5 meters, she offers expansive space in all areas. She accommodates up to 12 guests in 6 double en suite cabins. The cabins range in size between 20 m2 and 25 m2, and two can be converted to twin cabins. Equipped with a Smart TV/DVD, fridge, safe, Intercom, WiFi Flat 3G/4G, and with room service on option, the cabins allow for an entire private and personalized guest experience.

The elegant lounge extends to the stern dining area with a table for twelve, altogether nearly 100 m2. The flybridge of 120 m2 comprises a sunbathing area and a Jacuzzi to immerse you in relaxation and stunning vistas.

Aboard Aurum Sky, all your daily rituals are bound to be even better! Find a large Smart TV, DVD, USB iPad/iPod/mobile docking station in the saloon, while the upgraded sound system links to the flybridge and cabins. Read your press in the library, get business done efficiently in the privacy of the office. And for action and adrenaline, Aurum Sky packs a plethora of the top-notch water toys and equipment such as two jet skis, 2 Seabobs, adult and junior water skis, SUPs, fishing equipment, kayaks. More toys are available as extras.

Top of the hospitality aboard M/S Aurum Sky is provided by the highly experienced and professional crew of 8 which consists of the Captain, Chef, Engineer, Chief officer, Deckhand, Chief stewardess and second stewardess and third stewardess . Your Captain will primarily care for your safety, and will also tailor your itinerary, so you discover many secluded gems of the Adriatic coast. Your Chef will prepare healthy Mediterranean specialites from fresh, local and seasonal ingredients, and if you wish, other international cuisines as well. Your steward/fitness trainer will guide your morning workouts on the deck while your on-call concierge service - will take care of activities onboard and ashore.


12 guests accommodates in 6 en-suite staterooms.

All cabins are equipped with Smart TV/DVD, 3G/4G WiFI throughout, Inter-phone, mini-fridge, safe, AC control and surround sound system with separate control in each cabin, optional room service.



- Master king-size bed cabin (24m2)

- VIP king-size bed cabin (22m2)

- 2 x Guest queen-size bed cabins (20m2)

- 2 x Guest queen size bed cabins convertible into twin beds cabins (20m2)


Plus Expenses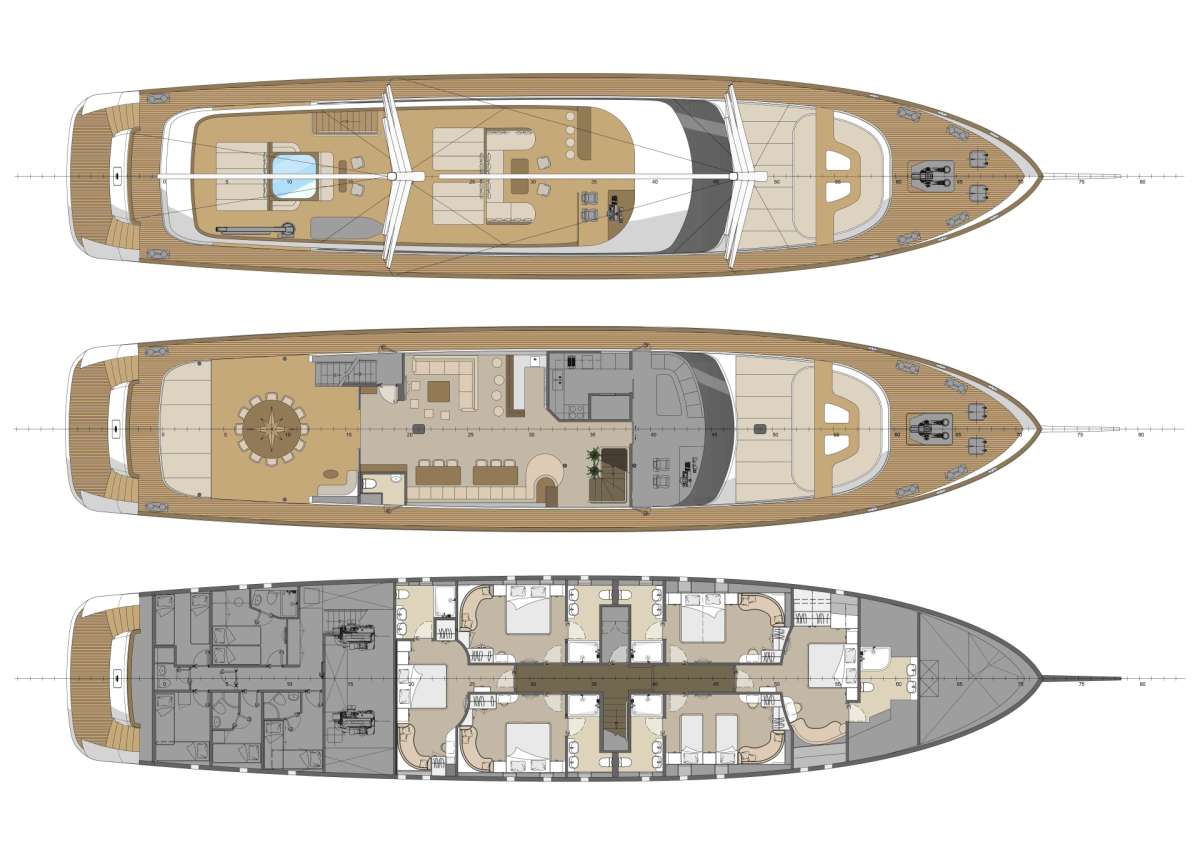 Toys:
Inflatable canoes
12 x Foam floating tube
Floating mattress x 6
Floating beach
Entertainment:
Air condition in saloon and all cabins,
Bathing platform with shower
Ambiental lights
Underwater lights
Mini-fridge in each cabin
Safe in each cabin
Bar with a selection of wine and champagne
Large sunbathing area on the sundeck
Jacuzzi on the sundeck
Work out equipment and fitness equipment (exercise bike, el.treadmill, workout weights, Yoga/Pilates mats)
Comfortable table for up to 12 guests on the stern of the yacht
Communication:
3G/4G Flat Wi-Fi
Interphone in each cabin
Croatian cellular phone
Captain: Jere Gacina

Nationality: Croatian
Age: 46
Languages: English, Croatian

Captain Jere is a 500GT STCW II/3 qualified captain and very pleasant person with a great attitude towards the clients. He has vast experience on the Adriatic sea.Jere comes from a family with a longstanding seafaring tradition. His mother's family owned fishing boats in Betina on Murter at the beginning of the 20th century, hence it comes as no surprise that Jere was infatuated with boats and the sea already at an early age. Setting out to continue his family's legacy, Captain Jere studied in Zagreb, and graduated from the University of Zagreb, Faculty of Mechanical Engineering and Naval Architecture.
Captain Jere professional background spans work on the land and the sea. Following positions in an equipment production company and as the production manager in a shipyard, he was appointed the Captain of Gullet Aurum in 2009. After a decade of providing the highest service to the most discerning guests, he is a natural choice – and by far the best one - to head the launch of the beautiful Aurum Sky in 2020.
His professionalism and reliability are topped with excellent fluency in English, and a friendly demeanor which inspires great confidence in both guests and crew.


Chief Stewardess: Cvita Gruic

Nationality: Croatian
Age: 31
Languages: English, Croatian, Italian

Cvita was born and raised in Šibenik. She has been workingin the luxury yachting industry for 5 years. Prior to joining on M/Y Aurum Sky she worked in several hotels and stewardess on various charter yachts on the Adriatic sea. Cvita is very systematic and organized, positive and optimistic person. She holds valid STCW licence for Basic Training, Advanced Stewardess Training and Valid ENG1. She enjoys working with people, especially children and create fun games for them. She is very tidy, positive and responsible person.
Cvita is fluent in English language.


Chef: Darko Vidovic

Nationality: Croatian
Age: 44
Languages: English, Croatian

Darko is 44-year-old, he is a chef with 23 years experience. Darko has a real passion for developing new flavours and styles for guests with focus on providing healthy and nutritious meals. Mediterranean cuisine known as the most healthy cuisine in the world is his speciality. Darko also is happy to prepare for you other International cuisine according to your preferences. Guests adore Darko and always with pleasure and curiosity are expecting a
new meal to be served. Every single Darko's is a new story and a new experience. At any moment, he is ready to meet guests and show them the wonderful world of cooking.
He speaks excellen English, and he is always in good mood.


Deckhand/Engineer: Darko Spec

Nationality: Croatian
Age: 43
Languages: English, Croatian

Darko comes from Trebinje. He spent over twelve years on commercial and offshore vessels and another 5 years in the yachting industry working with Captain Ian on his previous vessel, which makes them the perfect team – he always keeps the AC cool and the hot tub hot!


2-nd Steward/Stewardess: Ivana Radic

Nationality: Croatian
Age: 27
Languages: English, Croatian

After having completed the High School in Split, Ivana worked in the 5-star Hospitality for several years and then moved to the Industry, operating on board yachts ranging by the 40 and 50 metres. Aside the main duties of housekeeping, laundry and service, Ivana is an experienced bar lady, is capable to delight the palate of her guests by serving tasty meals, snacks and original drinks. She is a carry and very pleasant person with eye for details.


Deckhand: Ante Grbavica

Nationality: Croatian
Age: 45
Languages: English, Croatian

Ante grew up in Sibenik – Croatia. Living in the nice small dalmatian town made him a very outdoors person who enjoys most boats, sport, culinary and music. After spending six years in hospitality industry he move on superyacht where spent over 14 years as steward and deckhand. He has passion for both and he is very valuable part f M/S Aurum Sky." Ante is at your service all the time, never tired and always with smile. He has nice personality and great sense for humor.


Deckhand: Roko Vidovic

Nationality: Croatian
Age: 32
Languages: English, Croatian

He brings his young look & sailing/water sports experience to our yacht, always happy to assist and share a few advices with our guests. Roko is looking forward to meeting new people, learning new languages and he is very happy to be a part of a successful charter team. In his free time he enjoys travelling and exploring new places.
Start date: Jun 02, 2024, End date: Jun 08, 2024 - Booked: Dubrovnik, Croatia to Split / TBC
Start date: Jun 09, 2024, End date: Jun 14, 2024 - Booked: Split / TBC to Dubrovnick*
Start date: Jun 15, 2024, End date: Jun 22, 2024 - Booked: Dubrovnik, Croatia to Split / TBC
Start date: Jun 23, 2024, End date: Jun 28, 2024 - Booked: Split / TBC to Split / TBC
Start date: Jun 29, 2024, End date: Jul 06, 2024 - Booked: Split / TBC to Dubrovnick*
Start date: Jul 07, 2024, End date: Jul 13, 2024 - Booked: Dubrovnick* to Dubrovnick*
Start date: Jul 14, 2024, End date: Jul 20, 2024 - Booked: Dubrovnick* to Split / TBC
Start date: Jul 21, 2024, End date: Jul 27, 2024 - Booked: Split / TBC to Dubrovnick*
Start date: Jul 28, 2024, End date: Aug 03, 2024 - Booked: Dubrovnick* to Split / TBC
Start date: Aug 04, 2024, End date: Aug 09, 2024 - Booked: Split / TBC to Split / TBC
Start date: Aug 10, 2024, End date: Aug 16, 2024 - Booked: Split / TBC to Zadar, Croatia
Start date: Aug 25, 2024, End date: Aug 31, 2024 - Booked: Dubrovnick* to Split / TBC
Start date: Sep 01, 2024, End date: Sep 06, 2024 - Booked: Split / TBC to Split / TBC
Start date: Sep 15, 2024, End date: Sep 21, 2024 - Booked: Split / TBC to Dubrovnik, Croatia
Start date: Sep 22, 2024, End date: Sep 28, 2024 - Booked: Dubrovnik, Croatia to Split / TBC
Start date: Sep 29, 2024, End date: Oct 04, 2024 - Booked: Split / TBC to Split / TBC
Start date: Aug 10, 2025, End date: Aug 15, 2025 - Booked: Sibenik to Sibenik
Start date: Sep 07, 2025, End date: Sep 12, 2025 - Booked: Split / TBC to Split / TBC