Summer location
Greece
Winter location
Greece
"Verina Star", this brand new 6-cabin Lagoon 55 combines so many great features along with plenty of room for gathering, dining, sunbathing, sleeping or even dancing, the Lagoon 55 has space for it all. Enjoy the splendor of the sea in all its glory as the Lagoon 55 is designed to maximize space and provide magnificent views throughout the yacht.
The salon is spacious and modern optimized to invite natural light and in the cabins guests will feel as one with the sea blending in with the horizon.
This catamaran creates a seamless connection between you and your surroundings bringing you piece and harmony. Last but not least you will have fun with the great variety of water toys and the tenderlift transforming into a bathing platform, an invitation for swimming and relaxing with your feet in the water.
4 Double Cabins

1 Twin Cabin (convertible to Double)

All cabins with en-suite facilities.
Price Details
Αutumn 2023 reduced Rates
Mid Season Rate (June & September): 24.000 EUR / Week + VAT + Expenses
Low Season Rate (Rest months): 18,000 EUR / Week + VAT + Expenses
V.A.T 12% (subject to change without prior notice) & APA 25% of the charter fee not included in the rates.

Summer-Autumn 2024 Rates
High Season Rate (July & August): 29.500 EUR / Week + VAT + Expenses
Mid Season Rate (June & September): 26.000 EUR / Week + VAT + Expenses
Low Season Rate (Rest months): 22,000 EUR / Week + VAT + Expenses
V.A.T 12% (subject to change without prior notice) & APA 25% of the charter fee not included in the rates.
***All charters are operating 12:00-12:00 (or other upon final confirmation with owner)

Relocation Fees:
Catamarans up to 52 ft: Cyclades (1000 EUR) *
Catamarans 55ft and up: Cyclades (1500 EUR) *
Catamarans 80 ft, Motor yachts and power catamarans according to fuel consumption
* Please note due to logistics, charters with embarkation or disembarkation in Santorini will be charged one extra day ( one way)

Delivery fees will be shared between charters and be used as Handling Fees:
Yachts up to 52 ft: 1000 EUR (will be shared between two charters 500/500)
Yachts 55ft and up: 1500 EUR (will be shared between two charters 750/750)
Plus Expenses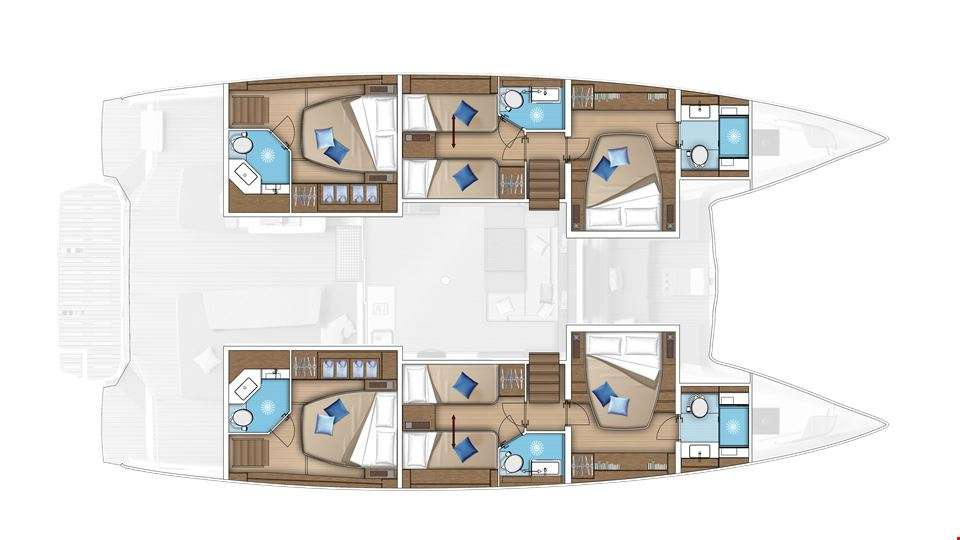 Toys:
Banana Boat
Tenderlift
CAPTAIN - Andreas Moundroukas
Andreas is a young and energetic captain born in 1994 in the Caribbean island of the Dominican Republic. Because of his multi culture background Andreas speaks Greek, English and Spanish fluently and appreciates the different cultures he encounters . He fell in love with the open seas as a teenager and what started as a hobby, soon became a profession. He gladly accepts new challenges, is hard-working and responsible. His friendly character and attention to safety will undoubtedly ensure guests an unforgettable sailing experience onboard. He loves to interact with his guests and show them the beauty of the Greek islands but will also be discrete when needed. He has done many boat deliveries and has worked as a freelance skipper for different charter companies. When he is not sailing he likes to travel, scuba dive and spend time with friends and family .
Qualifications:
• Greek Offshore Sailing License. Nautical Club Of Laconia (2016)
• RYA Yachtmaster Offshore Sailing and Power (2021)
• Greek Power boat License (2016)
• New York State Boating Safety Certificate (2016)
• RYA Short Range GMDSS Certification (2021)
• STCW Basic Safety Training.
• IANTD Technical Diver (2019)
• Advanced Nitrox Diving Diploma (2019)

CHEF - Anna Kavoura Michopoulou
Anna was born in 1990. She grew up in Athens where she has also graduated from the Maritime Economics Department of the University of Piraeus. She has an MBA from London School of Economics and has done several mini Master courses at Maritime Management. However, her love for the sea and her passion for cooking won her over and thus, despite her young age, she has been working for 14 years in crewed catamarans as permanent crew with excellent guest comments for her dishes, overall service and especially her pastry creations. Anna loves children and used to work as a baby swimming teacher, as she was a swimmer herself. She also loves spending her free time doing some experimental cooking and pastries. Anna has excellent communication skills, pays great attention to the details and provides magnificent service in every aspect of the on-board experience. She speaks fluent English, Greek and moderate French. She has also attended seminars of customer service.

STEWARDESS - Vasiliki Gkeka
Vasiliki is 18 years old, she is studying Shipping and speaks fluent English. She is passionate with the sea ever since she was a child. She is hardworking, eager to help, easily adaptable in every situation. She is a very sociable person and has excellent relationships with toddlers & children overall.

Start date: Aug 10, 2024, End date: Aug 23, 2024 - Booked: Athens, Greece to Athens, Greece
Start date: Sep 15, 2024, End date: Sep 22, 2024 - Booked: Athens, Greece to Athens, Greece