Summer location
Greece
Winter location
Greece
From Ancient Greek Mythology and myths in Astronomy to the numerical values of '5' in Pythagorean Numerology and '3' in Chaldean Numerology, it is no coincidence that this 2023 Lagoon 55 has been aptly named 'Hydrus' after the Greek Primordial God of Fresh Water.
The comforts of Lagoon 55 may be easily resembled to a much larger Lagoon with all the privileges and pleasures it has to offer. Hydrus has '5' very spacious cabins consisting of 4 double en-suite cabins and 1 twin en-suite cabin which converts to a double if required. All cabins are airy and have a flow of indulgence, with mood lighting and a color palette that soothes yet stimulates your senses. This flow carries through to all other interior and exterior spaces. Hydrus' features include upper and lower deck bar area and dining areas, upper and lower deck sunbathing and socializing areas, a fully decked galley with all contemporary amenities and a superbly serene as well as a spacious living room area.
Last but not least, the fierce S/Y Hydrus has a crew of '3', ready and able to assist and support your needs and wishes while sailing towards your ultimate vacation experience. Gliding, floating, drifting… your quest to explore the Greek islands awaits you from the moment you step aboard this streamlined and efficient beauty.
4 Double Cabins

1 Twin Cabin (convertible to Double)

All cabins with en-suite facilities.
Price Details
2024 Rates
High Season Rate (15/06-15/09): 29,500 EUR / Week + VAT + Expenses
Mid Season Rate (01-14/06 & 16-30/09): 26,000 EUR / Week + VAT + Expenses
Low Season Rate (Rest months): 22,000 EUR / Week + VAT + Expenses
V.A.T 12% (subject to change without prior notice) & APA 25% of the charter fee not included in the rates.

***All charters are operating 12:00-12:00 (or other upon final confirmation with owner)

Relocation Fees:
Catamarans up to 52 ft: Cyclades (1000 EUR) *
Catamarans 55ft and up: Cyclades (1500 EUR) *
Catamarans 80 ft, Motor yachts and power catamarans according to fuel consumption

* Please note due to logistics, charters with embarkation or disembarkation in Santorini will be charged one extra day (one way)

Delivery fees will be shared between charters and be used as Handling Fees:
Yachts up to 52 ft: 1000 EUR (will be shared between two charters 500/500)
Yachts 55ft and up: 1500 EUR (will be shared between two charters 750/750)
Plus Expenses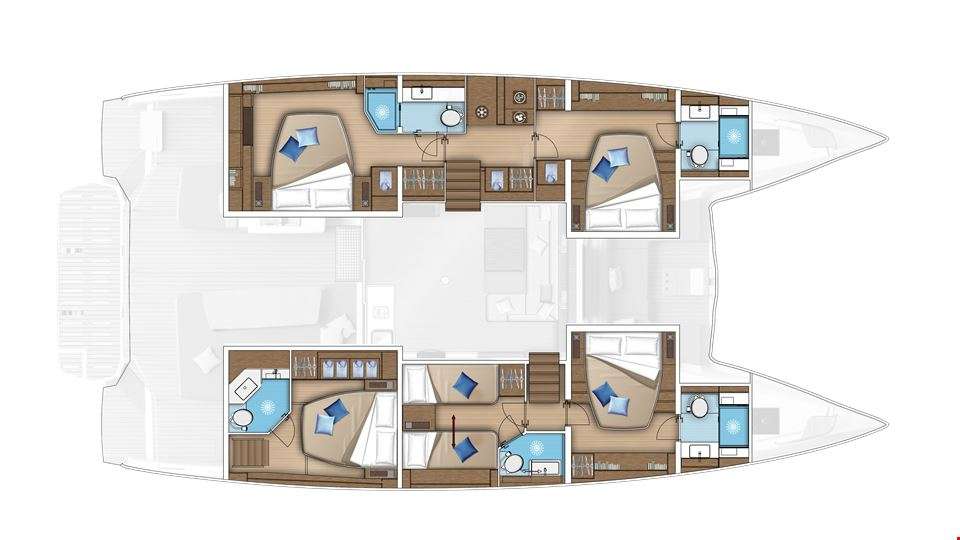 Captain: Alexandros Tomboulidis
Captain Alexandros was born in 1982 and lives in Volos, Thessalia, in Central Greece. He is a graduate of ATEI Department of Optics-Optometry and IEK Department of Organization and Business Administration. His sailing experience began in 1991 with participation in Optimist and Laser Class races. After many distinctions, in 1998 he started competing in the Offshore category and in 1999 he and his team won the Aegean Rally. At the same time, as a Skipper, he was carrying out boat transfers and new built yacht deliveries to Greece, crossing the Atlantic Ocean from the Caribbean and the Mediterranean Sea from Northern France and Croatia. In 2000 he began his career as a Captain on various sailing and motor commercial yachts in the Aegean and the Ionian. In 2005 he started teaching Skipper's license courses as an instructor in the nautical clubs of Volos d Skiathos and as an examiner for the sailing license in a corresponding school. From 2007 to 2019, he had been shareholder and administrator in some yachting companies, gaining extensive experience in crew management, customer service and emergency response. As a personality, he is very friendly, communicative and loves children. He is a nonsmoker and enjoys spearfishing. He speaks Greek and English. Licenses: Offshore Skipper's license, Yacht Master 500GT, speedboat operator's license, sailing and speed boat instructor license, sailing yacht examiner's license, PADI diver license. Seminars: First Aid, crisis management at sea, human resource management.

Chef: Charalambos Katsianis
Charalambos, known as Babis, was born in 1983 in Athens, Greece. After graduating from the 1st Technical School of Piraeus, he went on to study the culinary arts at Chef D' Oeuvre and graduated in 2008. In 2009, while working at Restaurant Vardis at the Pentelikon Hotel as the Cold Cuisine Chef under Asterios Koustoudis, they earned their Gold Cap Greek Cuisine and Michelin Star. After years of experience as a Chef, he joined the yachting profession as Sous Chef onboard the world-famous Maltese Falcon.
Babis is excited to spoil guests on HYDRUS by creating incredible memories through exceptional dishes. His speciality of fresh Mediterranean cuisine combined with local products is ideal for chartering. When he is not in the kitchen, he enjoys the cinema, swimming, excursions, music and many sports.
Languages: Greek, English (fluent)

Hostess: Judit Kovacs
Judit is from Hungary and studied Art and Art history. She spent the early part of her career as a primary school teacher in Budapest and then went on to study beauty therapy and yoga in the search for a healthier lifestyle, philosophy and practice (which Yoga embodies). She spent the last few years in Malta honing her skills as a yoga instructor which she has practiced for over 15 years.
In the background she also had a passion for the sea having been raised with a family who sailed. In 2018 her love for the sea called out to her and she switched careers and worked for P&O cruises. Last year she started her career in yachting as a hostess and we are glad to have her in HYDRUS team this year. Her varied life experiences have created a much loved and invaluable crew member.
Languages: Hungarian, English (fluent), German (basic)
Start date: Apr 30, 2024, End date: May 07, 2024 - Booked: Lavrion to Lavrion
Start date: Jun 13, 2024, End date: Jun 20, 2024 - Booked: Lavrion to Paros, Greece
Start date: Jul 30, 2024, End date: Aug 06, 2024 - Booked: Lavrion to Lavrion
Start date: Sep 08, 2024, End date: Sep 15, 2024 - Booked: Lavrion to Lavrion
Start date: Oct 04, 2024, End date: Oct 11, 2024 - Booked: Lavrion to Lavrion