Summer location
Caribbean Virgin Islands (US/BVI)
Winter location
Caribbean Virgin Islands (US/BVI)
What a dream...
6 guests in 3 Queen size cabins with ensuite facilities.
Price Details
Please do not combine specials.

Christmas week: Up to 6 guests - US$19,900
New Years week: Up to 6 guests - US$24,500


A/C all night: Plus $80 per night.

Charters outside the Virgins:
Regardless of whether or not a vessel may or may not include taxes in the vessel's listed charter fees for Virgin Islands charters, in general, no fees, port dues, nor taxes are included in the charter fee for any charter outside the Virgin Islands unless otherwise agreed.


Inclusive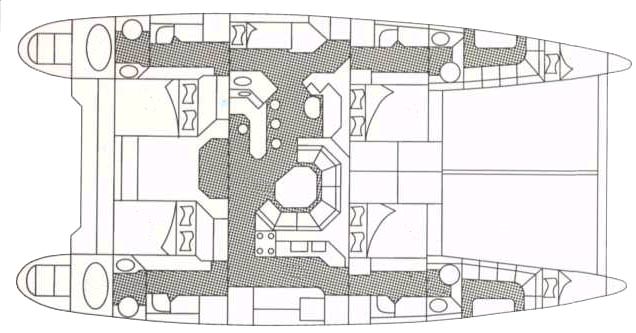 Toys:
Fully Air Conditioned


Entertainment:
TV & DVD
Stereo & CD
Fully Stocked Bar

Communication:
Cellular Phone
Computer and Internet
Icom VHF & SSB Radios
Full Compliment of Brookes & Gatehouse Instrumentation
Kristian Sndergrd and Marianne Rasmussen

Marianne and Kristian are both Danish citizens, and both born in 1954. Two truly talented and extraordinary individuals, Marianne and Kristian are not only highly experienced world sailors, but have designed and built two fine yachts together in the past 25 years Nana, a traditional 68 ft Baltic trader, completed in 1981, and Casador, a more contemporary luxurious 68 ft sloop, featuring sleek classic lines and sweeping overhangs, she was completed in 1991. Since 2005, Marianne and Kristian have been busy refitting and upgrading Breanker.

The sailed away from the Danish coast in 1983, their 10 year old son accompanying them, and worked Nana for the Danish government as a sail training ship for young people. They sailed the Baltic and North Seas, the English Channel and the Atlantic to the Azores, thence to the Mediterranean Sea and North Africa. Eventually the path lead to the Canary and Cape Verde Islands, and the Caribbean. After spending much time cruising the eastern seaboard of the U.S., the warm southern waters of the Bahamas, the Caribbean Sea and the Pacific Ocean, Marianne and Kristian knew that the tropics was for them.

After completing Casador, they started their charter careers in the Bahamas and along the shores of Central America before finally settling in the Virgin Islands, where they have now chartered for more than a decade. Marianne holds an International Yacht Master 3rd Degree license, and Kristian holds an International Yacht Master 1st degree license. Marianne also has a university degree in education, and is a master of the art of canvas work and upholstery, having owned her own canvas and sail loft for a number of years. Her father was a chef, and Marianne was brought up close at hand and instilled with a love of cooking and a keen interest in fine cuisine. Their extensive travels have only served to broaden Mariannes culinary horizons and gourmet options, creating mouth-watering delights for the many guests she has welcomed aboard for the past many years.

Kristian is by all rights a master shipwright, having operated his own yacht repair and wood working shop for years, though his education led him to fine arts, especially in art weaving. Kristian also has a passion for water sports, especially diving, and he is happy to share the fascinating marine life of the Caribbean with guests.

Marianne and Kristian look forward to making your cruise aboard Breanker the most relaxing and enjoyable vacation ever.


Start date: Dec 30, 2023, End date: Jan 06, 2024 - Booked: Crown Bay, St Thomas* to Crown Bay, St Thomas*
Start date: Jan 12, 2024, End date: Jan 19, 2024 - Booked: Crown Bay, St Thomas* to Crown Bay, St Thomas*
Start date: Feb 01, 2024, End date: Feb 08, 2024 - Booked: Crown Bay, St Thomas* to Crown Bay, St Thomas*
Start date: Feb 11, 2024, End date: Feb 18, 2024 - Booked: Crown Bay, St Thomas* to Crown Bay, St Thomas*
Start date: Feb 23, 2024, End date: Mar 02, 2024 - Booked: Crown Bay, St Thomas* to Crown Bay, St Thomas*
Start date: Mar 04, 2024, End date: Mar 10, 2024 - Hold: Crown Bay, St Thomas* to Crown Bay, St Thomas*
Start date: Mar 15, 2024, End date: Mar 22, 2024 - Booked: Crown Bay, St Thomas* to Crown Bay, St Thomas*
Start date: Mar 24, 2024, End date: Mar 29, 2024 - Booked: Crown Bay, St Thomas* to Crown Bay, St Thomas*
Start date: Mar 31, 2024, End date: Apr 07, 2024 - Booked: Crown Bay, St Thomas* to Crown Bay, St Thomas*
Start date: Apr 08, 2024, End date: Dec 01, 2025 - Unavailable: Crown Bay, St Thomas* to Crown Bay, St Thomas*