Summer location
Caribbean Virgin Islands (US/BVI), Caribbean Leewards, Caribbean Windwards, Caribbean Virgin Islands (US), Caribbean Virgin Islands (BVI)
Winter location
Caribbean Virgin Islands (US/BVI), Caribbean Leewards, Caribbean Windwards, Caribbean Virgin Islands (US), Caribbean Virgin Islands (BVI)
Built in 2006 and a 2022 refit, Indulge II is the ideal luxury yacht for kicking back and relaxing whilst on charter, showcasing clever use of space with an artful combination of integrated systems and luxurious features, she's a crowd-pleaser for sure. She offers guest accommodation for up to 10 guests with a layout comprising a master suite, one VIP cabin and two twin cabins. When chartering with 10 guests, 2 of the guests must be children under the age of 12. She is also capable of carrying up to 4 crew onboard to ensure a relaxed luxury yacht charter experience. Set against the backdrop of your chosen cruising ground, you and your guests can enjoy fun on the water with the collection of water toys and accessories aboard Indulge II. Guests can feel the wind in their hair and jump the waves on one of the two Sea Doo WaveRunners and a plethora of water toys. If that isn't enough, Indulge II also features a top deck hot tub. A large bow-pad with bimini top will protect yourself while enjoying your front row seating while island hopping. When it's time to travel from land to see, it couldn't be easier with a 20ft Zormenti 170hp Tender. It can easily pull skiers, wakeboards and more, plus it seats 10 for optimal guest comfort. Once onshore, she has 2 electric bikes that can be used by guests. Indulge II is a unique motor yacht and the ideal platform for an adventure charter that will guarantee unforgettable memories.

TOYS: 2 Sea Doo Waverunners, Snorkeling Gear, 3 Paddle Boards, 2 electric bikes, 1 Wake Board, 1 Knee Board, Inflatable Water Toys, Adult Water Skis, 6'x18' Floating Mat, & Beach Games. eFoil is an optional add on - Inquire for details.
ALL-INCLUSIVE RATES ARE FOR 7 NIGHTS ONLY. VIRGIN ISLANDS ONLY





8 -10 passengers

When chartering with 10 guests, 2 of the guests must be children under the age of 12



REFIT DETAILS: Indulge II went through a year long refit. She was out of the water for 8 months. Everything from the wood floor, carpets, walls and ceiling panels were replaced. Cabinets were refinished and Appliances were replaced. All new bedding and decor. The entire AC system was replaced with a dometic system which included 17 new air handlers. There's new teak on the decks along with all new seat cushions and a bimini shade cover on the bow. Brand new engines were installed as well.


Price Details
CURRENT SPECIAL: Indulge II is offering 20% broker commission on charters booked and taken before December 31st 2023. This offering cannot be combined with any other offers or specials.

<b><font color="red">This vessel is legal to conduct charters in the BVI</font></b>

APA RATE: 1-10 pax $42,000 + 35% APA

ALL-INCLUSIVE RATES (FOR 7 NIGHTS ONLY. VIRGIN ISLANDS ONLY):

2 Guests @$48,000 | 4 Guests @$50,000 | 6 Guests @$52,000 | 8 Guests @$54,000 | 10 Guests @$55,600

Includes 7 breakfasts, 7 lunches and 7 dinners, happy hour canapes, standard ships bar and snacks. Meals ashore are additional. This will include 3-4 hrs of cruise time daily.

CHRISTMAS/NEW YEARS: 7 night minimum
2023/2024 are already booked.
Please inquire about 2024/2025.

SLEEP ABOARD: Available for half of the daily rate. Includes boarding after 4pm, snacks, welcome cocktails & continental breakfast. Dinner ashore is additional. Select option upon booking. EXCLUDES: Christmas and New Year's weeks.

GENERAL NOTES:
LESS THAN 7 NIGHT CHARTERS: For 6 nights divide by 7N X 6N. For less than 6 nights, divide by 6N X number of nights.
MINIMUM NIGHTS: 3, inquire for less

BVI PORT FEE: B.V.I. customs and cruising permit fees are included in the rate.

**SEE BROKER NOTES FOR MORE INFORMATION - WAIVER REQUIRED IN ADDITION TO CONTRACT**

Copy link below & paste into browser to submit waiver:
https://bit.ly/cyawaiver


Plus Expenses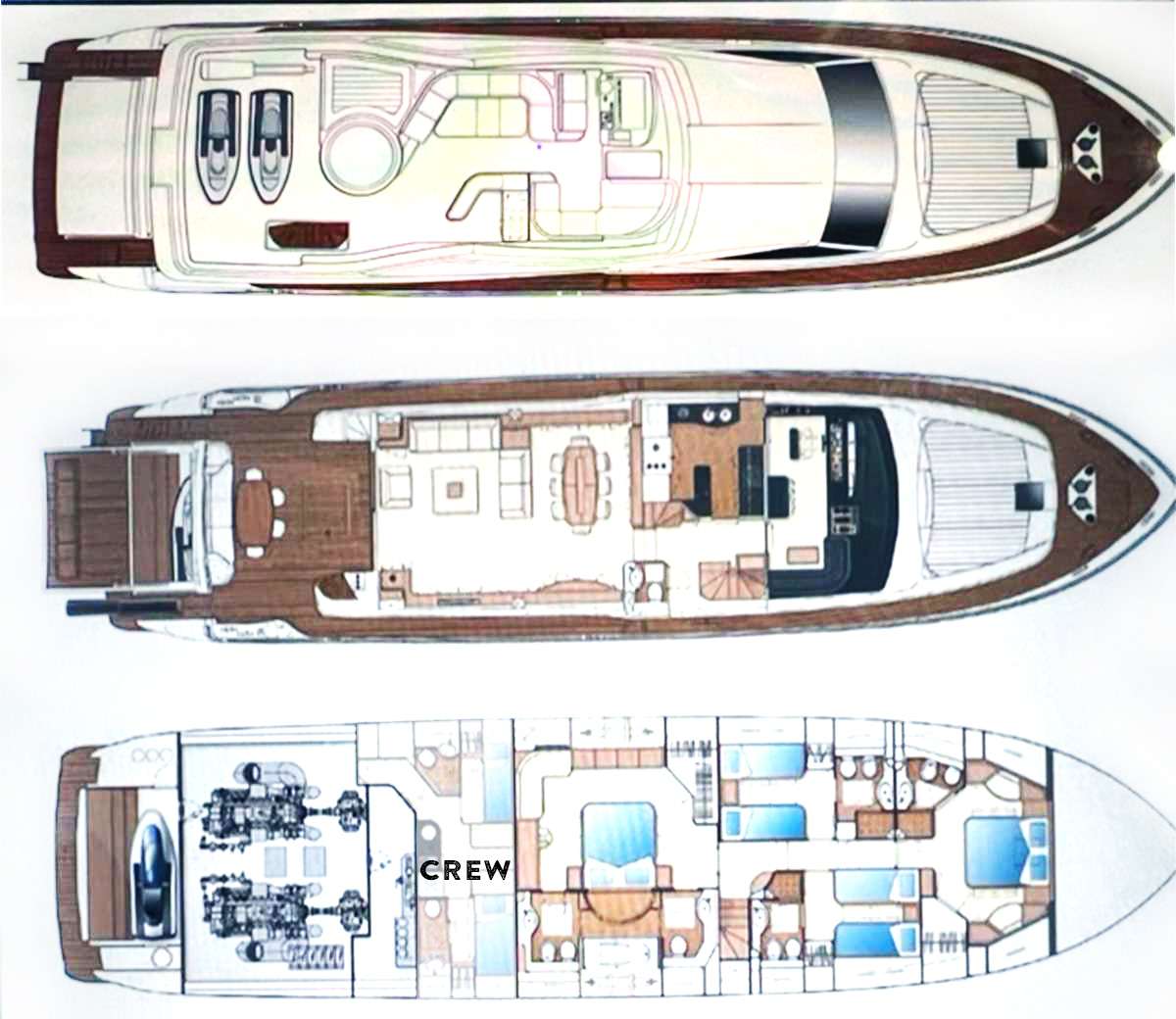 Toys:
2 SeaDoo Waverunners
Hot Tub
2 electric bikes
Oversized bow-pad with bimini top for shade
Large 18' x 6' floating mat

****Seabob and E-foils are available for an additional cost****
Entertainment:
Hot tub
Large Swim Platform
Automatic swim ladder on swim platform
Large bimini over large bow pad with pillow head rest
Large bimini on Flybridge
tanning pads on flybridge
beach chairs
Umbrella and chair for use on swim platform
Starlink Wifi
Communication:
Sat phone if needed in emergency
CAPTAIN SHACHAR BEN-DAVID

Captain Shachar Ben-David began his seafaring career racing small sailboats on the lakes of northern England. After emigrating to the United States, he enlisted in the Coast Guard where he continued serving aboard vessels as a navigation officer on a wide range of craft, from small patrol boats to large high endurance cutters. First arriving in the Virgin Islands in the late 1990's "Captain Shack" developed a love for the islands and would go on to run several vessels for the Coast Guard around the area.

After retiring from the Coast Guard, he spent a short stint at the Maritime Institute of Graduate Studies in Seattle but quickly remembered that warmer waters were his forte. After receiving his civilian qualifications aboard the Cruise Ship WESTERDAM, where he served as a watch officer and safety officer, a move back to the Islands was the obvious choice.

Since returning to the Islands, Captain Shack has worked both day and term charters around the Virgin Islands and further afield. His clients include many high-profile individuals, and businesses such as Ritz-Carlton, Rosewood, and others. He has an unrivalled knowledge of the area that allows him to create itineraries that delight guests from the first-time cruiser to the most seasoned Caribbean traveler. Whether you are seeking an adventurous trip full of water sports and exploration, or a simple cruise full of relaxation and quiet coves; Captain Shack and his crew will work tirelessly to ensure your every request is met with uncompromising service and attention to detail.

Captain Shack holds a 500t Coast Guard master's license (STCW endorsed) and an unlimited mate license with commercial radar, ECDIS, and GMDSS endorsements. He is also a qualified advanced medical care provider and vessel security officer. In his spare time, Captain Shack can be found enjoying the many outdoor adventures the Virgin Islands offer, as well as reading, cooking, and mentoring the next generation of mariners through the various local youth programs.

MICHAEL MAXIMIE

Our First Mate Michael Maximie is a native of Abaco Bahamas and has been around the ocean his entire life. Michael grew up exploring the Bahama Islands before moving to Florida where he entered the Charter business as a deckhand aboard some of the many game fish boats plying the waters of the Atlantic and the Gulf of Mexico.

Michael quickly moved up to a mate position aboard an expedition yacht and continued his journey by acquiring his approved engineering courses and working as Mate on 40m yachts. Michael also holds a 100t Boatmaster certification and has amassed hundreds of hours operating small craft and standing navigation watches.

On Charter, Michel prides himself on ensuring a first-class guest experience. Whether you need Jet Ski instruction, snorkel guidance, or just an extra pillow for your lounge chair, Michael will always go the extra mile to provide service that is second to none.

When not on charter, Michael is an avid cyclist and can often be found riding around the many mountainous island roads looking for secluded beach spots and perfect hilltop views.


CHEF SHAKYRA JOHNSON

I love to live life to the fullest. It is the main reason why I got into yachting. I love to travel and meet new people. What I have learned is that that yachting is dynamic and so am I. One Of the best things about me is my positive attitude and energy. I always try to exceed a guests' expectations. My goal is to be an asset to any organization that I am part of and to always learn and progress. It is very important to me that everyone around me is happy and comfortable. I am a nurturer by nature. Food is a passion for me. It is a way for me to take care of people around me. Creating dishes that are going to help sustain your soul are part of my goals. Although I do not consider myself a chef, I do consider myself a great cook that graduated from culinary school and received some of the highest levels of training in New York City. I love catering because it gave me an opportunity to menu plan and cook all kinds of cuisines for all types of clientele.


Start date: Nov 03, 2023, End date: Nov 06, 2023 - Booked: Crown Bay, St Thomas* to Virgin Gorda, BVI*
Start date: Nov 09, 2023, End date: Nov 16, 2023 - Boat Show: Boat Show, USVI* to Boat Show, USVI*
Start date: Dec 16, 2023, End date: Dec 23, 2023 - Booked: Saint Marten, West Indies to Saint Marten, West Indies
Start date: Dec 28, 2023, End date: Jan 04, 2024 - Booked: Saint Marten, West Indies to Saint Marten, West Indies
Start date: Jan 05, 2024, End date: Jan 06, 2024 - Transit: Saint Marten, West Indies to Tortola, West End, BVI
Start date: Jan 07, 2024, End date: Jan 13, 2024 - Booked: Tortola, West End, BVI to Tortola, West End, BVI
Start date: Jan 25, 2024, End date: Jan 26, 2024 - Transit: St Thomas, USVI* to Saint Marten, West Indies
Start date: Jan 27, 2024, End date: Feb 02, 2024 - Booked: Saint Marten, West Indies to Saint Marten, West Indies
Start date: Feb 03, 2024, End date: Feb 04, 2024 - Transit: Saint Marten, West Indies to St Thomas, USVI*
Start date: Feb 17, 2024, End date: Feb 24, 2024 - Booked: St Thomas, USVI* to St Thomas, USVI*
Start date: Mar 09, 2024, End date: Mar 14, 2024 - Booked: Crown Bay, St Thomas* to Crown Bay, St Thomas*
Start date: Mar 23, 2024, End date: Mar 30, 2024 - Booked: Crown Bay, St Thomas* to Crown Bay, St Thomas*
Start date: May 02, 2024, End date: May 06, 2024 - Booked: St Thomas, USVI* to St Thomas, USVI*