Summer location
Greece
Winter location
Greece
Star Link is a gorgeous 2008 Falcon (90ft) that underwent a refit in 2019/2020 and 2023. With 4 beautifully appointed cabins, she accommodates 8 guests. Aboard her spacious decks, you'll find peace and relaxation.

Her exceptional crew of 5 led by Captain Stoyanov is excited to welcome guests for the 2023 season! Collectively, they speak Greek, Bulgarian, English, Russian, German, and basic French. With diverse backgrounds, they pamper their guests and treat them to the finest charter experience.

While cruising, if a little adrenaline is necessary, Star Link is equipped with a Williams 400 Turbojet tender- perfect for water-skiing, tubing, and exploring the Greek coastline. There are 2 jet skis for additional fun in the sun and a sea bob! To round-out the activities, head out on the SUP, explore the underwater wonders with snorkeling equipment, or get in some fishing.

Star Link is the perfect way to explore the Greek Islands!
One master cabin, One VIP cabin and two twin cabins all with private facilities.
Price Details
2024 Rates
High Season (June 15th till September 15th) EURO 45.000 /week + all exp
Low Season (rest months) EURO 40.000/week + all exp
+ APA 40% + 13% VAT

Free WiFi

If the yacht is chartered from a location other than the home port, the charter is subject to a relocation fee.

Relocation Fees:
Catamarans 80 ft, Motor yachts and power catamarans according to fuel consumption.
Plus Expenses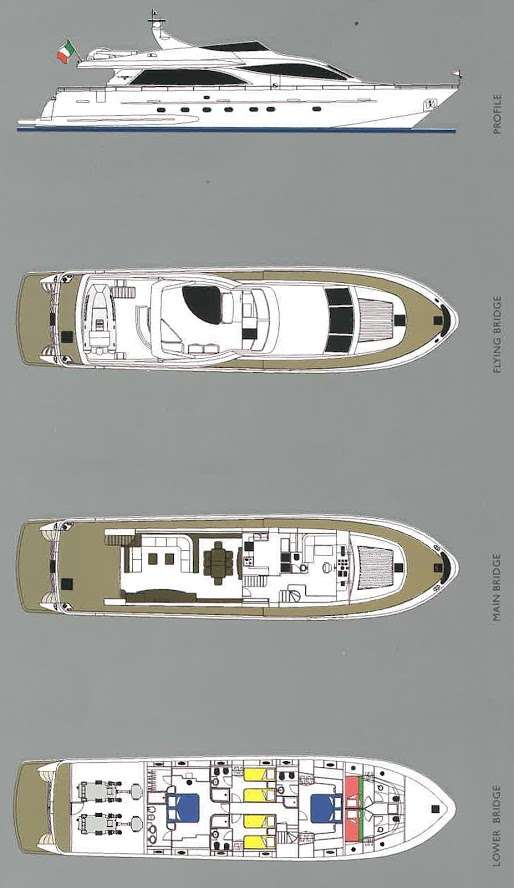 Toys:
Tempest 650 (250 hp) & AB Jet 350
Jet ski (2)
Sea Scooter (1)
Wakeboard (1)
SeaBob (1)
Waterski adults (1)
Waterski kids (1)
Monoski (1)
Kneeboard (1)
SUP (2)
Sitting board (1)
Inflatable couch 3 pax (1)
Inflatable donut (1)
Inflatable Water platform (2)
Fishing equipment (3)
Snorkeling gear (10)
Baby life jackets (6)
HardTop Convertible

All particulars are given in good faith and are believed to be correct but cannot be guaranteed.
Entertainment:
BBQ
TV in each cabin and 1 in the saloon

Shower gel, shampoo, conditioner, body milk, hand soap, toothbrush, toothpaste.
Ice Maker (2)
Hairdryer (4)
Iron (1)
Washing machine /dryer (this service is provided by the crew)
Bathrobes for each guest
Slippers for each guest
Fans in each cabin
Pillows (2 - more can be provided if needed)
Captain: Lyubomir Stoyanov
Captain Stoyanov was born in 1975 in Bulgaria. He is working in the yachting industry since 2009. He started off as a personal assistant and translator for an owner of a 90-meter private yacht cruising the Mediterranean, Thailand, Maldives, and French Polynesia. From then on, he understood that he was destined to become a sailor himself. So, with each new employee, he could gain more sailing experience until finally getting his RYA/MCA Yacht Master Offshore with full Commercial endorsement. He is very people-oriented, reliable, sociable, and focused on technical details without fuss. His wide range of positions made him the professional in all the different tasks on board and his exceptional organizational skills make his yacht super effective for chartering. He speaks Bulgarian, English, Russian, and German.

Chef: Stanislav Borysov

Stas is a young, motivated chef originally from the Ukraine. He has 8 years of experience working as chef and sous-chef in different restaurants in the Ukraine but also on cargo ships. He is trained in adapting and planning menus, efficient provisioning and dish creation. At some point in his career, he has developed over 30 dishes within 4 months as lead chef in a restaurant in 2022. He has had the opportunity to learn and practice a wide variety of cooking techniques such as the sous-vide method for meat and even taught students in the Parovoz Mixology method and food pairing. He knows how to work and manage large teams, is open to new challenges and very hard-working. He enjoys cooking French and Japanese cuisine, and in general uses fresh local products to produce balanced and healthy meals. His friendly, happy and easy-going attitude make him the perfect crew member to have on board. He speaks Ukrainian, Russian and English.


Stewardess: Irena Vatsadze
Irena is born in 1987 in Russia. In 1997 she came with her family to Greece. She has worked in the tourist industry since 2010 as a cook, receptionist, travel consultant, and flight attendant on the ground. She has gained extensive experience in many different fields learning the best customer care, professionalism, organization, and communication skills. She is very hard-working, responsible, active, a team player, and time-efficient. She speaks Greek, English, and Russian fluently and in her spare time, she likes to do sports and travel.


Mechanic:Atanasov Petko
Petko was born in 1982 in Bulgaria. He is working in the yachting industry since 2008. He is a highly accomplished, focused and proactive marine engineer with over 10 years of experience in troubleshooting, repairing and maintenance of marine diesel engines and auxiliary machinery. He has a strong sense of responsibility, is trustworthy, kind, and great in solving technical puzzles. His broad variety of roles on a yacht made him the expert in all the many responsibilities at sea, and his remarkable organization skills make him a successful team member on board.
He speaks Russian and English.


Deckhand: Samuil Kolarov
Samuil, born in 1975, is from Bulgaria and has always had a love of the sea. After completing his 8th year in Russian Language, he went on to study at the High Professional School of Catering in Varna, Bulgaria with a major focus of Cook, Bartender, and Waiter. After starting in restaurants in New York City- he first began on the sea with Celebrity Cruises and Oceana Cruises. In 2007, he became a deckhand on motor yachts which led his career from Bulgaria to France, Italy, Monaco, and Greece. After a season at home in Bulgaria, he returns to Star Link and is excited to welcome guests to the beautiful Greek islands.
Languages: Bulgarian (native); English and Russian (fluent)
Start date: Jul 14, 2024, End date: Jul 21, 2024 - Booked: Athens to Athens
Start date: Aug 05, 2024, End date: Aug 19, 2024 - Booked: Athens to Athens