Summer location
W. Med -Naples/Sicily, W. Med -Riviera/Cors/Sard.
Winter location

A 21.4m Superyacht built by Sunreef Yachts - Total REFIT winter 2022/2023

To set sail on the adventure of a lifetime with the brand new Seazen II . With new design, and luxurious amenities.

Seazen II is designed with sustainability in mind, showcasing a sleek and eco-friendly aesthetic with clean lines, and minimalistic design.

A neutral color palette is also used to create a modern and spacious feel while promoting environmental responsibility.

Seazen II promises to deliver an unparalleled maritime experience.


Twin cabin convertible into double + a bunk bed (only for a child)
Price Details
Rate Details:
Till end of May : € 30'000 + APA + VAT
June & September : € 35'000 + APA + VAT
July and August : € 38'000 + APA + VAT One-week-minimum charter rate

APA : 25%

All rates are for 7 nights, 8 days. Charters of less than 7 nights upon request depending on schedule and season

SHORT TERM CHARTERS: For 6 nights divide by 7 X 6.
For less than 6 nights, divide by 6 X number of nights.
MINIMUM NIGHTS: 5 nights

Prices shown may be subject to change by the owner.


Plus Expenses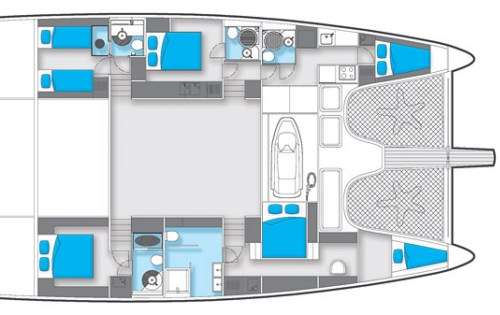 Toys:
Banana boat

Sea bob : € 1'000 will be taken out of APA in case of damage.

Entertainment:
TV & DVD in each cabin
Plancha
Wine cellar
Dryer and washing machine
Özdemir Fidan (Ozy) - Captain
My sea experience and passion span over 20 years working in all positions on various vesselwhile building my career towards being a capable captain.
As a dynamic, hand-on all-rounder with six years of experience as the captain on sailing catamaran yachts, I enjoy challenging jobs that allow me to further strenghten my carerr path. Leadership, initiative and autonomy characterise me.
In my free time I enjoy diving, cycling, cooking and cultural activities.

Ozge is the Chef on board Seazen II. With 14 years of experience in the yachting industry, she's a passionate and imaginative chef capable of preparing Turkish, European, Russian, vegan/vegetarian cuisine, as well as basic dishes from Asia. She takes pride in her ability to create exceptional culinary experiences and is ready to serve the most exquisite dishes Seazen II has to offer.


Gareth Lloyd - Deckhand
An expert in hospitality and customer service. Possesses a keen eye for detail and a deep passion for crafting exceptional guest experiences. Recognizes that each guest is unique, and therefore devote time to getting to know them, identifying their needs and preferences to ensure that they feel respected and cared for. With an array of customer service techniques in their arsenal, including active listening, problem-solving, and conflict resolution.