Summer location
Caribbean Virgin Islands (US/BVI), Caribbean Virgin Islands (US), Caribbean Virgin Islands (BVI)
Winter location
Caribbean Virgin Islands (US/BVI), Caribbean Virgin Islands (US), Caribbean Virgin Islands (BVI)
This beautiful 70' Sunreef, Excess accommodates up to 8 guests in 4 spacious well-appointed queen cabins with 4 ensuite bathrooms. One of those queens being a master cabin. Ideal for families and couples, she has a galley up creating a unique and welcoming living space. Lounging, relaxing and dining area have all been designed with focus on comfort and showcasing the tranquil surroundings. She is the seventh of the eleven Sunreef 70' sails ever built and just went through a refit in 2018. All cabins have individual A/C controls.

The yacht is strikingly and uniquely styled and certainly has a presence no matter what bay it's anchored in. With her 70 ft. length and 34 ft. beam EXCESS boasts tremendous exterior and interior space which includes a full dining area for alfresco dining in the cockpit, flybridge with 360 degree view and dining area plus sun pads, and an elegant salon with formal dining option. The salon seating area has a 65 inch flat screen TV along with updated top of the line surround sound in all common areas. The fore deck has bean bag seating, cocktail teak table, and large trampolines with pillows for relaxing in the sun. The fly bridge has a large teak dining table with wrap around seating as well as surrounding seating for sun lounging. She is a perfect example of a Caribbean charter yacht awaiting guests' excitement!

TOYS: 2 Stand Up Paddle Boards, Snorkeling Gear, Floating Chairs , 1 2-Person Kayaks, 1 Adult Water Ski Set, 1 Kids Water Ski Set, 1 Kneeboard, 1 Wakeboard, 1 Subwing, & Onshore Games.

DIVING: Offered Rendezvous Only
EXCESS is one of the very few builds from Sunreef Luxury Yachts in the region. She is the seventh of the eleven Sunreef 70' sails ever built and just went through a refit in 2018. EXCESS is an up galley, owners edition. She has 1 larger master queen suite plus 3 other spacious queen cabins, all with private ensuite heads with stalls showers and electric toilets fresh water flush. All cabins have individual A/C controls.



The yacht is strikingly and uniquely styled and certainly has a presence no matter what bay it's anchored in. With her 70 ft. length and 34 ft. beam EXCESS boasts tremendous exterior and interior space which includes a full dining area for alfresco dining in the cockpit, flybridge with 360 degree view and dining area plus sun pads, and an elegant salon with formal dining option. The salon seating area has a 65 inch flat screen TV along with updated top of the line surround sound in all common areas. The fore deck has bean bag seating, cocktail teak table, and large trampolines with pillows for relaxing in the sun. The fly bridge has a large teak dining table with wrap around seating as well as surrounding seating for sun lounging.
Price Details
<font color="#e36532">This vessel is legal to conduct charters in the BVI</font>

Preferred pick up is St. Thomas. BVI pick ups are possible but limited to 7 per season.

LESS THAN 7 NIGHT CHARTERS: For 6 nights divide by 7N X 6N. For less than 6 nights, divide by 6N X number of nights.
Charters of less than 5 nights available depending on schedule use divide by 6 rule X nights of charter for less than 6N charters.
MINIMUM NIGHTS: 5

BVI PORT FEE: B.V.I. customs and cruising permit fees are included in the rate.

HALF-BOARD:
7 nights ($150 off per person) - Includes 7 breakfasts, 4 lunches & 3 dinners aboard - with all other meals to be taken ashore at client expense
2/$38,450 3/$39,300 4/$40,150 5/$41,000 6/$41,850 7/$42,700 8/$43,550

LOCAL-FARE OPTION:
7 nights ($75 off per person) - Includes: 7 breakfasts, 5 lunches & 6 dinners. Requires 2 lunches and 1 dinner ashore at client expense.
2/$38,600 3/$39,525 4/$40,450 5/$41,375 6/$42,300 7/$43,225 8/$44,150

CHRISTMAS / NEW YEARS: 7 NIGHT MINIMUM APPLIES

•CHRISTMAS 2023:
1-8 guests @ $50,500

•NEW YEARS 2023:
1-8 guests @ $54,500

**SEE BROKER NOTES FOR MORE INFORMATION - WAIVER REQUIRED IN ADDITION TO CONTRACT**

Copy link below & paste into browser to submit waiver:
https://bit.ly/cyawaiver



Inclusive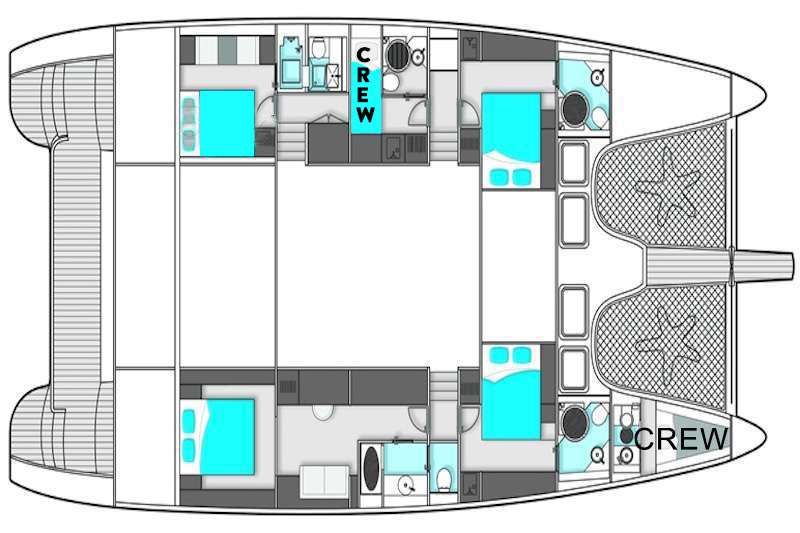 Toys:
Sub-wing
floating chairs

Entertainment:
Apple TV in master and salon
Captain Dan Szymczak has been enamored of the sea since his grandfather, a fisherman and clammer, first showed him a chart of Long Island Sound. Dan spent his youth in southern Connecticut on both fresh and saltwater kayaking, sailing, and fishing. His love of water sports, craft cocktails, and trivia will help make your vacation unparalleled.

While teaching English literature and public speaking at several colleges in New York City, Dan couldn't help but feel the desire to be on the water, and this led to his career in yachting, working on a schooner in Manhattan. He then transitioned into eco-tourism, where he wowed guests by driving them to see cracking glaciers and breeching whales in Southeast Alaska and mega pods with thousands of dolphins in the Baja peninsula. He's also an accomplished expedition leader, leading hikes to spot local wildlife, and he has extensive knowledge of both birds and sea life alike.


Chef Elise Lindbergh

Elise was initiated into the culinary world by her food-centered family. As a child, she would help cultivate the garden, and her family would invite friends to join them in the spacious kitchen to help make homemade pasta. Elise's father then would select the best tomatoes and basil leaves from the garden to make the sauce. Everyone would then gather outside to enjoy the meal as the sun was setting. This was a beloved social event. Elise's devotion to food blossomed, and at the age of 14 she started a baking business where she would be commissioned to bake elaborate specialty fondant cakes. She continued this business throughout high school. While studying anthropology and philosophy at Bowdoin College in Maine, she started selling her homemade hummus and cooking weekly meals with her friends. After she graduated, she received a scholarship to attend an 8-week culinary course in Virginia, taught by recognized Swiss Master Chef Rolf Strub, and under the direction of Chef Antwon Brinson. Her culinary interests are informed by her world travels, which include a 9-month stay in India, a month in Nepal, and multiple stays in Europe and Central America. She further honed her culinary skills in the three seasons she worked in the Caribbean as a yacht chef.

Her cuisine is strongly influenced by Asian, French, and Central American methods, ingredients, and philosophies of food. She believes a meal should be both a social event and an experience that titillates all of the senses. Her food is flavorful, colorful, and uses the freshest ingredients. She prides herself on making her own bread, pastries, sauces, and fermented goods to enhance every meal and make every dining experience homemade. She wakes up well before sunrise and uses time as her specialty ingredient— allowing her bread to rise, sauces to marinate, and flavors to infuse. Your meals on board will both excite you and nourish you. Elise's dishes are exquisite; some of them can be found on her Instagram page, @galley_of_Elise.

Additionally, Elise is as comfortable at the helm as in running the galley: she holds a 200gt Master of Yachts Unlimited ticket, which includes celestial navigation— please ask her about constellations!

Start date: May 25, 2023, End date: May 29, 2023 - Hold: Unavailable, Crew Holiday to Unavailable, Crew Holiday
Start date: Jun 22, 2023, End date: Jul 01, 2023 - Booked: Owner Use - BVI, USVI, SXM to Owner Use - BVI, USVI, SXM
Start date: Jul 13, 2023, End date: Jul 14, 2023 - Hold: Unavailable to Unavailable
Start date: Jul 19, 2023, End date: Jul 21, 2023 - Hold: Unavailable to Unavailable
Start date: Aug 13, 2023, End date: Oct 31, 2023 - Unavailable: Grenada, St Georges to Grenada, St Georges