Summer location
Northern Europe
Winter location
Northern Europe
EXPLORE THE FJORDS IN STYLE.
With her 4 cabins and 8 single berths, this Swan 651 extended to 70 feet offers the performance, elegance and the Scandinavian look of 1st generation Swans. Ichiban was refurbished in 2013 and refitted with all modern conveniences preserving its original style and finesse.
Available for sailing in the Stockholm Archipelago, Ichiban is the perfect choice to explore this unique UNESCO heritage site, which is said to be one of the "best preserved tourist destinations in the world." and one of "nature's seven wonders".
With Kerstin & Janne, the yacht's dedicated crew, Ichiban is the guarantee of a cruising experience like no other.
Accommodation for eight guests in 4 double cabins, 3 cabins with their own head and shower, the 4th cabin shares head & shower with the others.

No double bed


Price Details
Weekly charter rates
2 pax: € 17,830
4 pax: € 18,300
6 pax: € 18,770
8 pax: € 19,240

2 weeks charter rates: € 34,900 for 6 pax / € 35,840 for 8 pax.

Terms: all inclusive except alcoholic beverages, special requests (ashore excursions...), fuel, use of communication means available on board
+ VAT of 6% for charters within the Stockholm archipelago

Home Port : Stockholm, Saltsjöbaden

Delivery fees apply for different pick up & drop off – please inquire.
For charter less than a week, please use the divide-by-6 rule.
Inclusive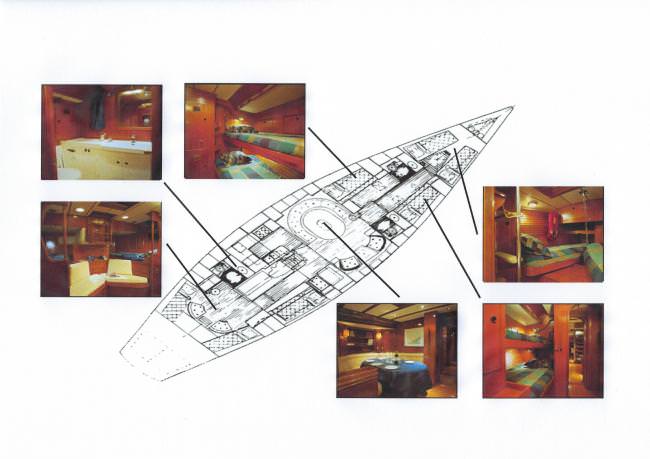 Entertainment:
Fantastic table on aft deck, accommodating ten guests.
Communication:
Mobile connection
VHF
Close relationships are often developed between our guests and the crew. With some of the every-year-returning-guests we experience a friendship which reaches far outside the days of sailing. When choosing our crew we look for people with experience of life, a curiosity for other people's stories and an ability to listen. We find those characteristics important for being able to create interesting relationship between people.

Janne Malmstrom
Janne likes challenges, either it is in stormy weather or running comprehensive IT projects for the government. After thirty years of giving people the opportunity to be a part of his experiences from the sea he conveys a feeling of rough seamanship together with a warm welcoming. With Janne you never feel the atmosphere is uncomfortable or feel like a beginner a board, he explains it all to you patiently.

Kerstin Malmstrom
Kerstin´s mix of experiences has created a personality that sets an atmosphere a board built on our key phrase, customer care. She serves newly baked bread for breakfast and in the afternoon the yacht again has an aroma of a bakery. She anticipates the guests and their needs either it is a question of an extra quilt or a particular tea for breakfast. When Kerstin serves her three course meals with a smile on her face she personifies the expression "A Happy Ship".


Start date: May 01, 2023, End date: Jun 05, 2023 - Unavailable: Stockholm to Stockholm
Start date: Jun 08, 2023, End date: Jun 17, 2023 - Booked: Stockholm to Stockholm
Start date: Jun 20, 2023, End date: Oct 10, 2023 - Booked: Stockholm to Stockholm