Summer location
W. Med -Naples/Sicily, W. Med -Riviera/Cors/Sard.
Winter location

The world renowned naval architects Finot-Conq have an enviable reputation in the sailing world. Among their previous racing builds are IMOCA 60s and the Pogo series and their latest creation is the 100ft cruiser NOMAD IV. NOMAD IV is easily adaptable and she can be both an impressive racing yacht or a comfortable cruising yacht for charter.

Her mast is 47m the water and she has 9 ton water ballast tanks each side, a short cord performance lifting keel, twin rudders and full carbon construction. Inside NOMAD IV there is spacious and modern accommodation for 12 guests with four crew. The 30.48m yacht was built by the Maxi Dolphin shipyard in Italy.
- 1 master cabin

- 2 guests cabins with double beds

- 1 guest cabins with twin beds (bunks beds)

- 1 quadruple cabins with a large double bed + 2 twin beds (bunks beds)
Plus Expenses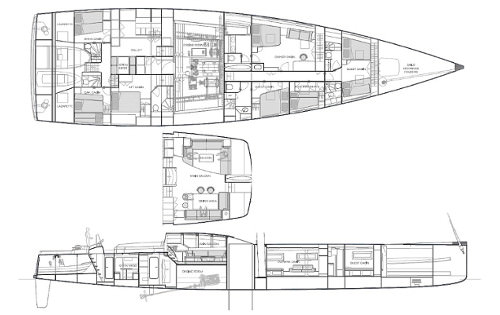 Toys:
1 Tender 4m type Jetski - 120 CV Yamaha
2 paddle boards
2 two-man kayaks
1 one-man kayak
Snorkelling equipment
Waterskis and a wakeboard
Buoy
2 interior and 2 exterior speakers
2 TV screens
CAPTAIN – Fernando Haber – German Brazilian

Sail and Work Experience:
Fernando worked as a captain on a high-performance Swan 60 thanks to his passion for performance sailing and his background in project development and project management. He joined the yachting industry and worked on both sailing and motor vessels, as well as land-based projects such as volunteering to build the educational tall ship Brigantine Matthew Turner in Sausalito, USA. He is committed to making the industry as positive and professional as possible and he strives to embody these values in his work.

Job Description:
Fernando is responsible for the navigation, safety, the overall running and financial management of the vessel, crew and guests. He ensures the safe and efficient operation of the yacht at all times, including compliance with all safety procedures and regulations. He takes care of adhering to flag regulations, port, state and local laws and regulations, and manages the crew to ensure adherence to, and a full understanding of, the vessel's policies. Jacques provides daily leadership for the crew and encourages teamwork, individual growth and personal attention by delegating duties and supervising all crew tasks.

Licenses and Certificates:
• R.Y.A / M.C.A Yacht Master Offshore Sail/Power
• Commercially Endorsed
• M.C.A Approved Engineering Course
• Human Element and Leadership Management (HELM)
• Efficient Deck Hand (EDH)
• Powerboat level ll
• STCW Basic Training + Refreshers
• ENG1 medical Elementary First Aid
• PDSD
• Personal Water Craft Instructor
• Helicopter Landing Officer
• VHF Short Range certificate (including GMDSS)
• Radar Course

Languages:
French, English, Portuguese, Spanish
___________________________________________________________________________________________________________________________

Stewardess – Zoé Lambert – French

Sail and Work Experience:
During her time on sailing boats (exclusively), Zoe has been called upon to carry out maintenance and cleaning tasks. She took part in specific manoeuvres such as mooring, yacht guiding, cargo management, safety checks, provisioning the boat, keeping watch and trimming the sails. She hopes that all the knowledge she acquired as a crew member will become a lasting asset. Some of Zoé's many attributes include her motivation, optimism, social skills, curiosity, teamwork skills, adaptability, and love for sailing.

Job Description:
Zoé is responsible for organization, management and cleanliness of all interiors. She maintains an accurate inventory of all service items and supplies. She ensures cleaning and preparation of the vessel to the highest standards prior to any and all guest trips. In charge of vessel provisioning for both guests and crew, and all aspects of daily life. When guests are onboard, she ensures they are properly cared for and that all their requirements are met.

Licenses and Certificates:
• Double Master – French – Spanish
in "Leisure, Tourism and Regional
Development"
• Matelot Pont Certificate
• Certificate of Ability to Operate
Lifeboats and Liferafts
• Security Awareness Training
• Basic Safety Training Certificate
• Individual Survival Technique Training
• Medical 1
• Personal Safety and Social Responsibility Training

Languages:
French, Spanish and English
___________________________________________________________________________________________________________________________

Deckhand – Colin Reboux – French

Sail and Work Experience:
Although Colin's work and sailing experience only dates back to 2018, he has managed to create an impressive list of achievements during this period. Colin has sailed all over Europe on several different style boats and yachts, even participating in a Transatlantic Crossing and participating on the crew of racing yachts.

Job Description:
Colin has the expertise required to stand in for the captain in his absence, acting in an important role for deckhand duties. He assists the Captain during navigation and participates in all on-deck operations, respecting guests' activities. He has extensive knowledge of the maintenance of sailing yachts and is responsible for the running of deck equipment and machinery.

Licenses and Certificates:
- Professional Baccalaureate in Conduct and Management of Maritime Enterprises
- STCW module certificates in General Operation, Firefighting, Survival Techniques, and Medical Level 2

Languages:
French and English

___________________________________________________________________________________________________________________________

Chef – Fernando Di Loreto K. Maia – Brazilian

Sail and Work Experience:
Fernando's passion for cooking and the sea came from his early ages when growing up on an island on the São Paulo coastline in Brazil with amazing fresh produce. Coming from a mixed-race country Fernando counts himself as lucky for getting to experiment with and learn about different gastronomies that he blends into a fusion style. He believes that creating unexpected flavours, textures, and taking approaches to the products combined with traditional cooking style is a good formula to enhance guests' experiences onboard. Fernando considers himself to be a positive, open-minded, and motivated individual that always seeks excellence.

Job Description:
As the Chef, Fernando is responsible for the crew and guest meals throughout the charter, ensuring that the food is enjoyable, the interior of the yacht is clean and serviceable and that all dietary requirements are met. He is a creative cook, varying his meals to provide variety and according to the location of NOMAD IV in order to have as much relevance as possible to the country being visited.

Licenses and Certificates:
• Degree obtained at Colégio Objectivo, São Paulo, Brazil
• Degree obtained at Anhembi Morumbi University, São Paulo, Brazil
• Yacht Master OFFSHORE POWER & SAIL
• Marine communication Master VHF (SRC)
• Ships Basic Safety (STCW)
• Food Certificate – LEVEL 2
• ENG1
• Driver Licence E.U – B1
• Arrais Amador – Brazilian Navy
• Rojo Gastronomy wine
• Small Powerboat & RIB Master & ICC

Languages:
Portuguese, Spanish, English
Start date: Sep 22, 2023, End date: Sep 29, 2023 - Unavailable: Palermo, Sicily* to Palermo, Sicily*