Summer location
Croatia
Winter location

These beautiful 29m Ferretti Yachts in perfect condition is ready to cruise Croatia and Italy!
The sleek and elegant Italian interior design offers her guests a spacious master cabin on the main deck and 4 double cabins (one convertible to twin) on the lower deck. Combined with the main aft deck, swimming platform, fore cockpit, and sun pads, DAMARI boasts a wonderful collection of exterior spaces for any type of leisurely activity. Her Technohull 40 Explorer chase tender with 2x 425 HP will add some adrenaline and water fun, not to talk about the exceptional crew service!


Plus Expenses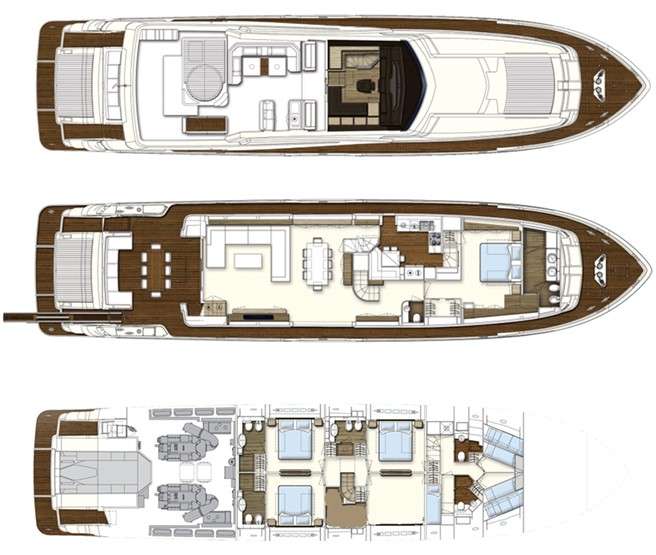 TIHOMIR KOLUDROVIĆ
Tihomir has been sailing the Adriatic sea with his father from early childhood on a 30m traditional Croatian boat. After he finished the maritime school, he started sailing on his own and his passion turned it into profession. He is following industry standards, working on board MYBA-listed yachts for more than 17 years as a Captain. With a keen eye for detail and a focus on safety, he ensures that every charter is smooth and enjoyable for all the guests on board. He is ensuring at all times a positive team spirit, as he believes that only a happy crew can deliver outstanding service,
When not on board Tihomir likes to spend time with his family and fishing.

VEDRAN GUČEK
Vedran, was born in Split is passionate about engineering. He acquired experience when starting in yachting at the age of 25. During that period, he handled a fleet of 85 sailing, motor boats and catamarans. He has been working with captain Tiho for 5 years on a very successful charter yacht involved also in the complete refit process. Vedran makes sure that all engineering projects are under control so the boat can be seaworthy at any time, in purpose of safety and pleasure of sailing.
Vedran's passion is football.

SRĐAN PUJIN
Srđan has more than 15 years of experience in the culinary industry, for him cooking is not just a job, but a way of life. A team player with a friendly and trustworthy disposition who is always customer-focused and believes that every meal should be an occasion. He's very skilled with Mediterranean and International cuisine with an uncanny attention to quality and freshness of all ingredients. He is very goal-oriented and believes in lifelong learning.
His hobbies are sports, gardening, and carpentering, he also likes playing instruments and DJ-ing.

MARIA KUTIJA
Marija joined the yachting industry in 2017. Over the years she gained a valuable insight into the industry and learned the importance of an exceptional service. Through her career, she worked on a 30m yacht MY KLOBUK, first as a Senior stewardess and after a year got promoted to Chief stewardess. Marija is enthusiastic about being onboard and works hard to ensure that everything runs smoothly, whilst also helping to provide a fun and warm environment for the guests.
She is friendly, optimistic, honest, and confident. When not onboard, she likes jogging, traveling, and reading bookstimistic, honest and confident. When not onboard, she likes to spend time with family and friends, to travel and meet new people.

DUJE ERAK
Duje comes from a seafaring family where almost every generation has owned or worked on a boat, so he was taught at a very young age how to drive and take care of boats. Having played water polo for 10 years, also for the Croatian national team shows he is very competitive and dedicated to any job he does. For the last 4 years, he has been working on private touts navigating between Split and Dubrovnik, where he got excellent experience in navigation, both day and night. Duje is a team player, trustworthy, and hardworking individual.
Sport is a big part of his life, so when time allows it, he likes to play football, basketball, and water polo.

Start date: Jan 01, 2024, End date: Jun 14, 2024 - Unavailable: Croatia - Port TBD to Croatia - Port TBD
Start date: Aug 01, 2024, End date: Oct 31, 2024 - Unavailable: Croatia - Port TBD to Croatia - Port TBD