Summer location
Greece
Winter location
Greece
10 guests in 5 cabins, all fully air-conditioned with en-suite facilities.



SIZE OF BEDS (in m):

MASTER: 160x200 cm ( 1 room )

VIP: 130x200 cm ( 2 rooms )

TWIN: 90x200 cm ( 4 rooms


Price Details
Rates 2023:
High season (July & August): Euro 36.000 per week plus VAT
Mid season (June/September): Euro 34.000 per week plus VAT
Low season (rest of the period): Euro 32.000 per week plus VAT

Plus : Applicable VAT at the time of charter, currently 6.5% for charters that takes place before June 30th, 2023. After that 12% applies
Charters for less than a week are only available upon request and the weekly rate is divided by 6.

VAT rate is determined by applicable tax legislation and may be subject to change without prior notice or responsibility on the Broker, the Stakeholder or the Owner. Should any changes in applicable tax legislation take place after the issuance of a charter agreement resulting in changes in total amount(s) due then the difference will be credited or debited accordingly to the Charterer

SPECIAL OFFER FOR GREEK EASTER ON BOARD M/Y WIDE LIBERTY

Offer M/Y WIDE LIBERTY for 12-17 April, 2023 at Euro 30,000 that includes VAT, fuel for the proposed itinerary, and one traditional Easter meal on Sunday!
12th April Embarkation at Marina Flisvos (Athens) to Aegina island
13th April Departure from Aegina to Hydra
14th April Hydra-Spetses
15th Spetses-Monemvasia
16th Monemvasia-Poros
17th Arrival to Marina Flisvos, Athens


Plus Expenses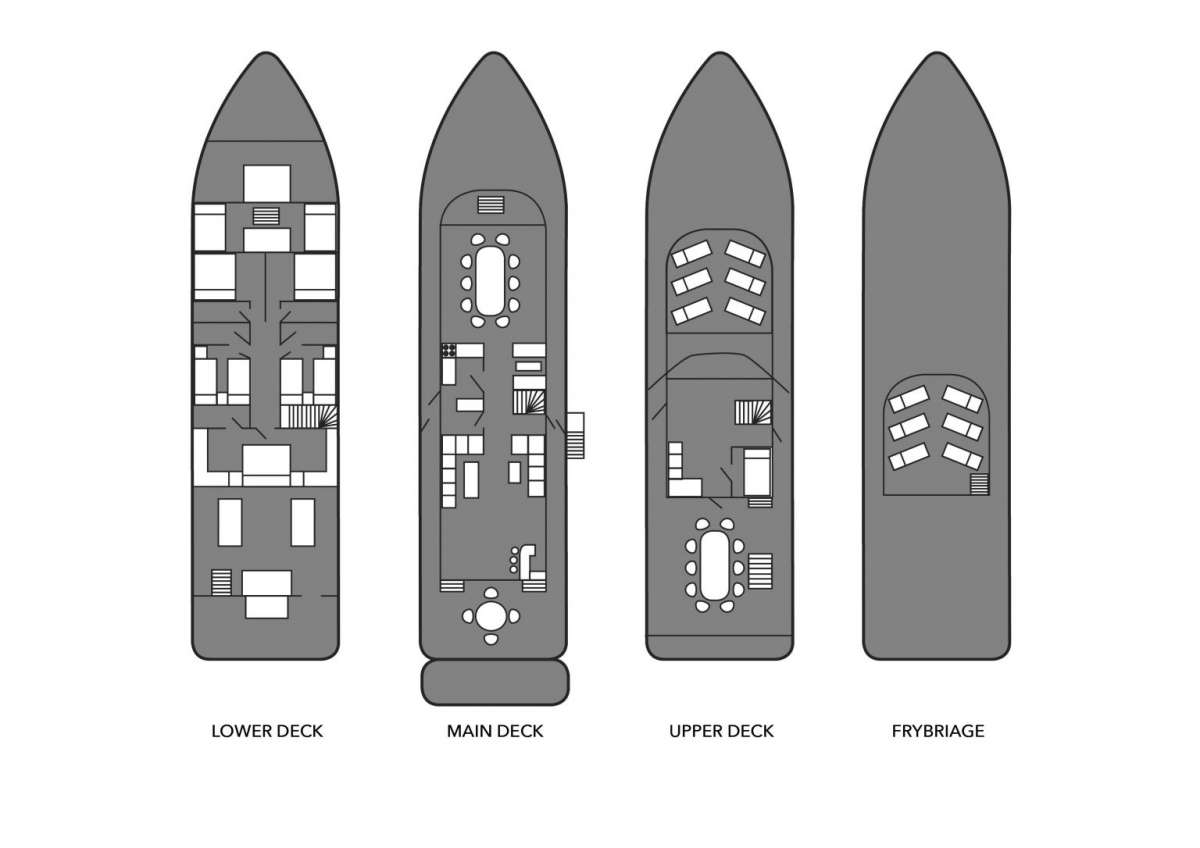 Toys:
Tender 4.10 m with 50hp Honda outboard, SeaDoo2 seats, 60hp (2016), 2x Paddle boards, Swimming equipment (inflatable banana, spaghetti ect. ), Water ski adults & children, 2x Under water scooter (speed 3,6-6,5 kmh/h), Snorkeling equipment, Fishing equipment, 2x Electric Scooter Bikes for outdoor use, Fitness Equipment: Treadmill, Bicycle Cross Trainer, Vibra Shaper, Exercise matts and Gymnastik accessories
Entertainment:
6 TV´s, 2x Generator, Water maker, Onboard Wi-Fi Internet access in every cabin, Full AC, Wifi TV with Bose Soundbar System, Business Corner with printer (air print), Ipad, Macbook, Nespresso Machine, Full equipped Bar, 2 x Icemaker, USB Charging in all cabins and Decks, Hair dryer in all cabins. Powered by two economic 6 cylinder diesel engines and auxiliaries include two generators, air-conditioning and Bow / Stern thrusters. Beauty services, Dance classes, show programs upon request with extra charge.
Captain Ioannis Chatzimarinakis
Ioannis was born in 1989 and is Greek. He is a highly motivated and experienced seaman, calm and hospitable. He holds a Captain's Class B' degree and all the necessary certificates such as Life saving & Fire fighting. He started his career as 2nd officer on paasengers vessels, but his friendly and caring personality along with his excellent communication skills made him to choose the yachting career, so he combines the discipline and the ability to work under pressure of a seaman and the politeness of a great host. Ioannis adores any activity related to sea and the chance to meet people of different walks of life. He speaks Greek and English.

Cook Viktoriia Shcherbakova
Viktoriia is Ukrainian and is a young professional truly committed to hard work and always willing to provide excellent service with attention to detail and a personal touch. She is flexible and can adapt easily while remaining highly focused and motivated. Viktoriia is friendly, easy going, determined and creative. She always pays attention so the provisioning is well organized. She is a graduate Cook and also holds waiter's certificate. In addition she is a specialist of hotel service and restaurant business. Viktoriia hold also seaman's certificates such as Training of passenger ships personnel, safety, ship security awareness etc. Before joining the yachting industry in 2018 on board a M/Y in Saudi Arabia, she had worked as waitress, as housemaid and then as Cook in Odessa. In her free time she prefers going for snowboard or studying foreign languages.


Chief Stewardess Oxana Ursachi
Oxana is of Romanian nationality and she speaks English, Greek, Moldovan, Romanian and Ukrainian. Among others Oxana hold certificates from EASA (Global Aviation SA), Basic & professional Chef Course, Maritime Training, First Aid and of Silver Service of Achievement for Yachts Stewardess. Before joining the yachting industry Oxana worked on board various Motor yachts between 24-37 meters either as Stewardess or as Solo Stewardess. Her experience and her positive attitude makes her a great asset for the team of WIDE LIBERTY.

Stewardess: Nikoleta Kandila
Nikoleta has a lively interest in her job and is always willing to broaden her knowledge. Thanks to her experience Leta is capable of working under pressure and keep her responsibilities under control. Along with her work experience as Stewardess on various mega yachts like M/Y ZALIV III & M/Y BASH she has been practicing in all types of massage both therapeutic that includes stretching and power and relaxing for full well being. She is a team player and had great collaboration with her colleagues during her career. Leta speaks English and Greek.

Deckhand Oleksandr Babin
Oleksandr was born in 1993 in Odessa, Ukraine and he lives in Greece. He has graduated from Odessa State University with a qualification of master. Oleksandr has worked as a deckhand in many yachts such as M/Y SEA U, M/Y MATSU, M/Y ION AND M/Y NATALI. He is a hardworking and focused person and he likes having a good relationship with his co-workers . Oleksandr wants to satisfy his clients and promises them fun and unforgettable moments onboard. His interests are sports, travelling and cooking. Last but not least, he speaks many languages such as English, Russian, Ukrainian.

Start date: Sep 07, 2024, End date: Sep 14, 2024 - Booked: Athens, Greece to Athens, Greece
Start date: Oct 05, 2024, End date: Oct 12, 2024 - Booked: Athens to Athens