Summer location
Indian Ocean and SE Asia
Winter location
Indian Ocean and SE Asia
Over Reef is a brand-new 54 ft power catamaran designed by the Italian architect Stefano Nolletti and delivered in 2019. The volume, comfort, large living spaces, headroom, one-level floor, and one of a kind fly-bridge make it without any doubt the most comfortable private charter for couples of families available in the Maldives. Over Reef offers modern solutions in terms of design, such as the electric sun-visor, a one-of-a-kind feature offering light and fresh breezy balcony to the bow cabins. The wide beam offers large living spaces and makes Over Reef a very efficient and stable yacht. Over Reef accommodates up to 6 guests in 3 cabins. Master and VIP cabins are at the bow, and both have glass door to access the forward deck. Over Reef, without interior steps, in order to greatly enhance the living comfort as well as safety on board, is the ideal solution at sea for families and also for a more elderly guests. Over Reef is equipped with a large, comfortable, and fast motorized tender for excursions, islands visits, and fishing. Over Reef has been also designed for the most comfortable and private scuba diving in the archipelago with a large dedicated aft-deck. None of the other local boats can perform diving directly from the yacht as you can do from Over Reef.
The yacht counts 3 guests cabins. Master and VIP cabins are at the bow, and both have glass door to the forward deck. Master cabin has private bathroom, while VIP cabin has shared toilet with the third guests cabin. The latter is equipped with a large single bed and a pullman bed.
Price Details
Private charter per night on Full Board (up to 6 passengers in 3 cabins):
Low Season (May24-Oct24): US$ 2300
High Season (Nov23-Apr24): US$ 2800

Day Use (Lunch Only - up to 12 passengers):
Low Season (May24-Oct24): US$ 2300
High Season (Nov23-Apr24): US$ 2800

FESTIVE SUPPLEMENT: US$ 200 per night (between 15-Dec and 15-Jan included).

CHARTER RATES INCLUDE: All meals, water/soft drinks/tea & coffee, airport pick up/drop off, crew (1 captain, 1 cook, 1 steward, 1 divemaster); fuel (up to 3 hrs average per day of navigation – US$ 100 for additional hour); motorised tender/dinghy, WIFI Internet, beach BBQ, fishing, land excursions, private snorkelling/dive guide, and SUP boards.

CHARTER RATES DO NOT INCLUDE: Service Charge (10%), VAT (16%), Green Tax (US$ 6 per person per day), alcoholic drinks, scuba diving, and yacht delivery or re-delivery other than to Male airport.

SPECIAL OFFER: 10% OFF ON CHARTERS WITH 2 ADULTS.
This offer is applicable if only two adults are on board.

SPECIAL OFFER: CRUISE 10 PAY 9
This offer is combinale with the other offers.

Notes: Passengers cruising between 27th December and 4th January (incl.) must book a minimum of 7 nights.
Eventual supplements could be charged in case of increase of fuel rate or modification of the current local taxes.

*Pursuant to the sixth amendment to the Goods and Services Tax Act, the rate of tourism sector GST increases from 12% to 16% from 1st January 2023.


Inclusive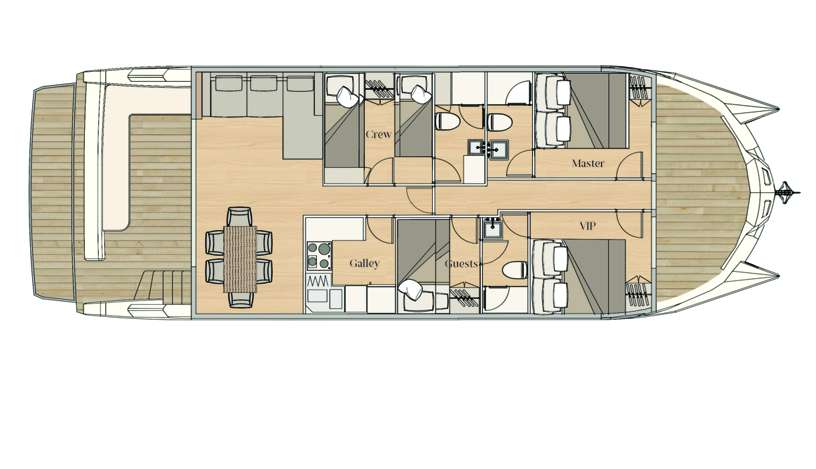 Entertainment:
Nespresso Coffee Machine
Communication:
Satellite Phone
ADAM ZAREER
Adam is the captain of Over Reef. He is Maldivian live-a-boards' captain since 2004 and divemaster. He knows in detail every corner of the archipelago and the best sites for fishing, scuba diving, and surfing.

AHMED NASRU
Ahmed is the first-mate and divemaster of the yacht. He has matured 10-years experience in the operations of Maldivian live-a-boards, and he is a real expert of the best locations for scuba diving.

ANURA KUMARANAYAKE
Anura is the Srilankan chef of the yacht. In the Maldives since 2008, he is one of the best cooks presently employed on the live-a-boards operating in the archipelago.
Start date: Dec 10, 2023, End date: Dec 15, 2023 - Booked: Maldives, South Asia* to Male, Maldives Islands*
Start date: Dec 17, 2023, End date: Dec 24, 2023 - Booked: Male, Maldives Islands* to Maldives, South Asia*
Start date: Dec 25, 2023, End date: Jan 01, 2024 - Booked: Male, Maldives Islands* to Male, Maldives Islands*
Start date: Jan 02, 2024, End date: Jan 09, 2024 - Booked: Male, Maldives Islands* to Male, Maldives Islands*
Start date: Feb 04, 2024, End date: Feb 09, 2024 - Booked: Male, Maldives Islands* to Male, Maldives Islands*
Start date: Feb 17, 2024, End date: Feb 27, 2024 - Booked: Male, Maldives Islands* to Male, Maldives Islands*
Start date: Mar 02, 2024, End date: Mar 09, 2024 - Booked: Male, Maldives Islands* to Male, Maldives Islands*
Start date: Mar 10, 2024, End date: Mar 20, 2024 - Booked: Male, Maldives Islands* to Male, Maldives Islands*
Start date: Mar 24, 2024, End date: Mar 31, 2024 - Booked: Male, Maldives Islands* to Male, Maldives Islands*
Start date: Apr 01, 2024, End date: Apr 11, 2024 - Booked: Male, Maldives Islands* to Male, Maldives Islands*