Summer location
Caribbean Virgin Islands (US/BVI), Caribbean Leewards, Caribbean Windwards, Caribbean Virgin Islands (US), Caribbean Virgin Islands (BVI)
Winter location
Caribbean Virgin Islands (US/BVI), Caribbean Virgin Islands (US), Caribbean Virgin Islands (BVI)
Enjoy the warm breezes of the BVI and USVI, and the sunny seaside retreat onboard Escapade. Your adventure on this new Bali 5.4 provides an elegantly appointed and tranquil setting with all the creature comforts of home. The new "Open Space" design affords panoramic views from every viewing level whether it be the flybridge, foredeck or while dining in the main cockpit.

The Crew, Andre and Jana welcome you aboard ESCAPADE, for an unforgettable adventure. Escapade offers 4 queen cabins and a twin cabin, to where the crew are more than happy to relocate should the fourth queen be requested, all cabins have en-suite facilities and full air conditioning. Escapade sports a highly functional hydraulic swim platform which is great for lounging on in the water or to use as your own personal beach club, along with ample snorkeling gear, fishing gear, a tube, wakeboard and woodfired grill. Escapade offers the perfect getaway, be it upbeat or lazy sailing, this Escapade is for you.
1 master cabin, 3 queen cabins and 1 twin cabin - all equipped with ensuite facilities for guest use.
Price Details
***ESCAPADE is fully permitted to sail BVI waters***

● BVI CRUISING PERMITS, CUSTOMS FEES AND TAXES:
For 7-night charters, additional costs of $250 per person, for 6-night charters or less, divide weekly rate by 7 nights x by number of nights.

● SAINT MARTIN / SAINT BARTHS RELOCATION FEE:
Relocation fee of $2,000, minimum 72 hour turn required on either side of charter dates
for boat transit. Please inquire for availability.

● MINIMUM NIGHTS: 5

● LESS THAN 7 NIGHT CHARTER RATES:
For 6-night charters, divide weekly rate by 7 nights X 6 nights. For 5 nights or less, divide weekly rate by 6 nights X number of nights.

● HALF-BOARD OPTION:
$100 discount per person. Includes 7 breakfasts, 4 lunches & 3 dinners, all other meals to be eaten ashore at
client's expense.

● LOCAL FARE OPTION:
$75 discount per person. Includes 7 breakfasts, 5 lunches & 6 dinners, all other meals to be eaten ashore at client's expense.

● CHILDREN DISCOUNT:
$100 discount per child.

● CABIN CONFIGURATION:
Inquire for change of cabin configuration. Relocation of crew to alternative cabin will incur additional charge of $250 per night, to be paid prior to embarking on yacht. Please inquire for availability.

● SLEEP ABOARD:
1/2 the daily rate. Dinner ashore at client's expense. Includes boarding after 4pm, welcome cocktail and breakfast the next morning and early start.

● GUEST PAX: 6

● CHRISTMAS:
10% surcharge to be applied to standard charter rates. Must end no later than Dec 26th.

● NEW YEARS:
7-night minimum $36,000 for 1-8 guests, must start December 28th or later.

● EMBARKATION: 12PM

● DISEMBARKATION: 12PM

● TURN AROUNDS:
48-hour turn arounds required - inquire for 24-hour turns

● ALL-INCLUSIVE RATE INCLUDES:
Meals & Beverages onboard
Fuel
Mooring fees
Private Yacht & Service of the crew (captain, chef/mate)
Insurance for the yacht and the passengers (civil liability)
Accommodation in private air-conditioned cabins each with an ensuite bathroom
and bedding, towels, and beach towels.
Snorkel gear
Stand Up Paddle Boards
Floating mats
Tube
Underwater Camera
Wakeboards
Kneeboards

● ALL-INCLUSIVE RATE DOES NOT INCLUDE:
BVI cruising permits, customs fees, and taxes - to be paid by the Charterer at prior to
embarking on vessel. Special provisioning requests (inquire for further details) Cancellation insurance and private insurance. Airport transfers to/from yacht base
Personal Expenses

● TIP:
It is customary to tip your crew at the end of your charter. The amount you leave is totally at your discretion and should be based on the level of service provided. The suggested gratuity is 15%-25% of the total charter fee.


● CONTRACT SPECIAL CONDITIONS:

The Charter Fee does not include the British Virgin Islands (BVI) cruising taxes and permit, BVI National Park permits and BVI customs fees (collectively the "BVI Fees").

If the CHARTERER requests to include the BVI in the Charter itinerary, and the Yacht is legally allowed to cruise in the BVI, the BVI Fees shall be paid by the CHARTERER prior to embarkation on Yacht.

If the Yacht is NOT allowed entry into the BVI, FOR ANY REASON, during the time of charter, the charter will take place in the USVI waters.

Payment of BVI Fees amount to $250 per person (total $****). Payment is due at final payment stage as listed in payment schedule.



Inclusive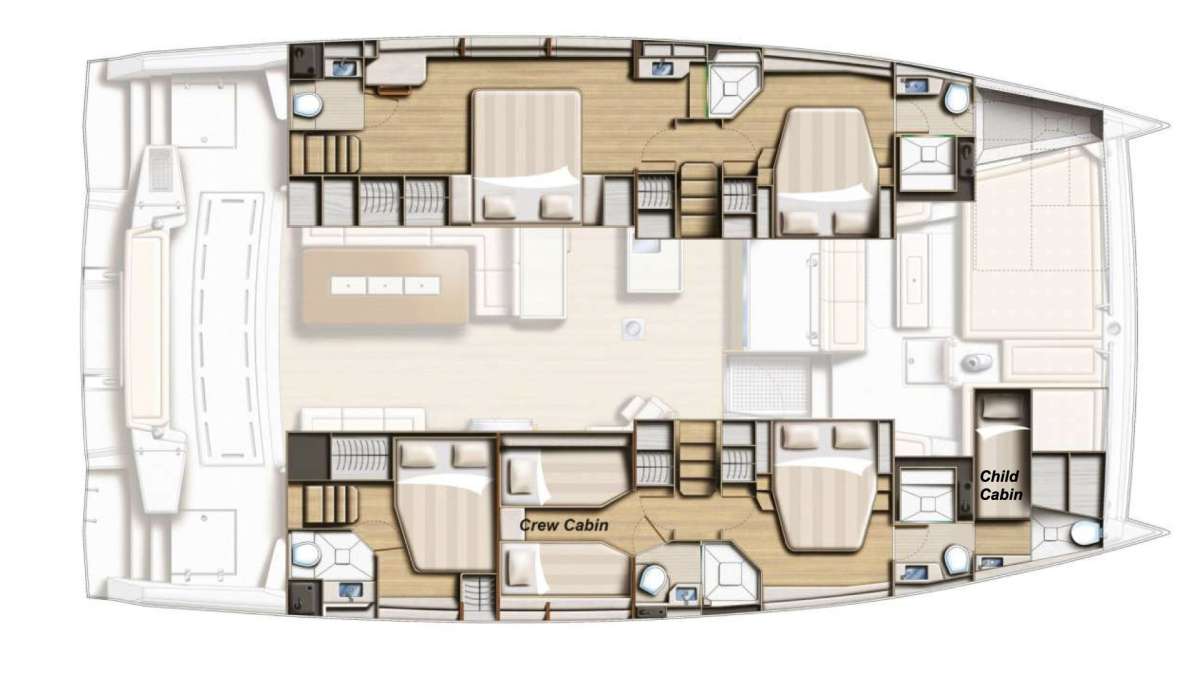 Toys:
GoPro
Drone - DJ Mini 2
Entertainment:
Washing machine
Meet the crew for season 2023/24!!

CAPTAIN - ANDRE

I have been working on the ocean since 2015 with vast experience gained from childhood, I have managed to fast track my career in yachting up to the point where I'm confident in my role as captain.

Crossing the Atlantic Ocean twice at the age of 19, on a sailing vessel, I fell in love with sailing and became a Yacht Master Instructor working for Atlantic Yachting Sailing School for two years. One of my students asked me to deliver his catamaran from Cape Town, South Africa to the Caribbean. Thereafter my professional yachting career started.

My hobbies include fishing, spearfishing, free diving, diving, golf, videography, traveling & exploring. I have a passion for people and creating experiences for guests that will have lasting impact after their stay. Incorporating my videography hobbies during charter, I create personalized videos of guests during their time on the yacht to send them off with memories to look back on.


CHEF/MATE - JANA

I am a passionate, adaptable, easygoing chef/stewardess with a great love for exquisite service and creating stellar ambiance. A natural passion for the sea led me to pursue a career in the yachting industry.

I am accustomed to the fast-paced hospitality environment and thrive on delivering unforgettable moments uniquely tailored to each guest. Being qualified in food & beverage product development, I furthered my career by gaining experience in various industries that all led to customer satisfaction.

I thrive on decorating and perfecting spaces for guests down to the finest detail. You can be sure to find me behind the bar crafting unique cocktails and ensuring guests experience the luxury of staying on S/Y Escapade.

Start date: Apr 15, 2023, End date: Apr 22, 2023 - Hold: Crown Bay, St Thomas* to Crown Bay, St Thomas*
Start date: May 17, 2023, End date: May 23, 2023 - Hold: Crown Bay, St Thomas* to Crown Bay, St Thomas*
Start date: Jun 03, 2023, End date: Jun 10, 2023 - Booked: Crown Bay, St Thomas* to Crown Bay, St Thomas*
Start date: Jun 15, 2023, End date: Jun 19, 2023 - Hold: Crown Bay, St Thomas* to Crown Bay, St Thomas*
Start date: Jul 01, 2023, End date: Jul 08, 2023 - Booked: Crown Bay, St Thomas* to Crown Bay, St Thomas*
Start date: Jul 09, 2023, End date: Jul 14, 2023 - Booked: Crown Bay, St Thomas* to Crown Bay, St Thomas*
Start date: Nov 05, 2023, End date: Nov 15, 2023 - Booked: Red Hook, St. Thomas, USVI* to Crown Bay, St Thomas*
Start date: Dec 28, 2023, End date: Jan 04, 2024 - Booked: Crown Bay, St Thomas* to Crown Bay, St Thomas*
Start date: Jan 06, 2024, End date: Jan 13, 2024 - Booked: St Martin to St Barths