Summer location

Winter location
Bahamas
Amaryllis was inspired by the Belle Epoque, Art Nouveau and Art Deco periods. Designed by Reymond Langton with loose furniture by Silverlining, she was delivered in November 2011 by Abeking & Rasmussen.

With accommodation for up to 12 guests including an owners deck with private terrace, VIP suite on the main deck plus three double cabins and one twin cabin situated on the lower deck.

A Beach club with gym and spa facilities is aft allowing direct access to sea from swim platform and the sundeck includes a 5m pool that changing colors.
Plus Expenses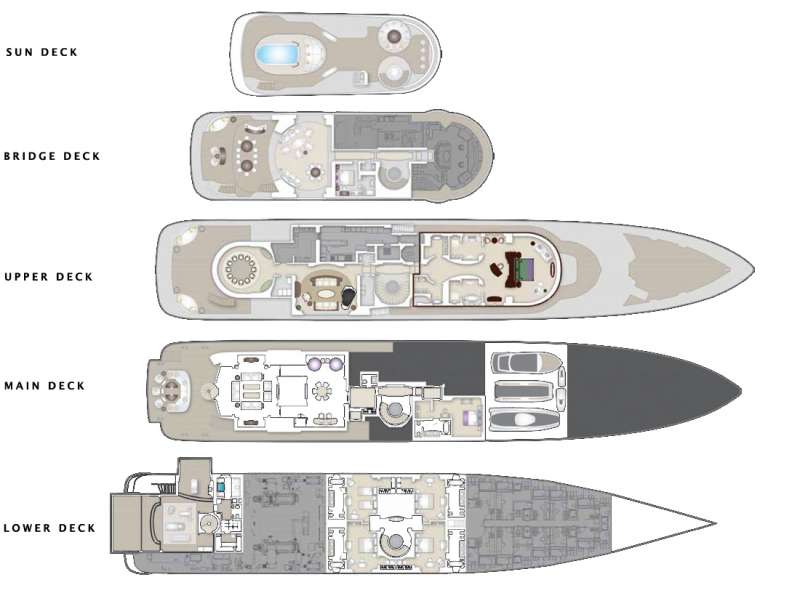 Toys:
WATERSPORTS
Tenders + Toys
- 9.9m Graf Ipanema custom wooden tender with Volvo 370hp
- 6.6m Master Craft X25 waterski Tender
- 8.8m Pascoe Beachlander with Volvo 370hp
- Inflatable Water Slide
- 2x Seabob F5S underwater scooters
- 2x Jetsurf Factory GP Surfboards
- Yamaha FZS Jetski
- Yamaha SJ700 Lightweight Superjet jetski
- Yamaha Wave Runner FX HO
- Wakeboards
- Fishing equipment
- BBQ
Entertainment:
Gym:

-TechnoGym Excite 900 Treadmill

-Keiser M3 Spinning Bike

-Versa Climber

-LifeFItness G7 Workout Set

-Technogym Kinesis Personal Leather

-Precor Elliptical Trainer

-FitVibe Powerplate

-WaterRower Rowing Machine

-Free Weights

-Gym Ball

-Pilates Mats

Bridge/Deck

Rotational Captain – Johan Harris – South African / American
Working professionally across the globe and logging over 100,000 nautical miles, Johan's experience spans everything from sailboats to superyachts. His upbringing in Mossel Bay, South Africa culminated his love for the ocean, and he has progressively turned this passion for the sea into an established career. When away from the helm Johan enjoys reading, home renovations, and collecting beautiful classic cars. His knowledge, extensive experience, patience and calm personality create a unique atmosphere on the yacht that encourages you to feel relaxed and make the most out of your holiday.


Rotational Captain – Charlie Rowlands – British
Charlie has been sailing since he was 6, successfully racing dinghies, catamarans, keelboats and large superyachts. He has been yachting professionally since 1996, and has been a Captain since 2002. He has a 3000gt license and is a trained rescue diver. Charlie has circumnavigated the globe 3 times. With such an extensive career, he has accumulated some special memories, from diving with humpbacks in Tonga, to out-running pirates off the coast of Africa.


Rotational Chief Officer – Jean Paul Kleyn – South African
Born and raised on the wild coast of South Africa, JP has been a keen sailor since the age of 14. His dreams to sail all over the world and love of the ocean propelled him to become a certified divemaster and passionate spear fisher. When he turned 21, he made a natural transition into the yachting industry delivering a 44ft catamaran from Cape Town to Miami. 12 years later he has now obtained his Master 3000Gt license and looking forward to building further on his experience in the coming years.


Rotational Chief Officer – Albie Kidd – South African
While working as a high school sports coach in Cape Town, Albie honed his sailing skills and delivered a 38ft catamaran to Annapolis, Maryland at just 20 years old. This was officially the start of what was to become a ten-year career in the yachting industry. He has a passion for the education and wellbeing of others, which he demonstrates through his leadership style. When not at sea Albie spends his time working towards completing his private pilot's license, tinkering on his airplane, and staying active through outdoor activities such as kitesurfing and trail running.


Second Officer – Matthew Couch – South African
Matthew is from the beautiful surfing town of Ballito in South Africa. After leaving school, Matthew took a gap year and worked in a restaurant, before starting his yachting career in 2017 - and he hasn't looked back since. Matthew loves being out on the water and has recently discovered a passion for scuba diving. During his career he has worked on a variety of yachts throughout the Mediterranean, Caribbean, Bahamas, America and west coast of Africa. Humbled by these experiences, Matthew decided to further his maritime education gaining his Chief Mate 3000gt. When he's not working Matthew loves cars, motorbikes and continuing his scuba diving training.


Bosun – Russell Ross – South African / British
Coming from Cape Town, South Africa, Russell grew up on the beach surfing, diving and fishing. It comes as no surprise that after a successful corporate career in London he decided to return to his roots and establish a life on the water. With an accomplished background in leadership, Russell guides our Deck department with skill, confidence and fun. Russell promises to surpass all of your vacation expectations and provide a memorable experience that will last a lifetime.


-------------------------------------------------------------------------------------------------------------------------

Galley

Rotational Head Chef – Tom Checketts – British
Tom has over 12 years in the yachting industry and has been a Chef for 21 years. He loves the career path he has chosen and finds passion in what he does every day. Outside of the galley he has competed in 15 Ironman triathlons and maintains his fitness through dedicated running and cycling. Other interests of his include reading, history, and restoring classic cars.


Rotational Head Chef – Geoffroy Colombo – French
After finishing culinary school in the South of France, Geoff had the good fortune to work besides renowned Chefs Pierre Gagnaire and Marco Pierre. He gained valuable culinary skills and innovative techniques across the country, most notably working for the French president and his family. Geof owns a restaurant, Mas des Faraches, in the south of France.


Sous Chef – Erin Trudgeon – South African
Erin grew up in South Africa. From an early age, he had a passion for cooking, learning from his family. He pursued this passion and began working in some of South Africa's best restaurants. Joining the yachting industry in 2022, he enjoys travelling to new places and learning new skills. When not working, Erin has an interest in history and politics, he can often be found reading or watching Formula 1.


-------------------------------------------------------------------------------------------------------------------------
 
Interior

Rotational Purser – Laura Pearce – South African
Laura was born in KwaZulu Natal, South Africa, she grew up in both England and South Africa. Holidays were always on the Transkei's Wild Coast, where she spent all her time outdoors developing a natural love of the ocean. Laura gravitated towards the industry due to her love of the coast, interest in travel, and large family all of whom have worked on yachts. Laura readily began her career in yachting over 10 years ago, and has worked on a variety of diverse yachts. Prior to her career at sea Laura worked in Communications, Teaching, and the Fitness Industry. She always enjoys welcoming guests onboard and ensuring their stay is a memorable one.


Rotational Purser – Rowena Garcia – German
Rowena was born in Spain and brought up in Germany. During her B.A. Tourism Management studies she did an internship in a 5* luxury hotel in Mallorca, which is when she first found out about the yachting industry back in 2014. Being a highly motivated, personable and dedicated professional with a talent for detail she figured it was the industry for her. Rowena then progressed in her career from Junior Stewardess to Chief Stewardess and lastly to Purser. In her spare time she enjoys going to spinning, doing yoga and is very interested in fashion and design.


Chief Stewardess – Charlotte Ettling – British
Charlotte was born in Dorset, England. After a Geography degree at the University of Exeter, Charlotte spent a brief time in maritime insurance and marketing before beginning a career in yachting. With a passion for travel and the ocean, Charlotte has worked across the globe on a range of motor and sailing yachts. Her life has always revolved around the ocean, she can often be found sailing or paddle boarding. Charlotte and the Interior team always aims to provide an unforgettable and seamless experience for guests.


2nd Stewardess – Veronika Kose – Australian
From the Gold Coast of Australia, Veronika enjoys all things nature. Her life has been primarily based by the sea and she has been fortunate enough to experience some of the most beautiful waters around the world. Veronika has travelled the world working on a variety of yachts. She believes in living a life filled with love, laughter, sunshine, and good wine. Off the boat she enjoys surfing, sewing, reading and communication.


-----------------------------------------------------------------------------------------------------------------------------------------------------  

Engineering

Rotational Chief Engineer – Gregory Hinks – British
Greg hails from Poole, South of England. At the age of 16, he started a 4-year marine engineering apprenticeship constructing and testing various yachts. His knowledge and 12 years of experience in marine engineering make Greg a valuable member onboard. He leads the Engineering department to ensure systems and critical equipment are running smoothly.


Rotational Chief Engineer – Georgi Kostadinov – Bulgarian
From a very young age Georgi developed a profound enthusiasm for vessels of all sorts. The son of a Chief Officer on a large bulk vessel, Georgi first stepped on to a ship at the age of four. He has since spent almost the entirety of his life working at sea, where he feels most fulfilled. Since completing his studies in Marine Engineering and Navigation, Georgi has devoted over 20 years to the maritime industry.


Rotational Second Engineer – Mark Baptiste – British
Mark served 18 years in the Royal Navy Submarine Service in various engineering positions, including two appointments as head of section. His unique marine background includes operating Critical Systems in extreme conditions, such as under the Arctic ice cap, and completing a Submarine Systems course which allowed him to gain nuclear certificates. His interests include astronomy, collecting watches and motorbikes.


Rotational Second Engineer – Brendan Ferec – French
Brendan was born in Brittany in France. For generations his family has worked in the merchant navy, so it was natural for him to pursue a career as a marine engineer. For the past ten years he has worked on various yachts, obtaining his Y3 license and continuing to progress in the industry. In his spare time Brendan enjoys exploring new places and cultivating his interests in language and photography.


AV / IT Technician – Mile Forgan – Australian
Miles has been in the yachting industry for many years. He has travelled around the world three times on a variety of sailing and motor yachts. As an experienced AV/IT Technician, Miles loves combining his skillset with his love of the ocean. In his time off, Miles loves climbing, having climbed many mountain peaks and volcanoes, whilst collecting some incredible memories and friends along the way.