Summer location
W. Med -Naples/Sicily, Greece, W. Med -Riviera/Cors/Sard., Turkey, W. Med - Spain/Balearics, Croatia
Winter location
South America, Caribbean Virgin Islands (US/BVI), Bahamas, Caribbean Leewards, Caribbean Windwards, Indian Ocean and SE Asia, Central America, Red Sea, United Arab Emirates
The 86m M/Y CHAKRA was built in by Scheepswerf Gebr. van der Werf and last refitted in 2017. In 2016 this impressive yacht underwent a complete transformation, illustrating what can be achieved with the unwavering dedication of a first-class team. CHAKRA is destined to be one of the most sought-after large yacht.
Guest Accommodation:

1 VIP (King Size Bed)

1 Master (King Size Bed)

10 Doubles (King Size Bed)

3 Doubles (Bed Size 2m x 1.30m)

1 Single (Single Bed)

1 Single (Bed Size 2m x 1m)

4 Twins




Plus Expenses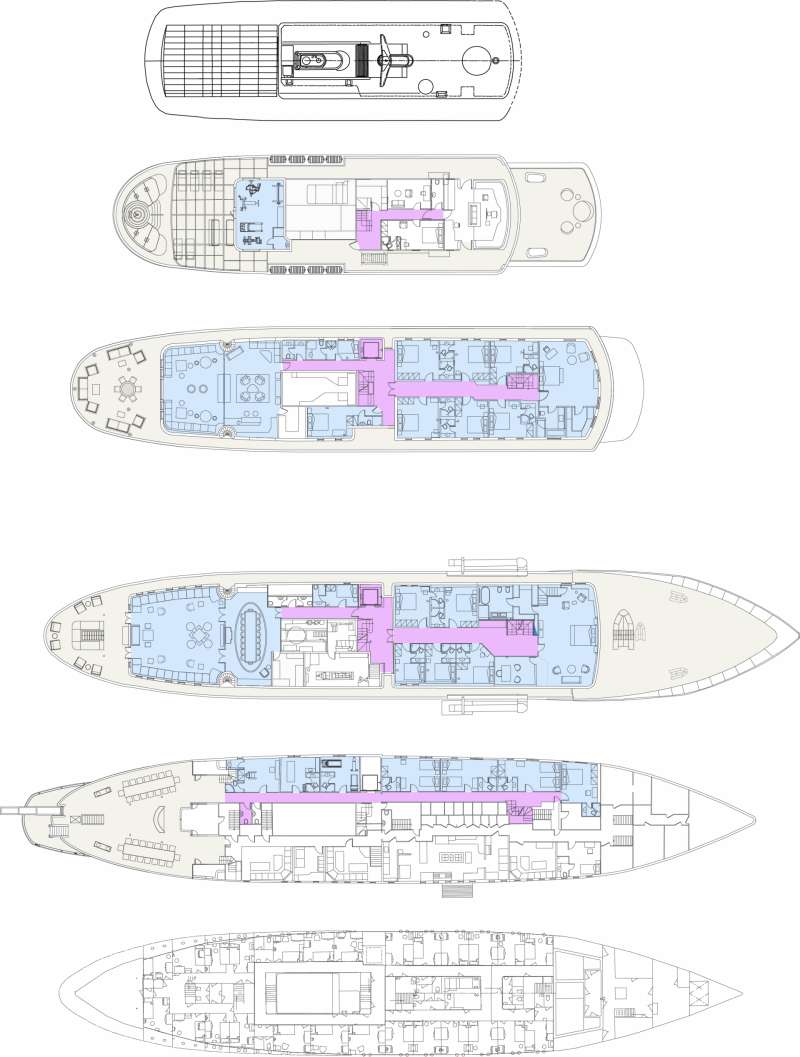 Toys:
1 x Sessa Marine / Key Largo 36" with Yamaha F350 AETx3
1 x 4.2 M rescue tender WITH 25 HP Yamaha
2 x Jet Sea Doo GTX 260 limited, 4-stroke
1 x Yamaha VXS wave runner
Flyboard spark
3 x towing tubes
Ski, mono ski, wakeboards, wakesurfs
Scuba diving & Snorkelling equipment

Entertainment:
Audio Visual Equipment and Deck Facilities:
30X SAMSUNG FLAT SCREENS TV THROUGHOUT
KARAOKE TOUCH SCREEN SYSTEM
KALEIDESCAPE VIDEO / MUSIC ON DEMAND USING AMX OPERATING SYSTEM
Communication:
VHF FIXED-156-163 MHZ FURUNO FM 8500 X 2
VHF R/T WITHDSC-156-163 FURUNO FM 8500 X 2
VHF PORTABLE -156-163 ICOM ICGM 1500 C X 3,
STANDARD X 3
MF RADIOTELEPHONY-1605-40000 MHZ FURUNO NBDD6
MF RADIOTELEPHONY-4000-27500 MHZ FURUNO NBDD6
EPIRB 121.5/406 MHZ JOTRON 30 5 MK II S/N :71F 17183
UHF PORTABLE ICOM F20 X 4
SATELLITE EATH STATION-STANDARD B NERA B MANLUC
SATELLITE EATH STATION-STANDARD C FURUNO FELCOM II
DFAX-207 FURUNO
NAFTEX NX-700 FURUNO

Captain: Kostas Ollandezos
Captain Kostas was born in1956. He has more than 35 years of Maritime experience, 15 as Captain at the yachting industry. He is a graduate of the Merchant Marine Academy of Greece He has the experience, the knowledge and the skills to manage any situation.

Chief Officer: Fotis Markovitis
Fotis was born in 1980 in Greece. He has 15 years of maritime experience, from which 7 years as a Chief officer at the Marine industry. Those years gave him immense experience and deep knowledge. In addition he is extremely skillful and well trained to act in all circumstances in a calm and efficient manner. He loves reading and movies.

Chief Engineer: Nikolas Chondrakis
Nikolas is Greek and he is married with two kids. We are very happy to have him on board as his extensive experience enables him to handle every situation and maintain the smooth operation of all equipment on board. He is meticulous in task completion and has an excellent work ethic. With his attention to detail he ensures that all engineering projects are completed to the highest standard, which, combined with his calm demeanor, makes guests feel assured of a safe and totally relaxing cruising experience.

2nd Officer: Alexis Rigas – Koutoukis
Alexis was born in Greece in 1987. He has been working since 2012 as an apprentice first, and then as a 2nd officer. He is extremely focused on the guests needs and wants, he is excellent in communication and strongly motivated to face his responsibilities head on. He aims to deliver the best support to the captain, fellow crewmembers and the best service to his guests.

2nd Engineer: Dimitris Chouchoulis
Dimitris was born in Athens in 1970. He has 20 Years of Expertise at Greek Navy Seals & Mechanical Corps. He was awarded with the Medal of Good Service from the Helenic Republic. His impressive and versatile experience allows him to handle demanding situations always guaranteeing the safety and well-being of his guests.

Deckhand: Kritolaos Garafas
Kriton was born in 1983 in Greece. He has been in the yachting industry as a deckhand since 2009. He gained his passion for the ocean during his childhood as he grew up only meters from the sea. Kriton relishes meeting people from various cultures whilst travelling in this industry. In his free time he enjoys reading and football.

Deckhand: Giorgios Lalas
Giorgos was born in 1991 in Greece. He has been in the yachting industry for 4 years after earning his degree as a mechanotronics engineer. Surfing is his passion followed closely by photography and seeing the world and capturing all its moments.

Deckhand: Emmanuil Xenarios
Manolis was born in 1989 in Greece. Although he attending a technical lyceum of engineering, after school he worked as a sales person before entering the yachting industry in 2010. He decided to pursue a career where he's most comfortable-on the water and traveling. He is always smiling and happy to assist guests on-board.

Hotel Manager: Greogory Triantafyllou
Gregory was born in Greece in 1967. He has extensive experience with cruise lines in a number of managerial positions, held over the years with Greek and international companies and operating in a world wide environment. A team player with excellent interpersonal, communication and leadership skills, flexible, adaptable, able to perform well under pressure.

Chef: Georgios Kavatziklis
Georgios is Greek. After finishing his degree, Georgios worked in hotels all over the world gaining experience and perfecting his skills in several cuisines. He has won several awards in prestigious competitions. He has excellent organizational skills, a team player, quality conscious and always creative with his recipies. He makes every meal an outstanding culinary experience.

Sous Chef: George Kourakis
George was born in 1978 in Greece. Deciding to continue his passion for food and cooking, Chris has over 14 years' experience working in the hospitality industry. Having worked in many locations he has developed a knowledge and appreciation of regional cuisines. He has a genuine passion for food and hospitality.

Steward: Gaidarzhy Anatolii
Anatolii was born in 1987 in Ukraine. He brings a warm friendliness to CHAKRA always willing to go the extra mile, never failing to make those around her feel welcome and ensuring a great time is had by all. Antonia joined the yachting industry immediately after school where she hopes to combine her love for the ocean and passion for hospitality.

Stewardess: Gynkinova Nataliia
Nataliia was born in 1980 in Ukraine. Nataliia traveled around world and most of Europe experiencing different cultures and broadening her hospitality skills and techniques. Eight years later, she decided to enter the yachting industry where she can combine an excitement for travel and adventure with her career.

Stewardess: Ganna Mielikhova
Ganna was born 1989 in Ukraine. Her love for travel urged her to work as a travel agent right after school. She was drawn to the sea and started her career in yachting in 2016. She enjoys each day and looks forward to new adventures. She has a passion for what she does and will be happy to make your stay as relaxing and memorable as possible.

Stewardess: Vorona Anastasiya
Anastasiya was born in 1991 in Ukraine. She has traveled across the globe enjoying and discovering new places and cultures. In 2014 she embarked on her career in yachting. She is friendly and supports the Chief Stewardess with guest service and housekeeping duties with a smile on her face.

Stewardess: Kateryna Paun
Kateryna was born in 1988 in Ukraine. Her experience in hospitality means that she is knowledgeable and professional. She is both intuitive and attentive, which ensures that the needs of guests are handled discreetly and quickly, making their stay on Turquoise relaxing and enjoyable.