Summer location
W. Med -Naples/Sicily, W. Med -Riviera/Cors/Sard.
Winter location
W. Med -Naples/Sicily, W. Med -Riviera/Cors/Sard.
Cikila is a Leopard 23 Open Yacht, built in 2000 and fully refitted in 2022. She accomodates up t 8 guests in 3 comfortable cabins: a cosy full beam master cabin and two twins with an additional pullman bed. The beautiful main salon is classically decorated and features plenty of glossy wood finishes and soft cream leather upholstery. The dining area includes an innovative descending table, allowing the space to be transformed into a lounge area where guests can watch TV or simply relax while sipping a cool cocktail. The sun deck is equipped with a TV screen, a dining area with a drop-down table and a large sofa where you can relax with a drink. Guests will also find two comfortable sundecks, one at the bow and one at the stern, both equipped with cushions.
Plus Expenses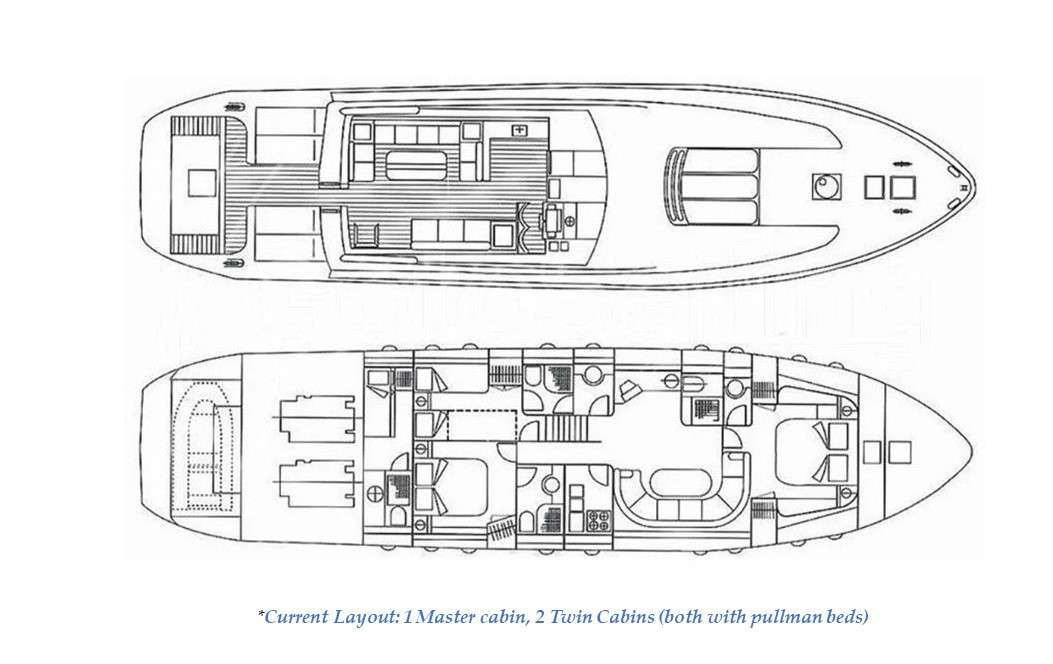 Captain: Vittorio Esposito, Italian, 29 y.o.

Captain Vittorio Esposito is an experienced yacht Captain with a rich background in the maritime industry. Born in Sorrento (Naples), Vittorio joined the yachting industry 6 years ago.
After the Nautical Institute Degree, he soon started working employing as Deck Cadet.
Thanks to his skills, Vittorio quickly advanced his career gaining first the Deck Officer position aboard cruising yachts and then as Captain aboard private yachts.Boasting a deep sense of duty, extensive experience, qualifications and excellent communication skills, Captain Vittorio is keen to exceed guests' expectations.
Italian mother tongue, he speaks a good level of English.



Deckhand: Nunzio Manganaro, Italian

Nunzio is a valuable deckhand and an hard worker. After achieving the Nautical Degree, he started working as deckhand aboard touristic vessels where he gained experience and increased his love for the sea. Later he embarked aboard the Princess Cruise- Santa Clarita, improving his technical skills and abilities to face stress situations. A true sea lover, Nunzio holds the elementary first AID, security for seafearers, personal safety and social responsibility, survival and rescue, basic fire protection Certification. Italian mothertongue, he speaks a good level of English.