Summer location
Croatia
Winter location
Croatia
1 master cabins with double bed

4 double bed cabins

2 cabins with double bed + one single bunk bed
Price Details
The above prices include: Accommodation on the yacht, 4 crew members, wages and food for the crew, Croatian VAT, fuel for main engines up to 4 hours cruising per day, 24 hours fuel for daily generator use (air condition), complete linen and towels, tender 5.80m + Honda 100 HP outboard engine, yacht insurance, service on board, sojourn taxes, yacht cleaning, use of leisure equipment on board, WiFi.

FOOD OPTIONS:
Half board (breakfast + lunch): 450 EUR per person per week
Full board (breakfast + lunch + dinner): 750 EUR per person per week
Extra meal (dinner - three courses) is optional 50 Eur per meal per person
FOOD DISCOUNT FOR CHILDREN:
Children 0-3 years free of charge, Children 3-10 years 50% discount.

DRINKS/BEVERAGES OPTIONS:
Drinks/beverages to be taken at the yacht bar and paid according to consumption.
The all-inclusive domestic drink package of 230 EUR per person includes: Croatian quality
wines, domestic beers, spirits, soft drinks, natural and mineral water, milk, tea and coffee.
Foreign liquors and wines are not included in this package.
All-inclusive non-alcoholic drink package: 100 EUR per person per week.
Drinks and beverages completely supplied by clients - corkage fee: 700 Euros per week

Water sports: 80 EUR/hour
Plus Expenses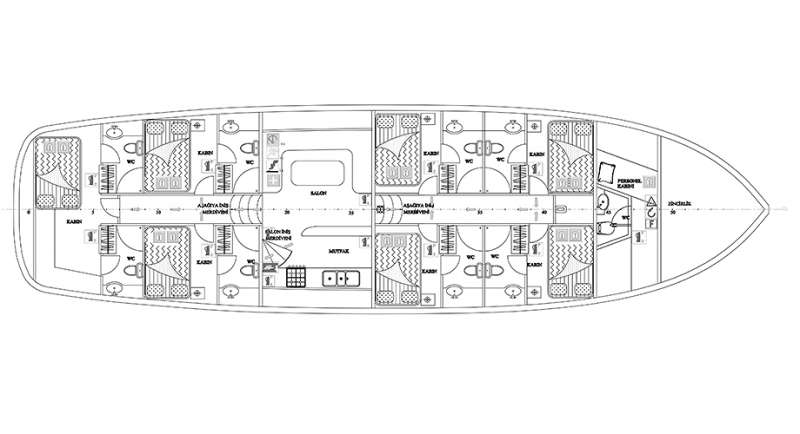 Toys:
Water sports: 80 € per hour, LCD, TV, board games
TOMISLAV ŠELENDIĆ - CAPTAIN
Tomislav Šelendić was born on 1984. In Split, Croatia, he has been living most of his life on the beautiful island of Brač, right across the town of Split. This is why he has been connected to the sea from an early age, as he has spent his childhood surrounded by the island's untouched nature and the cry of seagulls. He learned to become a chef, but his love for the sea was stronger, and he decided to move from the kitchen to the deck and became a deckhand on a fishing boat. Eventually, he was promoted to helmsman, and after a couple of years, at 22, he became the captain of his fishing boat. When he was 26, he decided to replace the fishing industry with tourism and since then has been working on various ships, gathering experience which is now over 14 years.
His personality is why he decided to change profession – he enjoys working with people. He is a very communicative person, always in a good mood. And this job allows him to dedicate himself entirely to his guest's wishes and fulfill them all.
In his spare time, he enjoys big game fishing and cooking.

Careuel Calinisan - DECKHAND
Careuel Calinisan, a 28-year-old deckhand from the Philippines, embarked on a life-changing journey in Croatia in June 2019.
Fueled by a strong desire to enhance his skills and forge a better future, Careuel took a leap of faith and set foot in a foreign land.
During the initial months of his arrival, Careuel found employment as an assistant in the kitchen of a hotel. This opportunity provided him with valuable experience in the culinary realm and allowed him to immerse himself in a diverse cultural environment. Interacting with individuals from various nationalities broadened his horizons and enriched his understanding of different cultures.
After the season ended, Careuel's quest for self-improvement led him to a fish factory in Šibenik. He considers himself immensely fortunate to have been a part of that esteemed establishment, as it bestowed upon him a wealth of knowledge and expertise over three years. This invaluable experience further honed his skills and contributed to his personal and professional growth.
Today, as a sailor on the gulet allure, Careuel remains unwavering in pursuing a successful life. Guided by his aspirations and determination to excel, he navigates the seas steadfastly committed to his craft. With each voyage, he strives to surpass his expectations and reach new heights, knowing that his dedication and hard work will pave the way for a brighter future.

MIHAEL BASSA - CHEF
Mihael is the chef. He comes from the north, from the capital of Zagreb. He is a qualified chef, and also a wine waiter with a qualification from the Carnival college of Food & Beverages from Miami so he has extensive knowledge of wines. After spending more than a decade working in Miami, he relocated back to Croatia and has been employed there ever since, primarily in the hospitality industry and on yachts. A fun fact about Mihael is that he is a certified diver and a member of a mountaineering association. He speaks English and Spanish.

MARINA CVITKOVIĆ - HOSTESS
Marina Cvitković, 1989, was born in Supetar, where she still lives. After graduating from the high school of economics and office technology in Split, she graduated from the Faculty of Law, after which she interned for a year at the Municipal Court in Supetar and passed the state professional exam.
Since she was 14, she has been working in the tourism sector of catering and trade. A desire for change, new acquaintances, work at sea, and getting to know the Croatian coast led her to become part of the Allur crew team. She likes to spend her free time with her family and friends, and she is a big fan of books, movies, and music. Marina is attracted to the Eastern way of life and practices meditation and Ayurveda.
Start date: Sep 23, 2023, End date: Sep 29, 2023 - Booked: Dubrovnik, Croatia to Split / TBC
Start date: Jun 08, 2024, End date: Jun 14, 2024 - Booked: Split / TBC to Dubrovnick*
Start date: Jul 27, 2024, End date: Aug 02, 2024 - Hold: Split / TBC to Dubrovnick*