Summer location
Croatia
Winter location
Croatia
Luxury Gulet Morning Star is a shining star in our gulet offer. First impression when you look at this gulet would be at least amazing as it is about vintage looking sailing yacht with elegant lines and curves, inviting deck and a touch of glamour. She has been built in 2008 but has been fully maintained and refurbished year after year. So, we are talking about a youngster with vintage look. Morning Star is equipped with 6 cabins (2 double cabins, 2 twin cabins, 2 triple cabins). Combination of American cherry wood and bright colors make warm and welcoming atmosphere. Pleasant relaxing dreams are ensured by the fact that every cabin has their own independent air conditioning system. Daytime is to be spent either swimming and snorkeling, sipping refreshing cocktail in the shade in aft cushion area, or sunbathing on the cushions in the front. Special shaded cushioned area at front allows you to fully enjoy the stunning view and wind in your hair while sailing. Namely, Morning Star is one of the few gulets that has full sailing equipment and very good sailing performances. The dining area holds the central and the most important position on the deck because special care aboard the Morning Star is given to the gastronomy. Evening chats, or time to dine can also be spent in spacious saloon which abounds with natural illumination thanks to huge window area that surrounds the saloon. Last but not least, the inevitable part of the story about this yacht is the crew. They are here to make your sailing trip as comfortable, enjoyable and fun as possible, Always kind and smiling they will for sure try their best to make your wishes a reality. This is why Morning Star is boat with most returning guests and best feedback.
2 Double Cabins: Cabin 5.95 m2 with double bed

2 Twin Cabins: Cabin 7.25 m2 with twin bed

2 Triple Cabins: Cabin 9.30 m2 with double bed and single bed
Price Details
The above prices include:
Accommodation on the yacht, 4 crew members, wages and food for the crew, Croatian VAT, Fuel in the amount of 1 500€ is included, yacht insurance, service on board, sojourn taxes, yacht cleaning, use of leisure equipment on board, WiFi.

FOOD OPTIONS:
Half board (breakfast + lunch): 470 Eur* per person per week
Full board (breakfast + lunch + dinner): 700 Eur* per person per week
Extra meal (dinner - three courses) is optional 35 Eur per meal per person
*VAT included
FOOD DISCOUNT FOR CHILDREN:
Children 0-2 years free of charge, Children 2-12 years 50% discount.

DRINKS/BEVERAGES OPTIONS:
Drinks/beverages to be taken at the yacht bar and paid according to consumation.
All inclusive domestic drink package of 200 Eur per person includes: Croatian quality wine,
domestic beer, spirits, soft drinks, natural and mineral water, milk, tea and coffee. Foreign liquors and wines are not included in this package.
All-inclusive non-alcoholic drink package: 100 Eur per person per week.
Drinks and beverages completely supplied by clients - corkage fee: 700 Euros per week.


Plus Expenses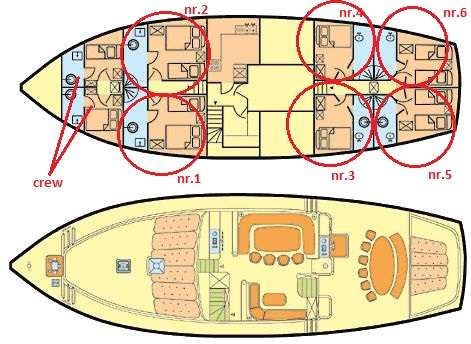 TOMISLAV GRUBEŠA - CAPTAIN
Tomislav Grubeša, captain of Morning Star was born in 1984 in Đakovo, in continental part of Croatia. He has finished culinary high school in his home town but the sea was calling him, and he ended up working as a deckhand on a few gulets in Croatia.
After he passed the yacht master's exam he started working as a skipper, first on gullet Malena and later on gullet Morning Star.
He has proven himself to be an excellent skipper as he learned a lot from the captains he worked with.
Reliable and organized, but flexible, he is a great host ready to fulfill our guests' wishes making sure they have time of their lives. He is also very communicative and sociable, enjoys meeting new people. During winter when he is not with his wife and children, he enjoys playing futsal and squash.

IVAN TRGO – CHEF MATE/OWNER
Ivan Trgo is chief mate and owner on Morning Star. Born in 1988 he attended vocational high school for electronic technicians. After high school, he attended the Maritime Faculty in Split, getting a degree in nautical science, and a skipper license. He has worked on numerous ships as a sailor and waiter, in several restaurants as a waiter, and he also worked as an electrician in the Split shipyards. In the recent years, he has joined his brother Domagoj in the family business. He has been helping with designing and maintaining the boats. He has been living in Ireland for a few years, so his English is at an excellent level. In his free time, he loves reading, music and travelling. He is a very friendly and cheerful person, and his love for travel and meeting new people makes him an excellent host and communicator. He will do his best to make your holiday on Morning Star unforgettable experience.

ANTE RAKO - WAITER
Born in 1999 in Split, Ante is young but enthusiastic. He has finished School of Electrical Engineering in Split and currently he is studying electrotonic at Faculty of Electrical Engineering, Mechanical Engineering and Naval Architecture. Well brought up and diligent he started working early during the summer seasons. He has been working for two seasons in 5 stars hotel Le Meridien Lav as a buffet waiter serving breakfasts, lunches, dinners, gala dinners etc. and two seasons as a waiter in a Gooshter beach club (Le Meridien Lav). Last year he has worked as a waiter on Morning Star as he has proven himself to be hardworking and attentive. Guests love him because of his kind nature and good manners.
Ante has a wide range of interests. His free time mostly spends on different sport activities (gym, jiu-jitsu etc). He enjoys meeting new people from different cultures so working on Morning Star is great pleasure for him.

MENSUR HADŽIĆ - CHEF
Hadžić Mensur is a chef at Morning Star. He was born in Mostar on December 17, 1982, where he graduated with a degree in economics. On the other hand, his interest in gastronomic topics and his great love for food led him to the world of cooking. He completed his education as a chef and
worked in several restaurants in Croatia and Sarajevo as a head chef.
By preparing various dishes from culinary culture, he gathered a wealth of experience behind him. He is very friendly and communicative, open to new knowledge and experiences, and in addition to excellent knowledge of the English language, he also speaks Spanish.
In his free time, he likes to engage in sports activities, and his favorite hobby in life is sailing.

Start date: Jun 08, 2024, End date: Jun 14, 2024 - Booked: Dubrovnick* to Split / TBC
Start date: Jun 15, 2024, End date: Jun 21, 2024 - Booked: Split / TBC to Split / TBC
Start date: Jun 22, 2024, End date: Jun 28, 2024 - Booked: Split, Croatia* to Dubrovnick*
Start date: Jun 29, 2024, End date: Jul 05, 2024 - Booked: Split / TBC to Dubrovnik, Croatia
Start date: Jul 06, 2024, End date: Jul 12, 2024 - Booked: Dubrovnick* to Split / TBC
Start date: Jul 20, 2024, End date: Jul 26, 2024 - Booked: Split, Croatia* to Split, Croatia*
Start date: Aug 03, 2024, End date: Aug 09, 2024 - Booked: Split / TBC to Split / TBC
Start date: Aug 17, 2024, End date: Aug 23, 2024 - Hold: TBD to Split / TBC
Start date: Aug 24, 2024, End date: Aug 30, 2024 - Booked: Split / TBC to Split / TBC
Start date: Aug 31, 2024, End date: Sep 06, 2024 - Booked: Split / TBC to Split / TBC
Start date: Sep 07, 2024, End date: Sep 14, 2024 - Booked: Split, Croatia* to Split, Croatia*