Summer location
Croatia
Winter location
Croatia
** A BEAUTIFUL LITTLE YACHT PERFECT FOR SMALL GROUPS **
- - - - - - - - - - - - - - - - - - - - - - - - - - - - - - - - - - - - - - - - - - - - - - - - - - - - - - - - - - - - - - - - - - - - - --

Our little 'gem' Sedna accommodates 6 guests in 3 double en-suite cabins (1 master and 2 double). The master cabin is fitted with a 205x210cm berth while the two double cabins have 205x165cm berths. Each cabin has a storage space underneath the berth, a wardrobe, reading lights, AC unit and are fully serviced with the linen, towels, beach towels and a set of toiletries. Originally built as a 4 cabins gulet; the owner made her a 3 double cabins gulet in order to achieve more comfort and space.

With a new ownership from the last year and a fantastic crew of 3, Sedna is perfect for a couple looking for a romantic week on the water or a small family looking for a lovely week away. She is also the first eco-friendly gulet and relies on solar panels for electricity. Captain Vlade and his crew are looking forward to welcoming you onboard.


Price Details


Plus Expenses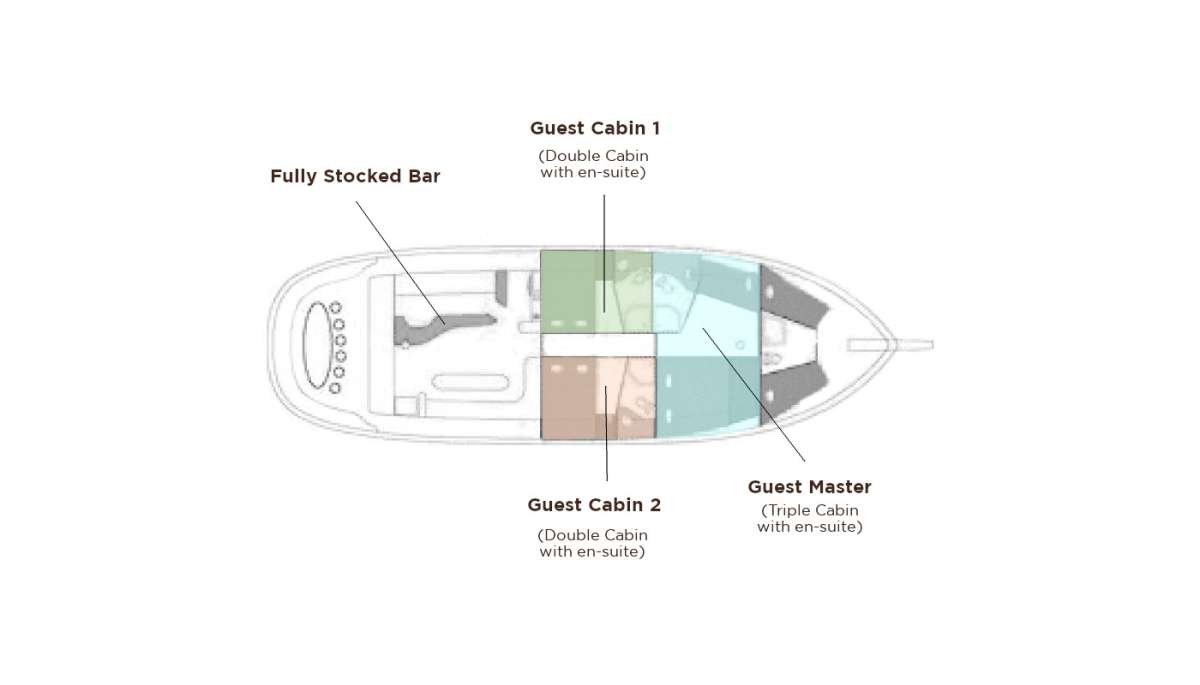 Toys:
Arranged by request;
-Sea Scooters
-Sea Bobs
-Donut
etc. etc.
Name: VLADE MARSIC

Position: CAPTAIN

Born: 1971

Experience: + 15 years

Vlade was born in Omis in 1971. He fell in love with the sea from an early age and has sailed up and down the Adriatic ever since. This passion led to Vlade purchasing his own small personal sailing boat many many years ago for sailing up and down the Adriatic (he still owns this other yacht for personal use). Needless to say, he has sailed as Captain on his own, and many other sailing boats for over 20 years.

He has been with Sedna since its purchase and was instrumental in planning all steps required for her full refit in 2022. This included dry-docking, sand- blasting and new paint cycles for the hull, maintenance of all the vessel's machinery and equipment as well as internal renewal of all guest spaces and guest cabins. He is a very hands-on Captain and does a lot of the maintenance himself.

A man of humor, he likes cinema, arts and music, he manages his duties with care and responsibility. He always devotes his attention to provide a healthy safe environment for the crew he is working with, and he is always dedicated to his guests during a cruise.

He is extremely familiar with the navigation areas, places of interest, and restaurants along the Croatian coast and he speaks Croatian, and speaks conversational English.



------------------------------------------------------------------------------


Name: DUSKO SKARIC

Position: CHEF

Born: 1968

Experience: + 20 years

Dusko was born in Omis. He has 14 years of experience in the yachting industry, working both as a deckhand and a chef. Dusko is adept at preparing tasty and nutritious meals for an international clientele and has many years experience at catering to different pallets and preferences onboard. He can prepare the local Dalmatian cuisine but is also familiar with other culinary influences and cooking for children and teenagers of all nationalities.

His cooking style is Mediterranean cuisine, however, he can adapt to any food requirements. The galley on Sedna is quite small and dishes served onboard are mainly light options such as pasta, salads, grilled fish and meat supplemented with fresh locally grown vegetables.

He has a good rapport with guests and always happy to hear feedback from guests and to prepare food exactly to their liking. He likes to rise early and go to the local fish-markets to purchase the first fresh catch of the day.

Dusko also has a great singing voice which can occasionally be heard emanating from the galley whilst he is busy.

He also is of good disposition and likes to make jokes - he always says the last ingredient of his dishes is good humour.



---------------------------------------------------------------------


Name: PETAR JOVIC

Position: DECKHAND

Born: 1984

Experience: + 8 years


Petar was born in Omis in 1984. He has +8 years of experience in the yachting industry, working as a deckhand. He joined Sedna last summer assisting Captain Vlade. A discreet and quiet personality, Petar studied at the maritime college in Split. His connection to the sea comes from his very early age when he accompanies his grandfather on his fishing trips.

Petar helps both Captain Vlade and Dusko, the chef. He will look after your dinghy on/off shore transport, help you with the use of the water toys , help Dusko serving the meals and be your contact for everything you need.

Petar speaks fluent English so is often used as the principal contact for the guests.










Start date: Sep 24, 2023, End date: Sep 29, 2023 - Booked: Split / TBC to Split / TBC
Start date: Oct 01, 2023, End date: Oct 06, 2023 - Booked: Split / TBC to Split / TBC
Start date: May 12, 2024, End date: May 17, 2024 - Booked: Split / TBC to Split / TBC