Summer location
W. Med -Naples/Sicily
Winter location
W. Med -Naples/Sicily
2 double beds, 2 twin beds, 2 pullman beds
Price Details
Mediterranean Rates in Euro per week

EUR 14,000 per week - April - May
EUR 15.000 per week - June 1st to 15th
EUR 22,000 per week - July & August
EUR 17,000 per week June 15th to 30th & 1st to 10th September
EUR 15,000 per week - September 10th to 30th
EUR 14,000 per week - October - December

All rates are excluding VAT 22% and APA 30%

Included in these rates are :
Rental of the boat, services of the Captain and deckhand, use of on-board leisure equipment

Not included in these rates are :
- Italian VAT 22%
- A.P.A (advance provisioning allowance) 30 % to cover all costs in advance: taxes, fuel & provisioning, marina expenses if any, use of communication means available aboard
- Air fares, transfer airport/yacht/airport
- Crew gratuities (between 5 and 10%)

Plus Expenses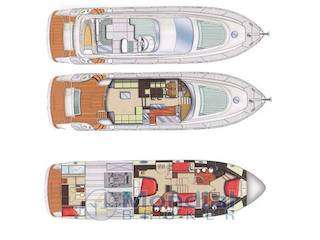 Entertainment:
lavastoviglie
lavatrice
nespresso machine

Francesco Mortillaro | Captain

Sicilian, born in 1974.
Francesco's career started on 1997 working in the Merchant Shipping Industry. After 9 years, in 2006 he moved to the Leisure Yachting Industry, working as Captain on yachts between 18 and 23 meters until 2012, than moved on larger yachts up to 42 mt (private & commercial) as Chief Officer and relief Captain.

Francesco's geographic areas navigated with yachts include all around Italian coast, French Riviera & Corse, Balearic Islands; Total miles cruised are about 30500.
Very calm and diplomatic person, team person capable in managing human resources, balanced and responsible, he has a good knowledge about administration, accounting, management and ship's maneuvering.
Passionate about cooking.

Licenses
• Chief mate on ships of 3000 gross tonnage or more (rule II/2)(issued by Maritime Autority);
• Chief mate on ships of between 500 and 3000 gross tonnage (rule II/2, II/3) (issued by Maritime Autority);
• Master on ships of less then 500 gross tonnage (rule II/2, II/3) (issued by Maritime Autority);
• Master GT500 gross tonnage endorsed / issued by MCA
• YachtMaster Offshore endorsed / issued by MCA(command enabled up to 2ooGT and 150 miles from the coast);

Certificates
• STCW95 (PSSR, PST, FPFF, EFA);
• Certificate of Proficiency in Survival Craft;
• Proficiency in security awareness by completing an approved training course;
• Certificate of proficiency for seafarers with designated security duties;
• RADAR (Normal Observation) ;
• RADAR ARPA ;
• RADAR ARPA SAR ;
• GMDSS;
• MEDICAL CARE;
• LEADERSHIP MANAGEMENT;
• CROWD and CONFLICT MANAGEMENT;
• MOTORMAN;
• LIFEGUARD;
• PADI Open Water Diver Certificate.
• Seafarer's medical certificate ENG1
*All certificate are updated with manila convention.

Diego Matri | Deckhand

in 1994, Diego was born in Genoa.
His entire life has been devoted to nautical professions, starting from school to certification as a professional sailor.
Hard working and a good organizer, Diego is reliable, attentive and provides excellent customer service. Great kindness, proactive attitude, knows how to anticipate the needs of the guests on board. In addition to this he possesses technical skills for onboard maintenance.
Diego holds the STCW basic training.