Summer location
Greece
Winter location

S/Y GENNY is a Sunreef 80 available during the summer to cruise the Greek islands! Step on board this exclusive leisure yacht, an ideal yacht for luxurious getaways, charters and transoceanic adventures. The yacht combines both elegance and superior style. Her exterior spaces are beyond imagination.

S/Y GENNY has classy lines and her modern style with a classic edge. With a completely fresh superstructure concept. A vast, central lounging space with a panoramic view which opens both onto the bow terrace and cockpit. The bow benefits from a cozy lounge, well shielded from sun and wind. To the aft, the saloon merges with the generous cockpit extended with a large aft platform.

All the areas combined form a universal, open environment where flexibility and freedom reign.
2 MASTER CABINS W/ WALK - IN CLOSET, [RIVATE BATHROOM PROVIDED W/ SHOWER

3 VIP CABINS PROVIDED W/ QUEEN SIZE BED, PRIVATE BATHROOM W/ SHOWER

32' SAMSUNG TV IN EACH CABIN
Price Details
2023 Rates
High Season (15 June - 15 September) EURO 78000/week + all exp
Mid Season (1 May - 14 June & 16 September - 31 October) EURO 70000/week + all exp
Low Season (1 November - 30 April) EURO 55000 + all exp
+ APA 25% + VAT

VAT 6,5% for 2023, VAT 13% for 2024 bookings

Free WiFi

If the yacht is chartered from a location other than the home port, the charter is subject to a relocation fee.
Relocation Fees:
Catamarans 80 ft, Motor yachts and power catamarans according to fuel consumption

* Please note due to logistics, charters with embarkation/disembarkation in Santorini will be charged one extra day.

Plus Expenses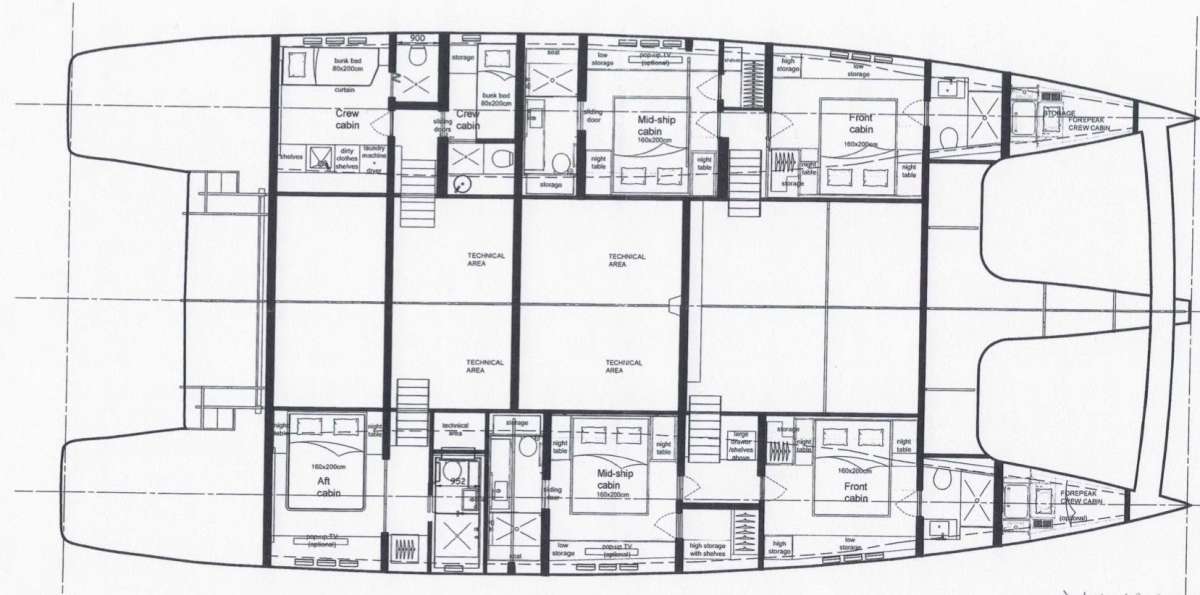 Toys:
AXOPAR 37 for guest service
SUN MARINE 12' OPEN TENDER CREW SERVICES
SUP (2)
SeaΒob (1)
Wakeboard (1)
Water ski adults (1)
Floating couch 8 pax (1)
Inflatable donut 3 pax (1)
Fliteboard (1)
Kayak (1)
Sea wings (3)
Snorkeling gear
Baby life jackets

Entertainment:
32' SAMSUNG TV IN EVERY CABINS,
55' SAMSUNG TV IN SALON,
WI-FI STEREO SYSTEM IN 3 INDEPENDENT AREAS(FLY, FORWARD, AND AFT)
DIGITAL CLOUD
SKY TELEVISION
7 X HAIRDRYERS
1 X IRON
WASHING MACHINE/ DRYER (LIGHT LAUNDRY)
BATHROBES
SLIPPERS
BABY LIFE VESTS
3 PILLOWS FOR EACH BED
HANDS SOAP, SHAMPOO, CONDITIONER, SHOWER GEL
Filtration System for Purified Water (mineral & sparkling water)
Communication:
WI-FI
VHF
SATELITE PHONE
Captain: Giampiero Lorenzi

Giampiero was born in Italy in 1967 and has been working in the yachting industry for the past 20 years. His expertise as a sailor has taken him all across the Mediterranean Sea, and he approaches his work with enthusiasm and a genuine love for the sea. He is a precise, serious, and safety-conscious Captain who is providing the best possible sailing experience for the guests and takes great care about his boat and crew. He is highly motivated and committed, giving his best at all times! Giampero is fluent in Italian and English and speaks intermediate German, French, and Russian.

Chef : David Raggi

Chef David was born in 1989 in Italy. For the past 4 years, he has been working as a chef in Mallorca in different high-end restaurants and cocktail bars. He is experienced in menu planning and creating, provisioning, and efficient kitchen management. He knows how to work in a team, is eager to learn, accepts new challenges with pleasure, and is grateful and excited to join Genny and learn even some sailing tricks. He cooks healthy Mediterranean dishes and loves to use the local products in his creations. He is friendly with a social character and hard-working nature. In his free time, he enjoys growing his own vegetable garden. He speaks Italian, Spanish and English.

Chief Stewardess: Francesca Rosato

Francesca, a 35-year-old woman, made the decision to switch carriers two years ago. Francesca holds a degree in Political Science and served as a project manager for multiple international companies till 2021 but her passion for the sea and hospitality made her to change her life completely. Francesca comes from the South of Italy, and she is a passionate, ambitious, and hard-working individual with a genuine desire to make her guests feel welcome and relaxed on board! She speaks Italian, English, German, and Spanish.

Stewardess: Susanna Checchini

Susanna was born in 1989 in Italy. She has extensive experience in the hospitality industry both on land, and in recent years also at sea. She has completed all the necessary safety training courses to be able to work on yachts. She is responsible, hard-working and easily adaptable to different work environments and guest preferences. She is focused on providing professional service, is a great team player and can also throw a rope! She is always smiling, attentive and eager to assist her guests in all their needs on board. Susanna speaks Italian, English, Spanish and Portuguese.


Stewardess/ Deckhand : Anna Fontanelli
Anna is a young girl with a great deal of sailing experience and enthusiasm for sports. She speaks fluently English and spends the winter months in school and the summer months working at sea. She grew up spending lots of time sailing since her father is also a passionate sailor. Genny is certainly both a fascinating and exciting new experience as well as an excellent steppingstone for her career as a sailor.



Deckhand/ Engineer: Luigi Ferrazzano

Luigi is 46 and from Italy- he is quiet, calm, thoughtful, and very hard-working. Since joining the crew of Genny, he and Captain Angelo have a great working relationship and are able to maintain the yacht to the very highest of standards. When he was young, he served in the Italian marine military division and is now very happy to be back on the sea. As a long-time mechanic, he loves to solve technical problems and is excited for his role as the engineer onboard Genny.

Languages: Italian (native) ; English (basic)


Start date: Jun 08, 2023, End date: Jun 15, 2023 - Booked: Lavrion to Lavrion
Start date: Jun 16, 2023, End date: Jun 23, 2023 - Booked: Athens to Athens
Start date: Jul 02, 2023, End date: Jul 09, 2023 - Booked: Milos, Greece to Milos, Greece
Start date: Jul 10, 2023, End date: Jul 17, 2023 - Booked: Milos, Greece to Athens
Start date: Jul 18, 2023, End date: Jul 25, 2023 - Booked: Athens to Athens
Start date: Jul 26, 2023, End date: Aug 03, 2023 - Booked: Athens to Athens
Start date: Aug 04, 2023, End date: Aug 11, 2023 - Booked: Athens to Mykonos, Greece
Start date: Aug 12, 2023, End date: Aug 19, 2023 - Booked: Mykonos, Greece to Mykonos, Greece
Start date: Aug 27, 2023, End date: Sep 10, 2023 - Booked: Athens to Athens
Start date: Sep 11, 2023, End date: Sep 18, 2023 - Booked: Athens to Athens
Start date: Sep 25, 2023, End date: Oct 09, 2023 - Booked: Athens to Heraklion, Greece
Start date: Aug 31, 2024, End date: Sep 07, 2024 - Booked: Athens to Mykonos, Greece