Summer location
Greece
Winter location
Greece
Historically, this yacht was the Royal Yacht of the GRIMALDI Family of Monaco, built by and for Princess Grace and Prince Ranier III. SPIRIT L was originally built by CCYD in Venice, Italia, in 1984 as 'STALCA II' to the order of HH Prince Ranier III of Monaco and his American actress wife Grace Kelly for sailing with their three children: Stefanie, Albert and Caroline. From their combined names, came the boat name STALCA. Since our acquisition and subsequent complete control of SPIRIT L, we have full reconditioned and painted her 26mt (85′) hull to the deep midnight blue.
1 Master Suite ( Double mattress 1.60m x 2.00m)

2 Twin Cabins (both convertible to Double) (Single mattresses 0.75m x 2.00m)

1 Bunkbed Cabin (Single mattresses 0.75m x 2.00m)

3 Showers/WC (1 shared by the one Twin and the Bunkbed)
Price Details
2023 Rates
High Season Rate (July/August): 24,500 EUR / Week + VAT + Expenses
Low Season Rate (Rest months): 21,000 EUR / Week + VAT + Expenses
V.A.T 12% (subject to change without prior notice) & APA 30% of the charter fee not included in the rates.

2024 Rates
High Season Rate (July & August): 29,400 EUR / Week + VAT + Expenses
Low Season Rate (Rest months): 25,200 EUR / Week + VAT + Expenses
V.A.T 12% (subject to change without prior notice) & APA 30% of the charter fee not included in the rates.
Plus Expenses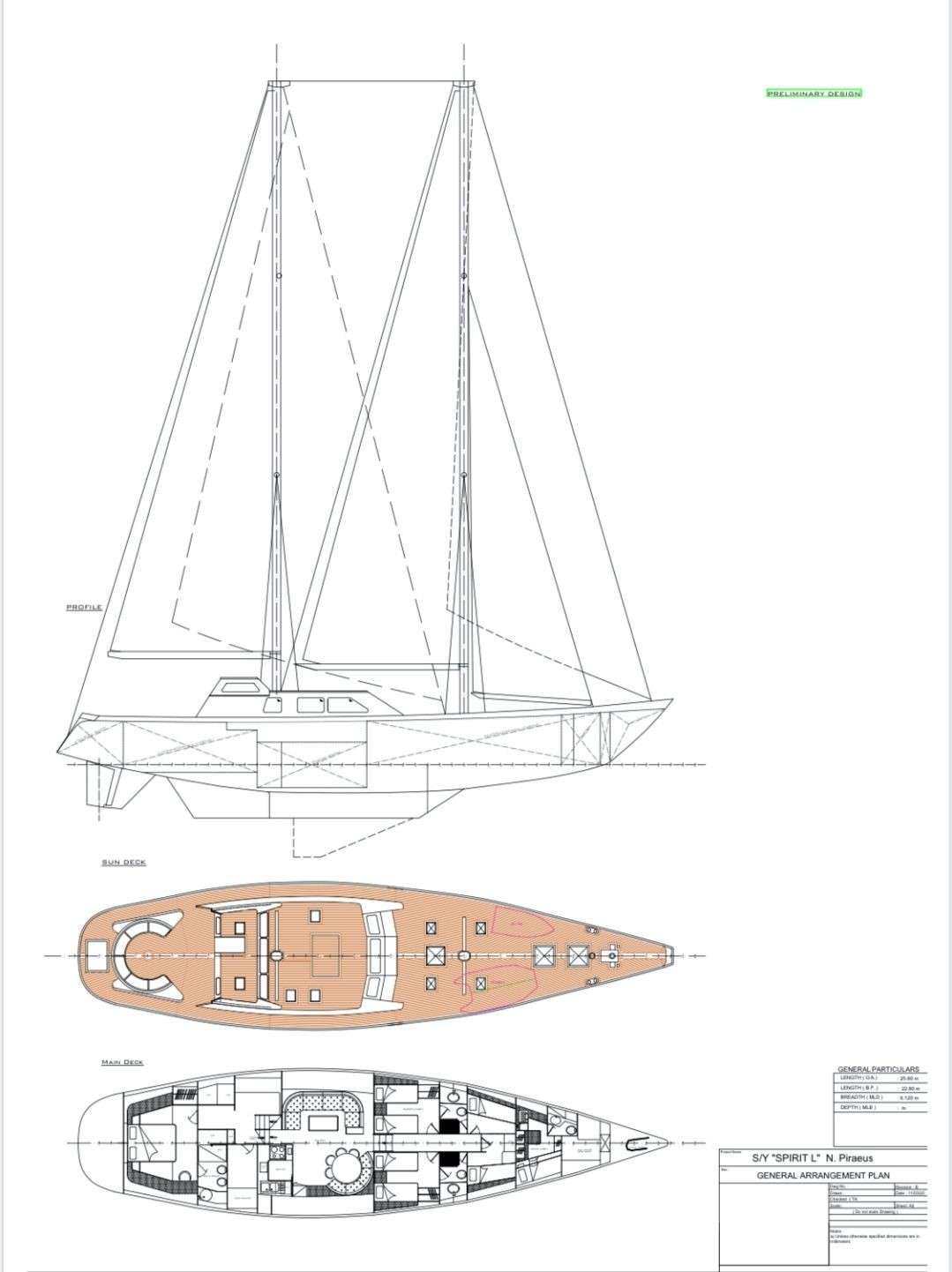 Toys:
1 Tender Brig F330HT with engine Yamaha 30 HP
2 Seabobs F5S Basic Yellow CM
1 Jobe Binar Towable 2Ρ
1 Jet ski sea-doo spark 900HO ACE 2UP
2 SUP
1 inflatable banana
CAPTAIN - Michalis Gkouveris
Captain Michalis is Greek and was born in 1987. He graduated from the Merchant Marine Academy of Aspropirgos and previously studied at the Computer and Network Engineer College. Captain Michalis has a great sailing experience, as he has sailed more than 100,000 nautical miles over the past 15 years, including the last 10 years as a charter Captain. He is passionate about sailing and passionate about all aspects of his work. He also has an intimate knowledge of all regions of the Greek islands. As a Captain he is totally respectful and considerate of his clients, their safety and wellbeing, their comfort and enjoyment. He speaks Greek and English and his main hobbies are photography, video and video clip production.

CHEF - Spyros Georgiou
Chef Spyros was born in 1978. He graduated from the Cooking Art program of school IEK DELTA in Athens, where he also fulfilled classes about Pastry Art and Nutrition. His hard-working attitude and ability to learn fast makes him a valuable team member. He is very dynamic, imaginative and talented Executive Chef with more than 15 years of cooking experience in various restaurants and yachts. For the last 6 years he has been working as a Ηead Chef in charter and private yachts with stunning reviews. Chef Spyros ensures a truly authentic culinary experience for guests. Inspired by his grandmother's Greek recipes, he fulfills every crave with his mouthwatering food creations. It's his pleasure to receive his clients' preferences and prepare a menu exclusively for them. Spyros enjoys using fresh ingredients and embraces the Mediterranean gastronomy's philosophy in his dishes.


STEWARDESS: Irene Makridou
Irene worked in the private sector as a PR Manager for 30 years, but she was always a big fan of the sea and had her own 18ft boat. She is a certified Padi scuba divemaster and has decided to work on yachts as she is very passionate about the yacht life. Irene is a self-motivated and enthusiastic stewardess. She prides herself in reliability, efficiency, and professional presentation. She seeks to gain more knowledge while combining her skills with
her adventurous nature. She considers herself a team player with a good work ethic as well as a good eye when it comes to detail. English is her second native language, and she also holds diplomas in interior design, mixology,
culinary, neuroanatomy and first aid. Irene has worked in motor yacht, catamarans and several bareboats.

DECKHAND - Dimitris Kapalidis
Dimitris was born in 1990 in Kazakhstan. Passionate about the yachting industry, he has a lifeguard, speedboat and skipper's license. He has graduated from Technical High School with a specialty in engineering.
His priority is to make the guests' experience on board a truly memorable one. He is fluent in Greek, English, Russian and particularly enjoys watersports and travelling!
Start date: Jul 03, 2024, End date: Jul 10, 2024 - Booked: Athens, Greece to Athens, Greece