Summer location
Caribbean Virgin Islands (US)
Winter location
Caribbean Virgin Islands (US)
A master king suite forward, and two queen berth suites aft, one of which may convert to a twin-berth suite
Price Details
Christmas week or New Years week:
up to 6 guests US$22,000, all-inclusive.

Charters outside the Virgins:
Regardless of whether or not a vessel may or may not include taxes in the vessel's listed charter fees for Virgin Islands charters, in general, no fees, port dues, nor taxes are included in the charter fee for any charter outside the Virgin Islands unless otherwise agreed.

Inclusive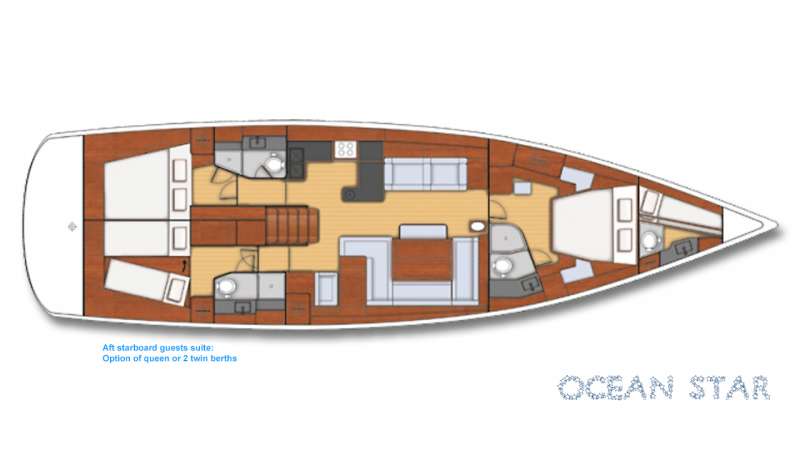 Capt. Hugh - Born in England, now permanent US Resident with a family home in St Augustine, Florida.

Hugh started competitive sailing and ocean racing in the UK & France in 1987 (30 years experience). He completed the intensive Royal Yachting Association (RYA) Yachtmaster 300 Ton Sail & Power Commercial License in 2002, and worked as a Captain & Chef in commercial yachting in the Cayman Islands, Virgin Islands, USA & Asia.
Hugh ran a 50 ft Crewed sloop as a Captain/Chef in the Virgin Islands from 2007-2011.
A 20 year career in Marketing & Sales for IT & Database companies saw Hugh working in some 20 countries and heading up operations in Europe, US, Asia & Latin America.
In 2017, Hugh purchased a new 60 ft Beneteau sloop (Ocean Star) with his partner Ellen in Charleston, leading to a maiden season for the yacht and crew in the Virgin Islands for 2018.
Hugh attended culinary classes in Europe, Japan and France, and specialises in Mediterranean and Asian fresh food dishes with premium ingredients.
Hugh is a social drinker but non smoker, no drugs, no criminal record, clean licenses and a broad sense of humour when trying to catch fish!



Vivianne Swietelsky
Chef/First Mate Ocean Star

Vivianne, or "Chef ViVi" is based in St Thomas & Miami. She is known for her authentic interpretations of the world's great cuisines – American, Mediterranean, Southeast Asian, Indian & Latin American – as well as for being an outstanding pastry chef and cocktail mixologist. For as far back as she can remember, Chef Vivi has been passionate about food and the artistry of its preparation.

Born in the U.S. to an Italian father and a Venezuelan mother, she grew up in the United States, Italy, Switzerland, Germany, and Mexico, and is fluent in five languages. Her family life revolved around the enjoyment of great food and her mother taught her to cook instinctually, from the heart. Another one of Chef ViVi's passions is sailing, and she has enjoyed working on sailboats around the world. She also has an ASA Certificate for Offshore Sailing gained in the U.S. Virgin Islands and has owned and operated several Beneteau yachts.