Summer location
Bahamas, USA - Florida East Coast, Turks and Caicos
Winter location
Bahamas, USA - Florida East Coast
LUCKY LADY is truly the most customized 112' ever built. She offers both quality and a unique design throughout, including the complements of beautiful light fabrics and rich mahogany woods, a one-of-a-kind custom "Chef's Galley," a twin forward cabin, and the only 112' with a day head and shower on the flybridge.

Previously named OUR HERITAGE, this vessel has had the care in build and consistent upgrades not found on other 112's. Her present owner and long-standing professional crew have given her the meticulous care she deserves, maintaining her to the highest yacht standards. She will prove herself to be a treat to all who charter her.

Visit her broker-friendly website for more pictures and details! www.luckyladycharters.com
VIP Twin Forward

King Master below

2 Queen staterooms
Price Details
NO DAY CHARTERS

Minimum week-long charters
Minimum 10 days over Christmas/New Years
Owner will entertain one week over Christmas if charter ends by December 26th or 27th.

Weekly Rate + 40% APA + 4% Bahamas Taxes + 10% Bahamas VAT + Delivery Fee
Delivery fee may apply, please inquire.

High Rate applies to Thanksgiving, Christmas and NYE. All other weeks are low rate.

72 hours preferred between charters or owner's use (not including drop-off/pick-up days)

Suggested crew gratuity 20% for excellent service.


Broker-friendly website: www.luckyladycharters.com




Plus Expenses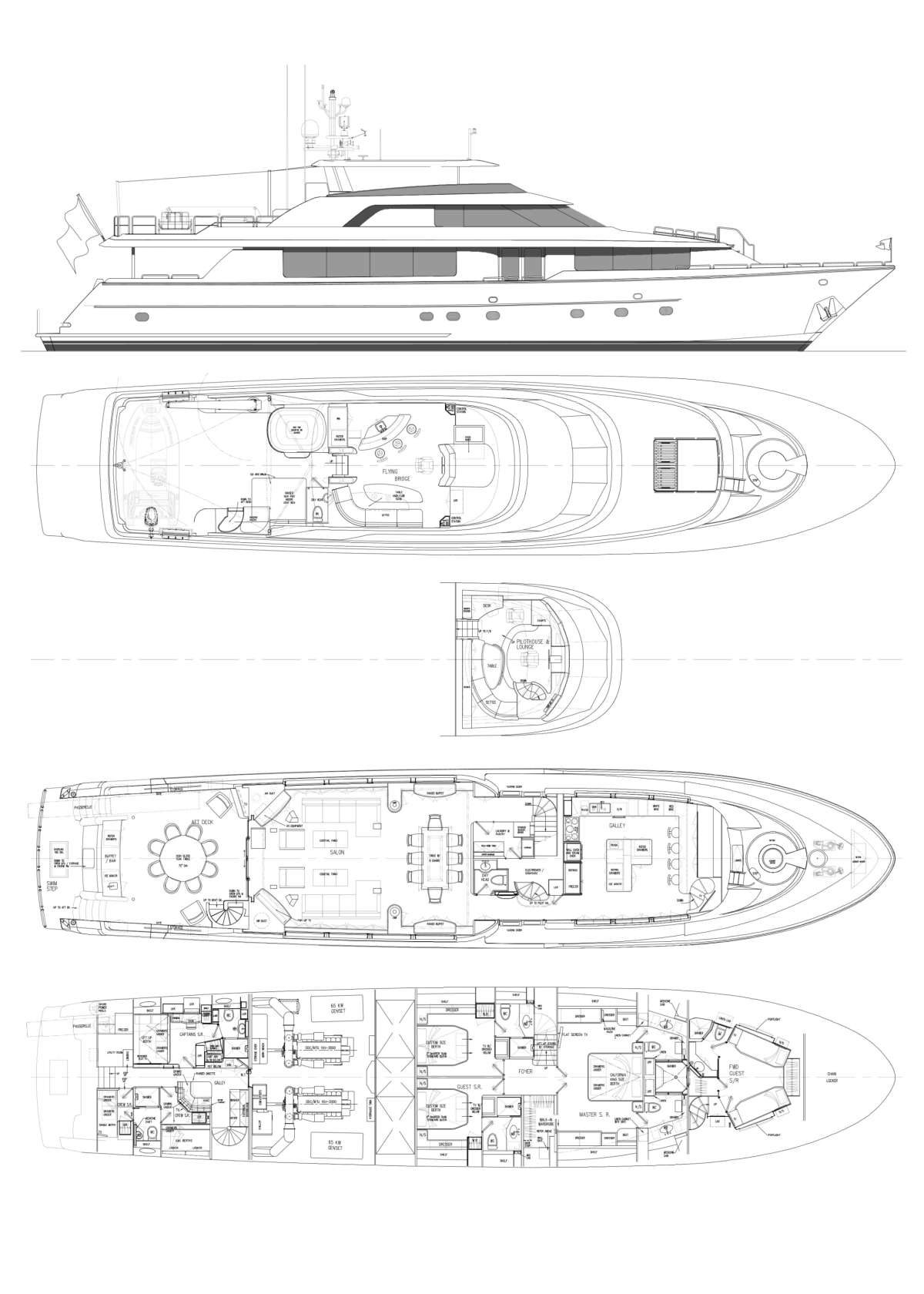 Toys:
2 Fliteboard eFoils
Inflatable pool
Inflatable dock

Towed Tender: 39' Yellowfin Center Console with triple 425hp Yamaha outboards
Fully outfitted for fishing

Entertainment:
Flybridge jacuzzi
Flybridge bathroom and shower
Communication:
Fully outfitted with STARLINK, KVH satellite and cellular communications
CAPTAIN JIMMY GASKINS
Born and raised in Jacksonville Beach, FL, Jimmy grew up surfing, swimming, fishing, snorkeling and enjoying all things the ocean had to offer. After college, Jimmy worked at his family-owned boatyard and ship store in St. Augustine, FL, where he learned what it took to properly maintain a yacht. He eventually transitioned into the fishing charter industry, where he spent seven years before finding his comfort zone in the world of private yachting. Jimmy has run everything from center consoles to large sport fish boats to luxury motor yachts and loved every minute of it.

With 20+ years of industry experience, Jimmy understands the importance of safety. He instills this in his crew and maintains the vessel accordingly to ensure all aboard are at ease. Jimmy always keeps a watchful eye on all the aspects of a charter vacation to ensure it's the safest and most memorable experience for his guests.

Jimmy has been with this particular vessel since 2016, when it was named OUR HERITAGE. As the captain of OUR HERITAGE, Jimmy was widely recognized for running a strong and well-oiled charter machine, notorious for turning first-time charter guests into longtime friends and repeat clients. Brokers and guests alike will agree that Jimmy is the perfect combination of professional and fun-loving. The LUCKY LADY program became just that when Captain Jimmy chose to stay with the new ownership: lucky.


ALAN HAM, MATE/ENGINEER
Alan grew up on the coast of Georgia, just south of Savannah. Being raised in a boating family equipped him with the drive and ability to get his captain's license so he could share his love of the water and boats with others. After he completed his studies at Abraham Baldwin Agricultural College, he began working at a marina on St. Simons Island, Georgia, where he discovered the alluring world of professional yachting. At the age of 20, he accepted an invitation to sail with a crew from Newport, Rhode Island, to Kinsale, Ireland. After finishing that adventure, Alan took a job as a marine electronics installer before finally moving to Fort Lauderdale, Florida, to pursue his love of yachting.

Alan is a great conversationalist with a love of sharing new experiences and beautiful locations with the guests of LUCKY LADY. He's an accomplished fisherman and a thoughtful host with an infectious and always-present smile. So whether they're reeling in the catch of the day, riding a Fliteboard eFoil or snorkeling with a Seabob, Alan's guests always feel well taken care of.


KATIE OTT, CHIEF STEWARDESS
Katie Ott is a Florida native with a degree in Kinesiology and a strong love of the ocean. She grew up on Miami's Biscayne Bay and spent most of her time boating. After college and a couple years working with her father, her love for the water brought her back to South Florida, where she became a PADI Divemaster. She worked in Boca Raton for several years followed by a year-long stint in the Virgin Islands. Eventually, Katie transitioned into the world of private yachting, where she has been for the last 17+ years, enjoying every minute.

Katie is a highly enthusiastic and hardworking individual with a positive attitude and keen eye for detail. Her friendly personality and commitment to providing an exceptional experience for all who walk on board puts Katie in a league of her own.

Katie is dedicated to creating a fun and relaxing vacation for her guests. She manages the interior of the boat and guest services, as well as helps on deck.


CHEF RACHEL FRY
Rachel is a Pennsylvania native, born and raised in Bucks County, PA. Her lifelong love of both the culinary arts and the open ocean culminate to give you an incredible experience. Her bubbly, warm, and welcoming character will help to create the perfect environment for your vacation or special event.

Growing up in an Italian family with life centering around the kitchen, Rachel was taught the importance of comfort food from a young age. In addition, her many years of experience assisting chefs in the finer restaurants located between Philadelphia and the US Virgin Islands have opened her up to a diverse range of cuisine. She brings a unique flair to pairing simple fare with finer libations. She is wonderful with children and embraces the opportunity to share her passion and experience in creative cooking with her guests.

When Rachel is not cooking up a storm and working on board, she's typically found fire dancing (she does this for her guests too!), free diving, scuba diving, skydiving or driving anything she can get her hands on--boats, motorcycles, four wheelers and dirt bikes.



Start date: Sep 28, 2023, End date: Oct 04, 2023 - Booked: Bahamas - Green Turtle Cay to Bahamas - Green Turtle Cay
Start date: Oct 07, 2023, End date: Oct 14, 2023 - Booked: Bahamas - Nassau to Bahamas - Nassau
Start date: Oct 21, 2023, End date: Oct 23, 2023 - Unavailable: West Palm Beach, FL* to West Palm Beach, FL*
Start date: Nov 02, 2023, End date: Nov 04, 2023 - Unavailable: West Palm Beach, FL* to West Palm Beach, FL*
Start date: Nov 18, 2023, End date: Nov 27, 2023 - Booked: Ocean Reef to Ocean Reef
Start date: Dec 16, 2023, End date: Dec 23, 2023 - Booked: Bahamas - Nassau to Bahamas - Nassau
Start date: Mar 29, 2024, End date: Apr 05, 2024 - Booked: Bahamas - Nassau to Bahamas - Nassau
Start date: Apr 09, 2024, End date: Apr 16, 2024 - Booked: Bahamas - Nassau to Bahamas - Nassau