Summer location
W. Med -Naples/Sicily, W. Med -Riviera/Cors/Sard.
Winter location

SD 118 accommodates up to 10 guests in 5 en-suite cabins. A Master cabin on main deck, two double cabins on the lower deck amidship and two twin cabins forward.
Plus Expenses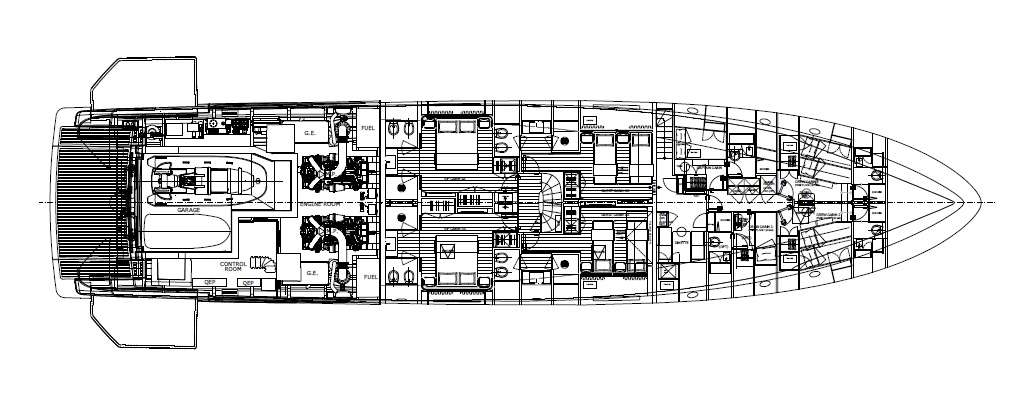 Toys:
Tender: Williams DieselJet 505 tender (110 Hp), up to 9 people, max speed 35 kn (40 mph)

Water Toys:
• No. 1 Yamaha jet ski
• No. 2 seabobs
• No. 1 canoe
• No. 1 paddle surf
• No. 1 water ski
• Inflatable water toys
Entertainment:
Satellite TV
Apple TV
Video surveillance system
Cinema room with hidden ceiling drop down TV screen in upper deck salon
Sun awnings in the cockpit, main deck bow area, upper deck bow and stern area.
No. 10 underwater led lights
Frequency converter with seamless transfer
Electro-hydraulic swimming ladder
Marquipt lateral staircase
UV sterilizer and activated carbon filter for fresh water
Fresh water silver ion sterilizer
Water softener
Tropical air conditioning system
Alfa Laval fuel oil treatment
Communication:
5G Wi-Fi system with hotspot antenna
Internal communications by PBX system
Captain Francesco Boschetti has a 17 years' experience as a professional yachtsman.
During his yachting career he managed both private and charter yachts and cooperated with major Italian and European chartering companies.
Francesco completed four ocean crossing and sailed the Atlantic Ocean, Mediterranean Sea, Caribbean Sea, North Sea, Baltic Sea on board of new yachts, classic yachts, sailing yachts and motor yachts.
Francesco's natural curiosity led him to explore different aspects of life. This has certainly facilitated the development of excellent technical skills combined with a problem solving attitude and a good management ability. He enjoys working with a team, motivating people in order to achieve the complete satisfaction of the guests on board.

Nicola Deiana, First Officer
Sea is Nicola's life, he has been boating since a young age, acquiring great mastery in the management of motor boats. Has learned about teamwork during over ten years of yachting.
As captain or as deck officer, Nicola's goal is to gain even more experience on motor yachts for a constant professional growth.
The main purpose is to make navigation enjoyable and rewarding for owner and guests.
He believes in the constant relationship between crew and owner, in which trust and mutual esteem must be an essential factor.
Nicola cruised in the most part of the Mediterranean and in the Canary Islands, places where he has refined experience and passion for this job.
He has a good knowledge of shipbuilding, electrical and mechanical, this is the result of curiosity and experience; Loves to get involved and solve problems in first person.

Gladys Amelia Almiron, chief stewardess
Gladys has 14 years' experience as hostess onboard private yachts from 25mt to 50mt. Really passionate about her job, Gladys puts great attention and dedication to her work onboard. She is very attentive to every detail, has excellent communication skills and a can-do attitude always looking to provide the best atmosphere to the guests onboard.

Ivone Maria Rubin, Chef
Ivone has collected more than 10 years as chef on board private yachts. She comes from Brazil and has been living in Italy for 27 years, that's why her cuisine perfectly blends different kinds of tastes, from the Mediterranean to the International cuisine with special attention to the vegetarian cuisine. Ivone has worked on board of both private and charter yachts together with Captain Francesco Boschetti, that's why they perfecly know how to cooperate and reach the best results in terms of guest satisfaction and wellness onbard.
Very accurate and attentive to selecting only first-quality products, she knows how to pamper her guests.


Angelo Mazza, Deckhand
Angelo is an hard worker, serious, motivated, sports-oriented, dynamic with good adaptability, who likes being outdoors and doing manual works, enthusiastic about traveling and likes to promote collaboration with other people to achieve a common goal creating a good atmosphere with the team.

Karla Barac, Second Stewardess
Karla is the second stewardess on board Together. She has been working as stewardess on board of exclusive yachts for seven years. She loves working in a team environment providing guests with the best and professional service possible. Karla has a keen eye for detail and consider herself a very creative person.