Summer location
Greece
Winter location
Greece
1x Master suite with a king size bed

2 x VIP Suites with queen size beds

1 x Double Stateroom with a queen size bed starboard with a pullman bed

1 x Twin Stateroom with two single beds and a pullman berth



All suites/staterooms are located on the lower deck with en suite facilities
Price Details
High Season July/August
Low Season all other months
Plus Expenses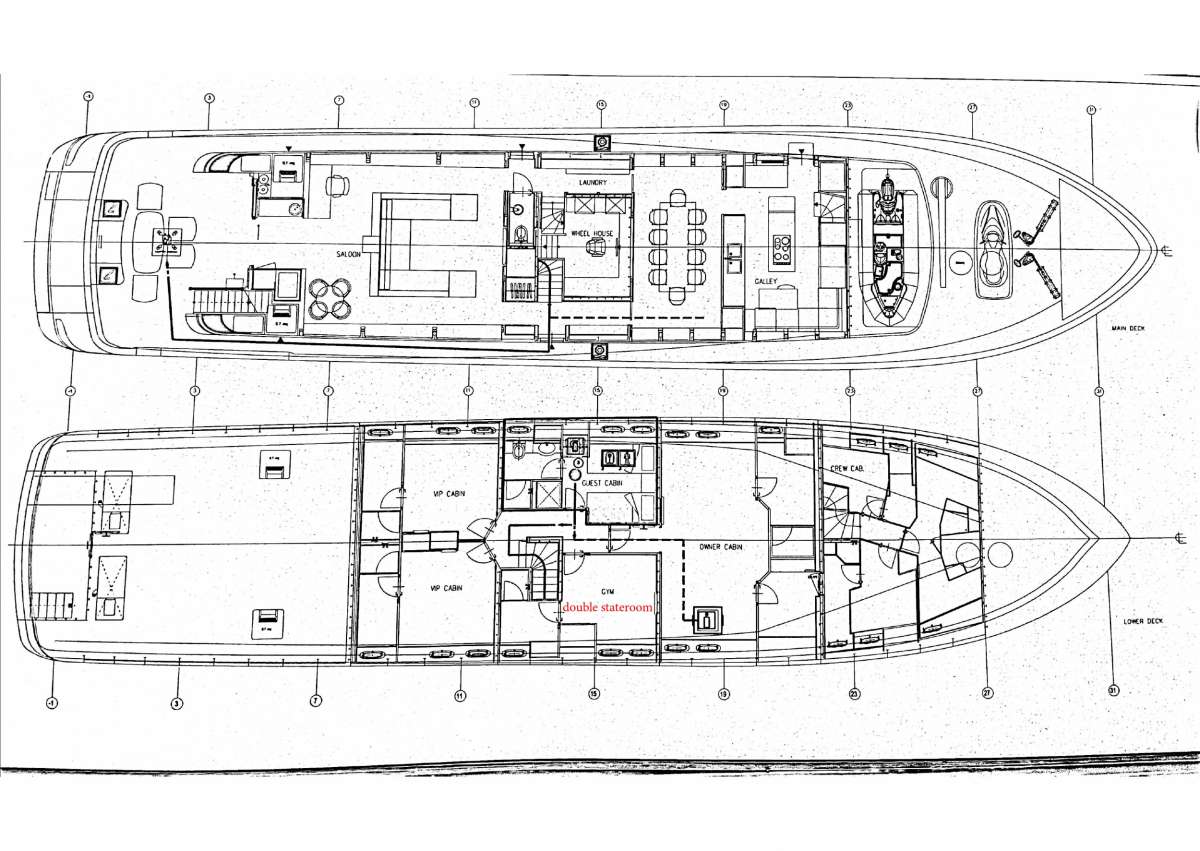 Toys:
1 x TENDER 3.2M 8HP ENGINE
1 X NOVURANIA 4.30M 70 HP YAMAHA ENGINE FOUR STROKE 2019 MODEL
2 X SEABOB 2022
2 X SEA DOO SPARK JET SKI 2022
2 X WAKE BOARD
2 X PADDLE BOARD
3 X TUBE ( 1-4 PERSONS)
Captain: Konstantinos Lekkos
Nationality: Greek
Date of birth: 1987
Languages: Greek & English

Captain Kostas graduated from the Merchant Marine Academy in 2011 and holds a Captain Class B' diploma. He has been at sea for the last 15 years, firstly as an Apprentice Office, then building up his way to Chief Officer, and since 2014 as Captain on luxury yachts of 40m+. Captain Kostas has been building extensive knowledge and experience and holds a true passion and enthusiasm, is highly organized, trustworthy, and is meticulous in fulfilling any requirement, task, or duty to reach the maximum level possible. His strong team onboard LOANA creates a memorable experience for his guests. The primary focus is the safety of his guests and crew, and this combined with his commitment and seamanship skills, ensures a safe and enjoyable cruise for all.

Chief Engineer: Petros Salisvourakis
Nationality: Greek
Date of birth: 1982
Languages: Greek & English

Petros was born in Greece and graduated from Greek Merchant Marine Academy as Chief Engineer. He has worked on board merchant vessels for many years, gaining experience and knowledge before joining the yachting industry. Petros is in charge of the overall management of the Engineering department and maintenance of all safety and critical equipment onboard. His 20+ years experience mechanical and engineering knowledge, combined with his energetic personality ensure that all of equipment, systems, tenders and toys are running smoothly. His experience and ability will make your time onboard both safe and enjoyable!

Chef: Theodoros Koukouvelo
Nationality: Greek
Date of birth: 1985
Languages: Greek & English

Theodoros graduated in 2005 from the Culinary school 'Le Monde,' and built his career by firstly gaining experience & professional knowledge working at luxury hotels & 5-star restaurants as Chef. In 2015, Theodoros joined the yachting industry where he decided that this would be his life's path. This turning point made Theodoros realize how very passionate his love for gastronomy, the sea, traveling and communicating with his guests was, and he is always eager to increase his knowledge daily and take his standards even higher, by exceeding expectations. Theodoros is communicative, hard-working, creative and is very focused on food safety & sanitation. His love and passion for gastronomy allows him to create tastes that guests will savor a lifetime! On his free time, Thodoris also likes free diving and fishing.


Chief Stewardess: Olga Pavalachi
Nationality: Moldovan
Date of birth: 1980
Languages: Greek, English, Russian, Romanian & basic Italian

Olga was born in Moldova and raised in Greece and loves her career onboard luxury yachts as a Stewardess, where she has been working since 2012, building extensive experience and knowledge. She is very focused on her duties and is very organized, hard-working and joyful to be around. Her strong ability to work under pressure and work as a team member, make her an excellent asset to the team. Olga has a background in event planning and adores to socialize and be around her guests! She loves travel, yoga, meditation, reading, photography and swimming. On her spare time, Olga loves to learn foreign languages and has won both 1st & 2nd place at the foreign language Olympiads!

2nd Stewardess: Eleni Drosou
Nationality: Greek
Date of birth: 1992
Languages: Greek & English

Following her high school education Eleni completed a bachelors degree in Biomedical Engineering joining the yachting industry in 2022. She is extremely hard working and dedicated to taking care of her guests, with her gentle and friendly manner. Eleni is polite and communicative, and her priority is to make her guests feel like they are at home. She is very organized, detail-oriented and dedicated. With her warm, friendly demeanor she is the perfect addition to the team. She speaks fluent English and Greek. In her free time she loves hiking, camping, travelling, learning foreign languages, cinema and art.

Bosun: Giannis Karamaniolis
Nationality: Greek
Date of birth: 1981
Languages: Greek & English

Gianni was born in Greece and is a very responsible and hardworking individual. He is very approachable and friendly, making sure his guests are well taken care of! He is very experienced at sea having joined the industry in 2016. Prior to his career at sea he completed studies in Thermal and Cooling installations as well as Radio and Television Electroacoustic Devices. He takes great pride in everything working as it should and enjoys broadening his knowledge onboard. He is happy to assist wherever needed and is very committed to ensure both comfort and security for all onboard, making him a genuine team player. In his free time he adores travelling!


Deckhand: Francesco Del Rosso
Nationality: Greek
Date of birth: 1991
Languages: Greek & English

Francesco has professional knowledge on safety precautions, a motivated attitude and committed to always keep the standards high to achieve the optimal experience and hospitality for his guests. Francesco is very dedicated and focused on his duties onboard in a very professional manner. Francesco is keen to assist his crew members, making sure all operations are carried out smoothly. During his spare time, Francesco is a sea enthusiast and spends countless hours on free/scuba diving and travelling!



Start date: Jun 18, 2024, End date: Jun 25, 2024 - Booked: Athens, Greece to Athens, Greece
Start date: Jun 28, 2024, End date: Jul 05, 2024 - Booked: Athens, Greece to Athens, Greece
Start date: Sep 15, 2024, End date: Sep 23, 2024 - Booked: Athens, Greece to Athens, Greece