Summer location
Caribbean Leewards, Caribbean Windwards
Winter location
Caribbean Leewards, Caribbean Windwards
CHRISTINA TOO is accommodating up to 8 guests in 4 ensuite double cabins.

Each cabin is equipped with 160 x 200 bed size, air conditionning with private control, plugs,hairdryer and HEOS surround 5.1 system.
Price Details
SUMMER 2022 WEEKLY RATES - Home port Grenada
MAY - SEPTEMBER:
2-4 guests: $38 000 + 30% APA to cover all expenses + VAT if applicable
5-8 guests: $ 40 000 + 30% APA to cover all expenses + VAT if applicable
MYBA terms

One week minimum. Delivery might be required.

WINTER SEASON 2022-2023 - CARIBBEAN - home port St Martin
2-4 guests: $43 000 + 30% APA to cover all expenses
5-8 guests: $45 000 + 30% APA to cover all expenses
Christmas week: 2-8 guests: $52 000 + 30% APA to cover all expenses
New Year week: 2-8 guests: $57 000 + 30% APA to cover all expenses (10 days minimum required from Dec 28)

SUMMER 2023 WEEKLY RATES
MAY - SEPTEMBER:
2-4 guests: $43 000 + 30% APA to cover all expenses + VAT if applicable
5-8 guests: $ 45 000 + 30% APA to cover all expenses + VAT if applicable
MYBA terms
Plus Expenses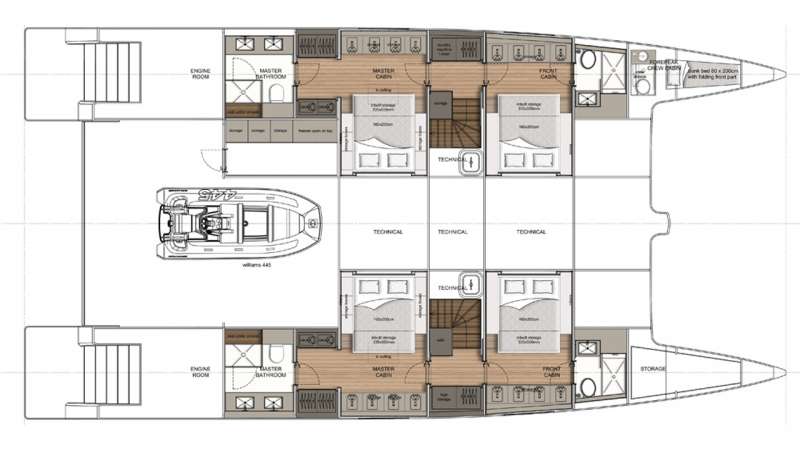 Toys:
Semi-rigid tender 15feet / Yanmar 4JH4 110 HP diesel

2 seabob F5
Water ski
Wakeboard
Kneeboard
Skimboard
2 inflattable paddles
1 inflatable 2 man kayak
Tube
Beach toys
Fishing equipment
Deep sea fishing gear
Snorkeling equipment for 8

Rendez-vous diving only
Entertainment:
Radio MP3 - Airplay and Android Streaming in the saloon, cockpit and flybridge
HEOS surround 5.1 in each cabin
LCD TCV and DVD in the saloon
Few board games onboard such as Bananagrams, Left Right Centre, cards and Cards Against Humanity.

The yacht is fitted with 220V plugs.


Communication:
The yacht has quite a few movies on its cloud account (which can be accessed without an internet connection).
Also a sound system onboard which guests can use to play music from their phones via an app called HEOS (perhaps something they could download and install before coming aboard).
If the guests request internet, the options extend to Netflix and AppleTV. Need to know internet request beforehand as the yacht has to purchase it.
In the Virgin Islands Internet is available at a cost of $300 for 30GB
CAPTAIN – Jean-Pete PYPER
South African
US B1/B2
Recognition of Non-STCW Certificate by Virgin Islands Shipping Registry
RYA Yachtmaster Cial Endorsement / MCA Int. Certificate of Competency / RYA Powerboat L2
Personal Safety / Social Responsibility & Survival Techniques
Approved Engine Course 1/2 (AEC1 & 2)
English speaking

JP began his career in yachting in 2013 and has been captaining vessels in the Caribbean ever since. His passion for sailing and overall marine competency can be contributed to growing up and residing on a catamaran from a young age.
He has both catamaran and monohull experience. In past roles, JP was responsible for overall mechanical electrical and hydraulic maintenance, as well as installing new systems on vessels of various sizes.
JP is often described as a vibrant and positive person and enjoys interacting and entertaining the guests while on board. He is also known to serve up some great Caribbean cocktails!
His interests include swimming, diving, spear fishing, sailing, and hiking. He is a native of South African.


CHEF – Eden BAKER
South African
US B1B2 - STCW95
Food Health & Safety Level 2
English speaking

Eden started her career in yachting in 2020. Her culinary experience was cultivated through super yachting and transferred to sailing catamarans, where she has been the sole chef for over two years.
She did work as Chef on board also onboard motoyayachts as Aroha 86' or SOGNO 108'.
Eden takes pride in her attention to detail and guest satisfaction. She aims to deliver to the highest possible standards in both her guest service and culinary masterpieces.
Her goal in the kitchen is to cook meals that are not only fresh & healthy but also beautiful & experimenting with as many local ingredients as possible. She is a native of South African.


STEWARDESS – Cassidy Leigh BREEDT
South African
STCW – RYA Powerboat II - Food Safety Level & Hygien II
Superyacht Stewardess Course
English speaking

Cassidy first worked for 3 years in a travel agency in Cape Town as a travel consultant.
During the lockdown in 2020, after being laid off, she created her yoga brand.
In 2021 she worked in the hotel industry while developing her yoga brand in her spare time.
In 2022, she worked as a stewardess on power boats such as M/Y Ocean Princess, M/Y C'est La Vie & M/Y Elegant 007. She did really enjoy these few months of experience in the charter business, thus it is with real enthusiasm that she joins Christina Too team and is looking foarward welcoming her next guests.


DECKHAND - Stephan de LANGE
South African
STCW – Eng1 medical – Powerboat II – PWC Instructor's license - Tender operator
US B1/B2
English speaking

Stephan really enjoyed working as a deckhand on a private or charter yachts M/Y like MY Sea Dreams, MY Broadwater, MY Lady Elane, MY Galilee, or M/Y Sherpa and is now looking forward to welcoming new guests. Very energic, he has a great interest in watersports such as surfing, diving and fishing.
He has also lots of experience with land/water photography as well as drone.


Start date: Dec 16, 2023, End date: Dec 23, 2023 - Booked: St Martin to St Martin
Start date: Dec 28, 2023, End date: Jan 07, 2024 - Booked: St Martin to St Martin
Start date: Jun 09, 2024, End date: Jun 16, 2024 - Hold: St Martin to St Martin