Summer location
Greece
Winter location
Greece
SLEEPS 6 GUESTS.

She comprises of 3 Cabins, (1 Master Cabin with en suite facilities, 1 Double Cabin and 1 Twin Cabin that can convert to a queen bed – sharing 1 WC facility), and 2 Crew Cabins.
Price Details
WEEKLY CHARTERS:
* Low Season: 12.600 Euros from April 1 to May 31 & September 1 to November 30
* High Season: 14.000 Euros from June 1-August 31

* Above prices are NET of 24% VAT. The VAT is determined by applicable tax legislation and may be subject to change without prior notice or responsibility on the Broker, the Stakeholder or the Owner. Should any changes in applicable tax legislation take place after the issuance of a charter agreement resulting in changes in total amount(s) due then the difference will be credited or debited accordingly to the Charterer. The Charterer acknowledges that local taxes can change and accepts liability for payment of any increase in taxes legislated by the Government of the country in which he is chartering, including at any time after the contract has been fully executed and prior to disembarkation.

* 35-40% APA to be added to all Weekly Charters Above (35-40% of Charter Hire net of VAT). The Advance Provisioning Allowance (APA) is designed to cover the operating expenses of a charter such as, fuel (for the yacht, her tenders and motorized water toys), food, drinks, land services, electronic communications, canal fees, harbor dues, local taxes and marina fees outside Greek waters, or private marinas.

* APA is prepaid by the client to the Yacht representative prior to the start of the charter. The yacht will be fully fueled and provisioned when the clients step on board. If, during the charter, the expenditure exceeds the sum already paid, additional cash funds will be required at once. All outstanding bills should be settled in cash before final disembarkation. Of course, any remaining credit balance at the end of the charter will be reimbursed to the client in full. Should the refund be done via bank transfer any bank charges will be deducted from the APA amount.

DAILY CHARTERS:
* Low Season: Starting from 2.550 Euros (24% VAT INCLUDED) - April 1-May 31 & September 1-November 30
* High Season: Starting from 2.775 Euros (24% VAT INCLUDED) - June 1-August 31

* Daily Charters include: Snacks (seasonal fruit platter, a variety of sandwiches, chips, nuts, dips) & beverages (water, soft drinks, beer & 1 bottle of premium Greek white wine per 4 guests on board)
* Not included in Daily Charter Pricing: Fuel depending on selected itinerary

Plus Expenses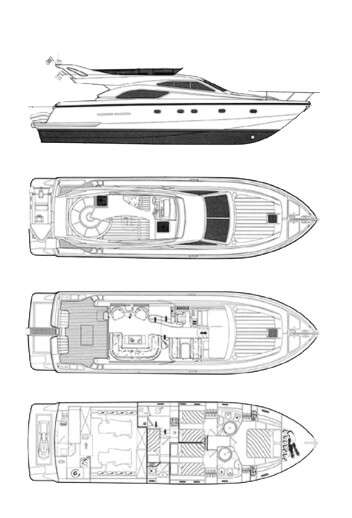 Toys:
Other Water Toys and certain Gym Equipment are available with Rental Daily Agreement, please feel free to contact us for details and offer.

Extra Water toy on board (Additional Extra Charge payable in Hand at Embarkation:
- Sea Bob: 350 Euro per day, discounted to 300 Euro per day from 4 days and over
- Stand-up Paddle Board : 25 Euro Per Day
- Fishing Gear Available upon Request
- Floating Platform (10 persons) - Upon Request
- Jet Ski Sea Doo Spark Trixx 2-seater 80HP (Year 2021):
800 Euro per day / 700 Euro for two hours of rental / 350 Euro for 1 hour rental
FEE WAIVED from 4 Days and over
- Tender Pooling for Water Sports: waived for multi-day charters

For Any Extra liquor:
- Upon request (a list of available beverages is sent or online direct link order)

Should an invoice be required, VAT of 24% is to be added to the above rental fees.
Entertainment:
WIFI Available Upon Request
BBQ Available Upon Request - Based on Availability
Olivia Toiletries by Papoutsanis
Microwave
Grill
Stovetop
Toaster
Coffee Maker


Thodoris Anagnostou
Thodoris is a Greek experienced captain with more than 25 years at sea. He acquired his diploma from the Greek Port Authorities. He strives to continue his family tradition which is connected to the emerald Cycladic waters and goes on from generation to generation of Captains.


Start date: Jun 11, 2024, End date: Jun 15, 2024 - Booked: Mykonos, Greece to Paros, Greece
Start date: Jul 02, 2024, End date: Jul 02, 2024 - Booked: Mykonos, Greece to Mykonos, Greece
Start date: Jul 04, 2024, End date: Jul 04, 2024 - Booked: Mykonos, Greece to Santorini, Greece