Summer location
Greece, Turkey
Winter location
Greece, Turkey
Alexia AV Cruising
One Master Suite with king size bed

One VIP Suite with queen size bed

Two Twin Staterooms, each with one pullman berth



All accommodation are with ensuite facilities and are located on the lower deck
Price Details
High Season July/August
Low Season all other months
Plus Expenses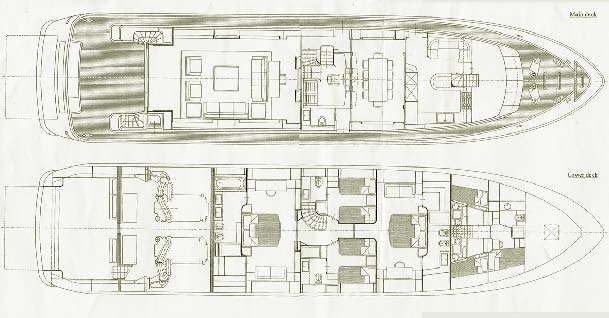 Captain / Grigorios Tsomakas
Nationality: Greek

Captain Gregory was born in 1985. He graduated from the National Marine Academy of Kimi and holds a Captain Class A diploma. Captain Gregory joined the luxury yachting industry in 2009 with experience both on private and charter yachts, his previous yachts include Martina (Falcon 31m), Illusion (Baglietto 43m), Oceane II (CRN 30m), PLG (Azimut 35m) and Dauntless (KMV 37m). His passion for travelling and for the sea, weather prediction, as well as knowledge of many unique places and destinations, are a great asset! Additionally, his professionalism, great attention to detail, problem-solving, management & team leadership skills make Gregory an excellent Captain ensuring a safe charter for all guests onboard. He speaks fluent English and Greek and during his free time, he enjoys scuba diving, fishing, and water sports.


Chief Engineer / Christos Chalkiopoulos
Nationality: Greek

Chief Engineer Christos completed his education at the Merchant Marine Academy of Aspropyrgos. In 2003 he started off gaining experience as an Apprentice Engineer onboard cargo, passenger, and tanker vessels before joining the luxury yachting industry. Christos is a versatile and accomplished engineering professional with years of expertise managing marine operations and most importantly, exhibits a strong and firm approach to sustaining and encouraging a safe work environment. He holds all the required certificates including RO/RO – Passenger V2/V2, ship security officer (SSO), First Aid, Firefighting, and Life Saving certificates. He speaks English and Greek and enjoys outdoor activities during his free time.

Chef / Vangelis Papanikas
Nationality: Greek

Chef Vangelis graduated from Queen Margaret University of Edinburgh with a BA in Culinary Arts & Food Service. He has an extensive knowledge of Mediterranean and global cuisine and has been working in between Athens & Paris at 5-star restaurants building extensive knowledge and experience. Vangelis is a very professional, enthusiastic, well-experienced, and innovative Chef and always succeeds in making far-sighted, conscientious, and well-considered decisions collaborating with the team. Reliable, loyal, and trustworthy, Vangelis's creative nature inspires him to constantly learn new things. During his free time, he enjoys experimenting in the kitchen and creating savoury delicacies. Additionally, he is an avid photographer & sailor.

Chief Stewardess / Katerina Maragkaki
Nationality: Greek

Following her high school education, Katerina completed a degree in International and European Studies at the University of Piraeus. Her skill base was developed later after completing her studies in tourism working as a tour leader on daily cruises, receptionist, and waitress at five-star hotels and restaurants before joining the luxury yachting industry. Her vast array of experience in the hospitality industry ensures Katerina delivers only the highest standards of service to all guests onboard M/Y Alexia! Additionally, her experience as a deckhand on sailing boats as well as her organised, communicative nature and excellent knowledge of restaurants and activities in cruising areas make her a key asset to the team! She speaks English fluently.

2nd Stewardess / Nora Pavlaki
Nationality: Greek

Before joining the yachting industry Nora studied Administration and Finance at the Technological Educational Institute of Athens as well as Business Administration. She then gained experience working in the hospitality industry as an animator, professional Latin dancer, dance fitness instructor, bartender, and waitress. Her friendly personality and creative nature, as well as her experience working as an entertainment manager, make her a great asset to the team, always prepared to go the extra mile. Nora looks forward to welcoming her guests onboard and organizing special events during their charter. In her free time, you will find her Latin dancing, at the gym, babysitting, reading books, or travelling! She speaks basic German as well as English and Greek.

Bosun / George Vrentzos
Nationality: Greek

George commenced his career at sea in 1996 onboard private luxury yachts gaining experience and knowledge. He is a hardworking and very dedicated member of the crew, an asset to the team who is always ready to assist! George speaks English and Greek and in his free time enjoys fishing, swimming, and cycling.

Start date: Jul 04, 2024, End date: Jul 14, 2024 - Booked: Athens, Greece to Athens, Greece
Start date: Jul 16, 2024, End date: Jul 25, 2024 - Booked: Athens, Greece to Athens, Greece