Summer location
Greece, Turkey
Winter location
Greece, Turkey
MASTER CABIN

� It is reached from master deck lobby

� Bathroom, shower and Tecma WC

� 2 persons couch

� Cupboard adjacent to couch

� 24" LOWE LCD TV, WAECO CR�80 Fridge

� Make-up table and pouffe

� Curtain, floor and carpet

� TV, DVD , Receiver, Satellite



MASTER BATHROOM AND DRESSING SECTION

� On the front side of the master cabin illumination, drawers and hangers and dressing rooms.

� Each of the are composed by following equipments:

� Tecma WC system Bide

� Lavatory Cupboards and mirror Oval scuttle Aspirator .

� Spot lights

� Curtain

� Pair lavatory

� Mirror, chrome faucet and accessories.

� All furniture made of teak



SHOWERS

� GROHE chrome accessoris

� BCM spot illumination



VIP CABINS

� Queen size bed, bed coat and cushions

� Head lamps

� Drapery and under bed secret illumination

� Secret illuminations behind the chambers on the head side

� CD player Radio and satellite receiver 20� LOWE LCD TV.

� WAECO CR�80 Fridge.

� two pieces bed stands

� Big scuttles

� Hanger type cupboard

� Curtain, floor, and carpet



VIP BATHROOMS

� Tecma wc system

� Lavatory

� Cupboards and mirror

� Shower

� Actionable scuttle

� Scuttle curtain



TWIN CABINS

� two pieces single beds

� Above section of the commode head light

� Drapery secret illumination

� Commode

� Wide actionable scuttle

� hanger type closet

� CD player radio and satellite receiver LCD TV.

� Cupboard under the beds

� Curtain, floor and carpet



TWIN BATHROOMS

� Tecma WC system

� Lavatory

� Cupboards and mirror

� Shower

� Wide actionable scuttle

� Scuttle curtain
Price Details
July & August : 56000 EUR/week MYBA Terms
June & September : 49000 EUR/week MYBA Terms
Other periods : 42000 EUR/week MYBA Terms
APA 30%
Plus Expenses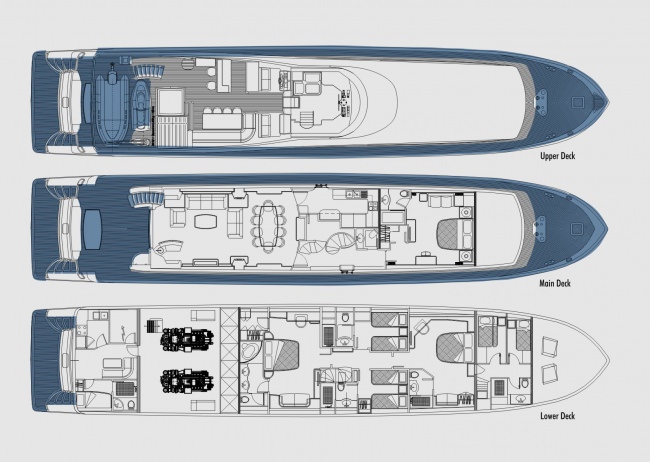 Toys:
- 4.8 m Evinrude Joker Boat 90Hp (2012)
- Jet-ski
- 2 * Waterski
- Ringo
- Banana
- Canoe
- Snorkeling Equipment
- Fishing Equipment
Entertainment:
Salon and home cinema BOSE lifestyle 28 series III 42" LG Plasma TV (Full HD)
- 3 pieces Master cabin LOWE 24 LCD TV
- 3 pieces Master cabin, 2 units guest cabin, 3 pieces personnel cabin and totally 8 pieces PIONEER HED P49001B
Radio CD player,
- 3 units master cabins DVD,
- 12 pieces satellite receiver, (Next brand)
1 piece Rear pool LOWE 24 LCD TV
- 4 pieces loudspeaker, in the rear pool chamber connected to stereo system working from independent remote sound control
- 4 pieces loudspeaker, in the fly bridge saloon connected to stereo system working by separate sound command

MASTER DECK AND POOL
15 mm. thick teak ground
Over paramphet stainless steel U shape handle teak ledger boat
On the both section of the upper construction and on the ceiling of rear pool peripheral deck illumination
Water pathway
On the upper section buried Fire cupboard. Chrome roller.
Over the surface of upper section 18 mm Temper frameless glass is replaced.
On the upper section to machine chamber, to master deck corridor and to the kitchen lying three entrance gates.
On the both sections of the upper part fuel and water filling moulds.
Stainless steel frame reinforced glass made saloon gate
On the flag part of the pool one cupboard. Lavatory in the cupboard, fridge.
Single piece, teak floor, banister and decoratively illuminated fly bridge ladder
Fixed two stainless steel chunk 8 persons teak table, 4 pieces mat armchair or pliable chair, on the rear cushion sitting group
Electro hydraulic teak floor and stainless steel frame pasarella (OPACMARE)
Stainless steel and teak manual swimming ladders
Teak coated swimming platform
For emergent circumstances manual Personnel rear entrance gate.
On the rear mirror stainless steel yacht name
On the rear, warm, cool and Automatic cable roll
On the head and rear pool fire extinguish hose and water pathway
Fire extinguish commands
In a banister rear pasteralla, rear section personnel entrance gate
Stainless steel rear pool entrance gate
Along the ladder lying down to swimming pool platform stainless steel handle bars
For the discharge of contaminated water land connection
Waterproof Aluminum gate chain set.
Chain wash by fire extinguish hose
Fenders and their covers ( Poly form )
On the front section of upper section wide sun bath seat
For master deck wash hose connection
Fire extinguish hose
For front glass three pieces electricity windscreen wiper Speich brand
For windshield glass black color coating
Communication:
FLYBRIDGE
E120 Display 12,1" indicator 2 units
RAY240 EU 2 ND STATION 1 unit
ST8002+CONTROL UNIT 1 unit
Seatalk Joysteak 1 unit
Intercom 1 unit
ST 60 Grahic display 2 units
ST 60 Wind display 1 units
WHEELHOUSE
G150 15" Display 2 units
Remote station 1 unit
RS 125 GPS 1 unit
ST 60 Graphic display 1 unit
4 KW open arry Aerial 1 unit
25 M radomel cable 1 unit
ST8002+CONTROL UNIT 1 unit
Seatalk Joysteak 1 unit
ST 60 Tridata display 1 unit
Ray 430 Hailer 2 units
RAY240 EU 1 unit
Ray 54E VHF 1 unit
ST 60 Wind system 1 unit
Navtex Furuno NX 300 1 unit
EPIRB 1 unit
SART 1 unit
STV 60 sattelite 1 unit
Receiver 12 unit
Multiswitch 1 unit
S3G COREPACK 12/24V-SEE NOTES 1 unit
Swither 1 unit
For rail 240 2nd station 10 meter cable 2 units
DSM 300 1 unit
600 watt bronze Tx 1 unit
Bronze Transducer for depth 1 unit
Radio aerial 2 meter 2 unit
CCTV box 1 unit
Camera 3 units
Rail marine AIS 1 unit
Hailer Horn 1 unit
Ray101E VHF 1 unit
Navionics map (Marmara, Aegean Mediterranean, Coastal Region of Turkey) 1 unit
Captain : Eray BOZKURT
Turkish national, born in 1990 . He speaks good level of English. He finished Maritime High School and started working on charter yachts after graduation. He worked on M/S Carmina for 3 years and his following experince was M/Y Merve for 2 years (2010 May-2012 December ) as a deckhand then he done army duty. He started again M/Y Merve in September 2013 and since then he is on board. He has good coordination with the rest of the crew.

Chef : Sevket Murat GULMAN
He was born in 1970, Turkish. Chef Sevket worked on M/S Dragonfly for 7 years and previous experience includes working for a Turkish businessman as his personal chef. He is a master of Turkish, Italian and Mediterranean cousine.

Hostess : Pinar ILERDE
She was born in Istanbul in 1985. She graduated from Fethiye High School. Worked at hotels before she started working on S/Y Zelda. She joined Merve on February 2013. Speaks English.

Housekeeper : Fatma ALTUN
She was born in Istanbul in 1981. She graduated from high school. She previously worked at hotels and decided to experience yachting. She speaks elementary English.

Deckhand : Zeki OZTURK
Turkish national, born in 1969, married. He has been working on yachts since 1997. He can speak English. Zeki works hard and willingly to keep the yacht well-kept and the toys in good condition. Zeki and Captain Ali have done many charters in Turkish coastline and Greece.

Deckhand will be appointed.