Summer location
Greece, Turkey
Winter location
Greece, Turkey
Dragon
1 Master Suite on main deck

1 Master Suite on lower deck

2 VIP Suites on lower deck

2 Twin cabins with 1 pullman berth each on lower deck
Price Details
High Season July/August
Low Season all other months

Plus Expenses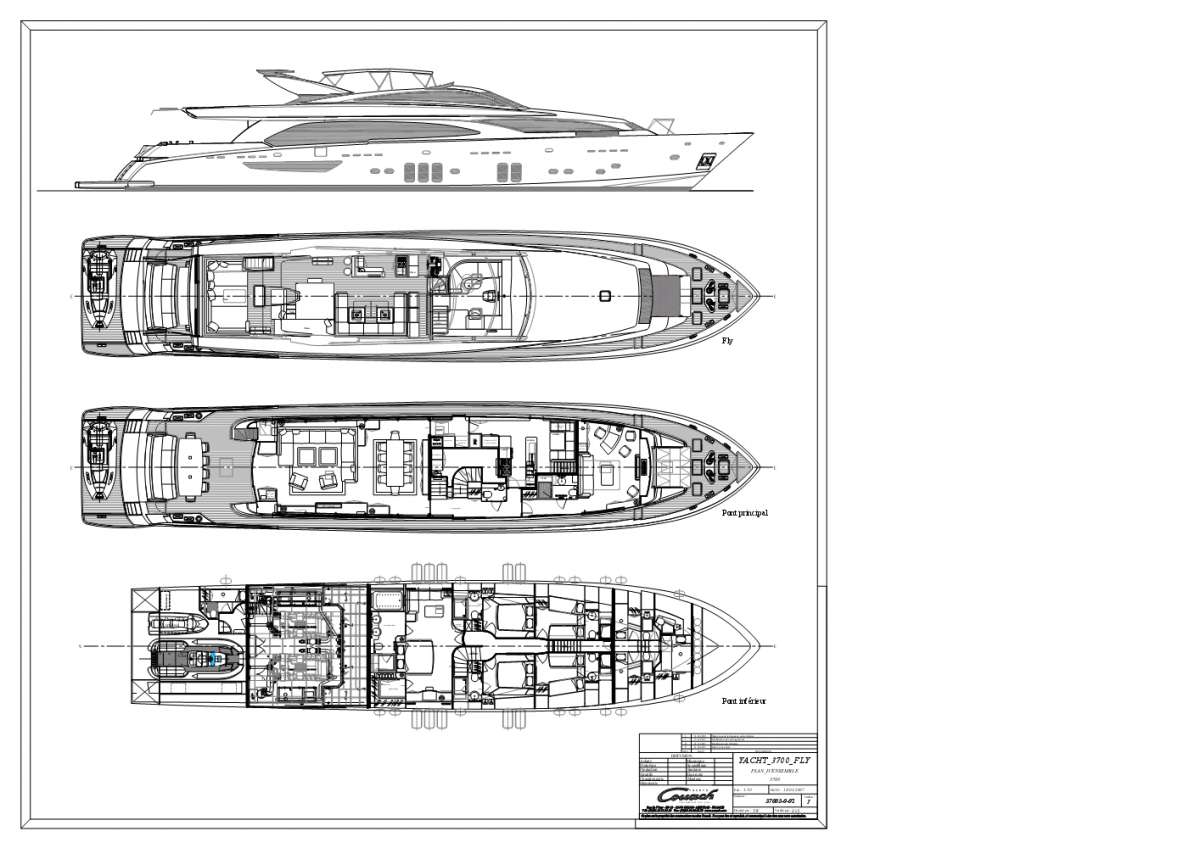 Toys:
Manufacturer Model Engine
1 x Novurania Equator 540 LP inflatable tender Volvo Penta D3-190 hp
1 x Novurania 430 DL O/B Yamaha F70 – 70 hp
1 x Sea Doo Spark Trixx (3-seater) - 90 hp

Water toys:

1 x Seabob F5s
2 x water skis (adult)
1 x water skis (Teenager's/Women's)
1 X water skis (children)
1 x Pro monoski
1 x Wakeboard
2 x Paddleboards
1 x Jobe Sea Esta 3-seater sofa tube
1 x Jobe Laid back Lounge 4-seater relax
1 x Jobe Chaser 3-seater banana
1 x Jobe Sonar 4-seater sofa tube
1 x Spitfire Conelly Tube
1 x Wakesurf Conelly

Entertainment:
Plasma / Flat screen 50' . Tv's with dvd in master cabin , Tv's with dvd/vcr/hi-fi in all other cabins , Surround-sound systems. Jacuzzi at flybridge

Communication:
latest state of the art communication facilities. Internet/e-mail services
Dragon's crew have been brought together for their "can do" attitude and their genuine enthusiasm for assuring that guests have a memorable experience onboard. They have a high sense of responsibility and safety awareness and participate in ongoing training programmes aboard the yacht. The varied cultures and backgrounds of the crew have resulted in a dedicated team, which provides an exciting and friendly atmosphere. The crew of the luxury motor yacht DRAGON looks forward to welcoming you onboard and offering you an unsurpassed experience with the highest standards.

Nick Kalimeris – Captain
Greek - Aged 40 - Speaks English

Captain Nick was born and lives in Athens. He has 21 years of experience in the marine industry from passenger ships to motor yachts. He joined the yachting industry in 2007 and has extensively cruised the Eastern and Western Mediterranean. Nick graduated from the Merchant Marine Academy of Aspropyrgos and with all the required marine licenses and certifications under his belt, has certainly made the most of his career at sea. He brings a disciplined approach to each and every task. As the captain, he takes great pride in creating tailor-made experiences for each charter. His love for travelling provides Nick with the passion to research and organise all kinds of activities for the enhancement of the experience onboard.
Captain Nick has assembled an experienced and efficient team that is now working alongside him and will take every effort in ensuring your charter runs smoothly and efficiently to always guarantee the perfect trip!

George Geranios - Chief Engineer
Greek - Aged 48 - Speaks English

George lives in Athens. He graduated as an engineer from the Merchant Marine Academy of Aspropyrgos. George has 29 years of experience in the marine industry ranging from unlimited tonnage tankers to passenger ships and he has all required marine licenses and certifications. He first joined the yachting industry in 2009. He brings a great deal of experience and knowledge to ensure the smooth operation of the yacht and her services. He has completed all the required safety training and is available 24 hours a day to deal with engineering issues.

Yannis Linas – Chef
Greek - Aged 39 - Speaks English

Yannis was born in Athens in 1984. He has 23 years of experience as a chef and is a member of the "World Chef's Association." He is a judge at chef competitions and a culinary professor. During his long career, he has prepared gourmet meals for very important guests in hotels, villas, and mega yachts. He is very passionate about his work and loves to cook Mediterranean, Asian, French, Italian, and Mexican recipes as well as desserts and birthday cakes. He has certificates for HACCP ISO 22000 as well as having attended seminars on Mediterranean and Chinese cuisine.

Eva Boyiatzi - Chief Stewardess
Greek - Aged 44 - Speaks English

Eva was born in Piraeus (the main port in Greece) in 1978. She has 8 years of experience in the yachting industry. Throughout that time period, she has enjoyed travelling to various parts of the world accruing sea miles and an abundance of experience in hospitality and service. Eva has extensive experience on charter vessels from 37 to 50 meters. She is a very dedicated and efficient chief stewardess and has a professional and warm manner with all her guests. Eva has silver service skills as well as holding a G.U.E.S.T 1 Diploma which includes silver service, wine bartending, and mixology courses. In addition, Eva has a power boat license and a Chief Stewardess license. She has a creative and elegant style when it comes to table decoration and event planning for the guests. Eva enjoys challenges and takes great pride in providing excellent service to all guests onboard!

Maria Kritikou – Stewardess
Greek - Aged 26 - Speaks English
 
Maria grew up and lives in the Southern suburbs of Athens. She studied hotel management and has worked at various hotels and fine-dining restaurants, but her love for the ocean introduced her to yachting. Ever since she has been working on luxury charter yachts and never looked back! She holds a certificate of Advanced Life Saving, Sea Survival, and Fire Fighting Appliances as well as a G.U.E.S.T 1 diploma which includes silver service, wine bartending, and mixology courses. She is a hardworking, positive individual who always approaches her guests with a welcoming smile. Eva is experienced in cocktail making, customer service as well as housekeeping and always goes the extra mile to deliver the highest standards. She loves new adventures and meeting new people.

Andrei Pricochi – Bosun
Moldovan - Aged 37 - Speaks Romanian, Russian, Greek, English

Andrei was born in Moldova and lives in Athens. He studied International Economic Relations at Moldova State University. Andrei entered the yachting industry in 2009 and holds a skipper license, sailor license as well as a power boat license. When he is transporting guests on the tender, clients can feel confident and safe in the knowledge that they are in the most capable hands. He aims to provide an enjoyable and friendly time onboard. Andrei is hard-working and extremely polite.



Start date: Jun 05, 2023, End date: Jun 12, 2023 - Booked: Athens, Greece to Athens, Greece
Start date: Jun 15, 2023, End date: Jun 24, 2023 - Booked: Athens, Greece to Athens, Greece
Start date: Jun 30, 2023, End date: Jul 06, 2023 - Booked: Athens, Greece to Athens, Greece
Start date: Jul 15, 2023, End date: Jul 22, 2023 - Booked: Athens, Greece to Athens, Greece
Start date: Jul 24, 2023, End date: Aug 02, 2023 - Booked: Athens, Greece to Athens, Greece
Start date: Aug 05, 2023, End date: Aug 12, 2023 - Booked: Athens, Greece to Athens, Greece
Start date: Aug 21, 2023, End date: Aug 30, 2023 - Booked: Athens to Athens
Start date: Sep 01, 2023, End date: Sep 11, 2023 - Booked: Athens, Greece to Athens, Greece
Start date: Sep 12, 2023, End date: Sep 20, 2023 - Booked: Athens, Greece to Athens, Greece