Summer location
Croatia
Winter location
Croatia
8 Double Cabins: Cabin 7.50 m2 with double bed
Price Details
The above prices includes: Accommodation on the yacht, 6 crew members, wages and food for the crew, Croatian
VAT, fuel for main engines up to 4 hours cruising per day, complete linen and towels, yacht insurance, service on board, sojourn taxes, use of leisure equipment on board, tender 5.30 m YAMAHA XL750 100 HP, PlayStation 4, WiFi, port and marina fees (not ACI marina).

FOOD OPTIONS:
Half board (breakfast + lunch): 450 Eur per person per week
Full board (breakfast + lunch+ dinner): 600 Eur per person per week
Extra meal (dinner - three courses) is optional 35 Eur per meal per person
Food discount for childeren:
Children 0-2 years free of charge, Children 2-12 years 50% discount.

DRINKS/BEVERAGES OPTIONS:
Drinks/beverages to be taken at the yacht bar and paid according to consumation.
All inclusive domestic drink package of 220 Euros per person includes: Croatian quality wine, domestic beer, spirits, soft drinks, natural and mineral water, milk, tea and coffee. Foreign liquors and wines are not included in this package.
All inclusive non alcoholic drink package: 100 Eur per person per week.
Drinks and beverages completely supplied by clients - corkage fee: 700 Euros per week.
Plus Expenses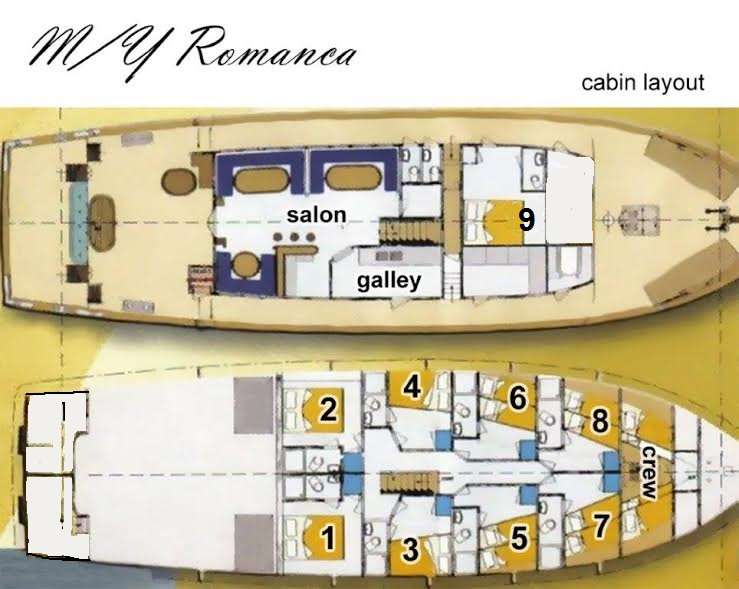 Entertainment:
Kitchen galley features all necessary equipment - including ovens with stainless steel stove, refrigerator, freezer, ice machine, BBQ. One of the most interesting features of this boat is the fact that the crew can do their duties almost completely separated from the clients, so you can have your privacy if that is your preference.
MARIN MATULOVIĆ - CAPTAIN
Marin is the Captain of Romanca. He was born in Split on the 8th of May in 1983. After he finished high school, he started working in a company building yachts. For six years, he worked in the construction of vessels.
He has been a part of Romanca for the past five years. He speaks English. In his free time, he enjoys playing football and is an avid diver, both with diving gear and without. He loves everything related to the sea and working on Romanca; he spends most of the year working on improving the ship.

IVAN LONČAR - FIRST OFFICER
Ivan was born on 14 May 1993 in Split, where he grew up and graduated from Maritime High School. He worked in construction for a while, but after obtaining the necessary maritime licenses and certificates, he decidedly embarked on his career at sea. After working on supply ships for some time, he joined Romanca in 2017.
Ivan brings a disciplined approach to every task. Whether on watch or navigation or transporting guests on a tender, clients can feel confident and secure knowing they are in capable hands. Its goal is to provide a pleasant and friendly time on the Gulet Romanca. He is also always willing to help and assist his colleagues.
He speaks English fluently and spends most of his free time in sports activities and hiking.

MARIN RELJIĆ - DECKHAND
Marin was born on March 20, 2004, in Split, where he attended Maritime High School. He also completed additional maritime courses and obtained other certifications.
An interesting fact about him is that he likes to spend his free time hiking and is an expert on Dalmatian peaks. By moving into the boating industry, he was allowed to develop and sharpen his skills in seafaring and taking care of the safety of the
ship and everyone on board. He is a valuable team member; with motivation , he is always there to help with a big smile.

IVANA STRUJIĆ - CHEF
Ivana was born in Split, where she graduated from high school of economics, but her love for cooking led her to the world of gastronomy. She followed her passion for cooking and went to school and courses to become a chef. Over the years, she built up her experience cooking for fine restaurants, hotels, private residences, and ships.
She has a flair for various cuisines, but gradually she became an expert in traditional and home cooking. Ivana always aims to please and goes beyond that; she is always ready to come up with contemporary and challenging dishes so that Romanca guests have the most pleasant culinary experience while on board.

MARIO KOSOR - BARTENDER
Mario was born in 1982 in the German town of Borken and completed his education in Split. After secondary vocational and technical school, he successfully graduated from the Polytechnic in Split, majoring in telecommunications. In the meantime, he additionally attended various courses and worked as an IT support (maintenance of computer equipment) to further improve his IT knowledge.
For some time, he worked in hotels and restaurants as a waiter, and as a result, he became very successful in working with people by offering excellent service. He will do his best to make his guests feel comfortable during their vacation. He is excited to become a member of the Romanca team, and his colleagues describe him as kind, friendly, and a hard worker.
Of foreign languages, he is best at English in foreign languages, and he likes to spend his free time playing tennis and, in the kitchen, trying out various gastronomic recipes.
Start date: Sep 23, 2023, End date: Sep 29, 2023 - Booked: Dubrovnik, Croatia to Split / TBC
Start date: Jun 08, 2024, End date: Jun 14, 2024 - Booked: Split / TBC to Split / TBC
Start date: Jun 15, 2024, End date: Jun 21, 2024 - Booked: Split / TBC to Split / TBC
Start date: Jun 22, 2024, End date: Jun 28, 2024 - Hold: Split / TBC to Split / TBC
Start date: Jun 29, 2024, End date: Jul 05, 2024 - Booked: Split / TBC to Split / TBC
Start date: Jul 20, 2024, End date: Jul 26, 2024 - Booked: Split / TBC to Split / TBC
Start date: Jul 27, 2024, End date: Aug 02, 2024 - Booked: Split / TBC to Split / TBC
Start date: Aug 17, 2024, End date: Aug 23, 2024 - Booked: Split, Croatia* to Split, Croatia*
Start date: Aug 24, 2024, End date: Aug 30, 2024 - Booked: Split / TBC to Split / TBC
Start date: Aug 31, 2024, End date: Sep 09, 2024 - Booked: Split / TBC to Split / TBC