Summer location
Greece
Winter location
Greece
A flybridge with breathtaking dimensions... the largest in its category! Achieving the perfect blend of space and intimacy, S/Y ASTORIA will enchant you and inspire sailing experiences that bring friends or family together for unforgettable moments.

S/Y ASTORIA has been carefully designed to create spaces that cater from the most lively social gathering to the most relaxing moments of solitude. Its expansive 27,5m2 cockpit, decadent foredeck with modular sunbathing stations, its 30m2 flybridge, and its generous cabins all provide opportunities to engage or reflect in dynamic or more peaceful settings. Inspiring social unity with its generous and refined living areas, with her galley up layout her large main saloon area with access both to the foredeck and aft deck is the perfect yacht.

S/Y ASTORIA embodies the French way of life that celebrates the philosophy of carpe diem. She has a large master cabin, four queen bed cabins all with private bathrooms.

Enjoy all the pleasures of sailing and have an amazing time onboard S/Y ASTORIA.
One master cabin with en suite bathroom and 4 queen bed cabins with private bathrooms
Price Details
Rates 2023
High Season (July/August): EURO 35000 + VAT + APA of 20%
Mid Season (June and September): EURO 30000 + VAT + APA 20%
Low Season (rest months): EURO 24900 + VAT + APA 20%
VAT 12%

Rates 2024
High Season (July/August): EURO 35000 + VAT + APA of 20%
Mid Season (June and September): EURO 30000 + VAT + APA 20%
Low Season (rest months): EURO 24900 + VAT + APA 20%
VAT 12%

WiFi 80EUR

If the yacht is chartered from a location other than the home port, the charter is subject to a relocation fee.
Relocation Fees:
Catamarans 55ft and up: Cyclades (1500 EUR) *
* Please note due to logistics, charters with embarkation/disembarkation in Santorini will be charged one extra day.
Plus Expenses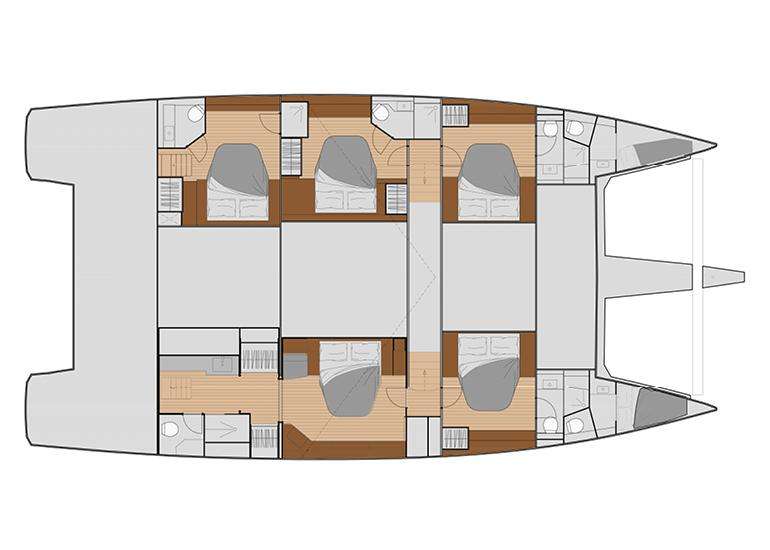 Toys:
T/T Cayman One 3.65 for 6 pax, 60 HP
Paddleboard (1)
Monoski (1)
Kayak 2 pax (1)
Wakeboard (1)
Waterski adults (1)
Fishing gear (2)
Snorkeling equipment (5)
Seabob (2)
Inflatable tubes (1)
Inflatable Couch (1)
Entertainment:
Audio & Video pack saloon ( TV 50") TV system PAL & SECA
Kenyon electric grill in the kitchen module of the cockpit
Hot/ Cold water on 1 deck shower
Teak cockpit table extension
2 cockpit fridges 65L
Icemaker (cockpit)
Fridge 65L on flying bridge
Combination locking safe
Flybridge HiFi + 4 speakers
Washing machine/ dryer (light laundry)
Wine fridge for 23 bottles
Safety equipment
Hairdryers (5)
Iron (1)
Pillows for each bed (4)
Shower gel, shampoo, conditioner, body milk, hand soap
Fans for each cabin
- 2 TV's (1 saloon, 1 master cabin)
Filtration System for Purified Water (mineral & sparkling water)
Communication:
Wi-Fi
Printer

Captain: Dimitar Stoyanov

Captain Dimitar was born in 1970 and he is from Bulgaria. He has an extensive experience on various vessels. In addition, he has delivered various sailing and power charter boats up to 25 meters in Greece, Mediterranean sea and Atlantic Ocean. He followed his love for the sea and joined the yachting world. Working as a captain for 8 years, he has had years of experience in yacht services management.
He is a passionate Captain with the sea and he is happy to welcome guests onboard Astoria and offer an exceptional charter experience in the gorgeous Greek islands.

Languages: Bulgarian (native), English, Greek & Russian (conversational)

Chef: Hristo Nishev

Hristo, from Bulgaria, has a love of foods and creating spectacular dishes. After graduating with honors as an engineer in 2008 from the Professional School Penyo Penev, he turned his attention to cooking and becoming a chef. He began work in restaurants throughout Plovdiv and other areas of Bulgaria. From 2006- 2008, he attended Protur 95 for courses in Deputy Chef, Chef, and Head Chef; then in 2017, attended a Carving Course and Baker and Confectioner at the French Masters. Hristo loves various cultural cuisines – Greek, Spanish, Italian- and enjoys preparing themed dinners. He appreciates properly paired drinks with beautiful food that brings family and friends together. Hristo is excited to join Astoria and create an incredible charter experience for his guests. Outside of the kitchen (or galley), he enjoys cycling.

Languages: Bulgarian (native), English (fluent)

Deckhand/ Steward: Mario Stoyanov Trifonov

Even though Mario has only recently begun his "career" in the yachting industry, he is eager to learn and absorb all he can about the sea. He was born in Bulgaria in 1995 and throughout the years he has worked as a salesperson, security guard, lifeguard, and surf instructor, among other things, demonstrating that he is an outgoing, creative, and adaptable individual. He holds a motor yacht license. Mario is a kind person, very positive, organized, and responsible, and loves to make everyone feel comfortable and safe on board! He speaks Bulgarian, Russian, and English.


Start date: Sep 30, 2023, End date: Oct 07, 2023 - Booked: Mykonos, Greece to Mykonos, Greece
Start date: May 21, 2024, End date: May 28, 2024 - Booked: Athens to Athens
Start date: May 29, 2024, End date: Jun 05, 2024 - Booked: Athens to Athens
Start date: Jun 06, 2024, End date: Jun 13, 2024 - Booked: Athens to Athens
Start date: Jun 14, 2024, End date: Jun 21, 2024 - Hold: Athens to Athens
Start date: Jun 22, 2024, End date: Jul 01, 2024 - Booked: Athens to Athens
Start date: Sep 01, 2024, End date: Sep 08, 2024 - Booked: Athens to Athens
Start date: Sep 17, 2024, End date: Sep 26, 2024 - Booked: Kos to Kos