Summer location
W. Med - Spain/Balearics
Winter location
W. Med - Spain/Balearics
1 master cabin with the private balcony feature, 2 double and 1 twin cabin, galley is forward in the port hull with crew accommodation forward of it.
Price Details
Weekly Summer 2024 Rates (30% APA)

€66,000 - High Season (July and August)
€60,000 - Mid Season (June and September)
€56,000 - Low Season (May and October, November)

Earlybird is staying in the Mediterranean Winter 2023/24
72 hour turnaround required

Spanish VAT 21%

Low Season Minimum booking 5 days, divide weekly rate by 6 and multiply by number of nights.

Weekly Winter 2024/25 Rates (30% APA)
€72,600 p/w Christmas & New Year, (12 day minimum €130,625.00)
€66,000 December - April
Plus Expenses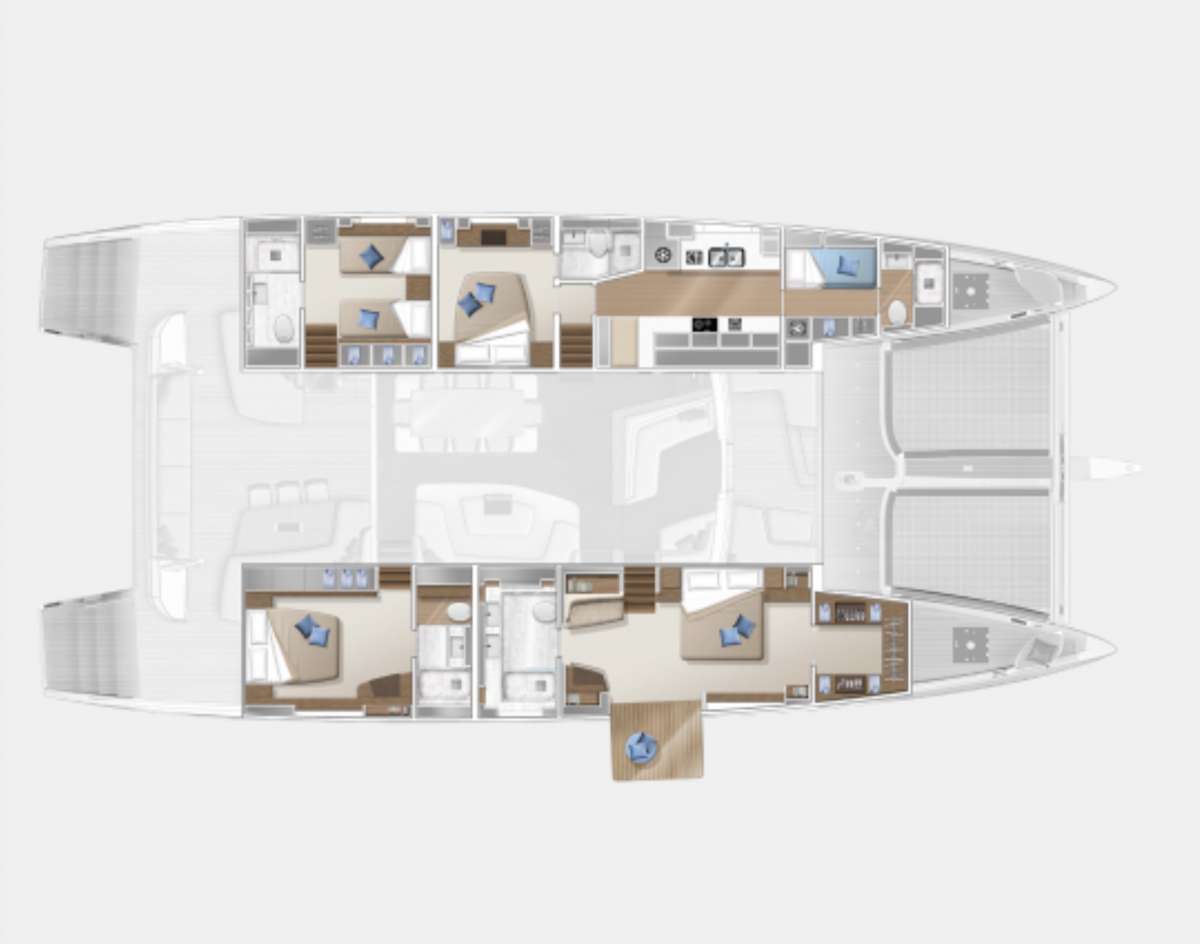 Toys:
- under water scooters x 2
- Electric foiling Surfboard x 1
- Electric kick board x 2
- Inflatable SUP with windsurf conversion x 2
- Folding Bikes x 2

Adriaan Coetzee - Captain



Aj has been sailing for 7 years, the spirit of adventure driving him to explore stunning locations around the world. His fun and outgoing personality will surely create many laughs during your stay aboard Earlybird. If you enjoy diving, water-skiing or any other water sports, Aj will be more than happy to assist you whatever the time of day. He excels in all water sports, especially water skiing which he started at the age of 7! Aj also worked as a sailing instructor, where his passion for the ocean and sailing was born.

Joshua Addlesee - Chef


Joshua joined Earlybird in the Summer of 2023, having spent 9 years training and working on land as a chef, he's decided to bring his experience which includes 4 years in Michelin Star restaurants to Earlybird. Having trained across the different aspects in the kitchen, Joshua brings a new creative flare to Earlybird, he's also keen to pick up some deck skills too. 



Jordan Webb - Deckhand

Jordan is an extremely hardworking and dedicated crew member with a keen eye for detail. Having previously spent a season in the Caribbean as a deckhand and thriving in the position, he is eager to get back on the water and provide guests with the best service possible. He is friendly and personable, with a positive and can-do attitude. Having recently worked as a barman, Jordan not only looks after the vessels exterior, but is a confident cocktail and drink maker with a flare for service. He also has a high level of experience in water sport activities, as well as being a RYA qualified Personal Watercraft Instructor.


Sian Seymour - Stewardess

Sian has a passion for the ocean and people. She has sailed around the Maldives and has participated in research expeditions in the Atlantic and Southern Oceans. With salt water running through her veins, she is the happiest surrounded by the sea and enjoys sharing this love for the ocean with guests. She also enjoys the creative side of her job, including table setting, cocktail garnishing as well as napkins and towel folding. Always smiling, she will do everything she can to make sure guests have the most memorable experience aboard Earlybird.



Start date: Dec 01, 2023, End date: Mar 31, 2024 - Unavailable: Cannet en Rossillion, France to Cannet en Rossillion, France