Hydra, maintains its own peace and rhythm, not to mention architectural style. It is probably the only place where not only cars, but motorbikes and bicycles are prohibited. Hydra, with its fresh ocean air and sparkling blue waters is the ideal place for vacation, for it combiness the beauty and peace of a unique scenery, with a great selection of night-life for those who so please. With its unique character, the narrow paths and the houses it has a certain charm which attracts many artists.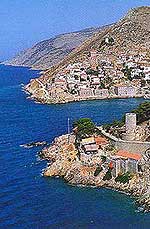 Places To Visit
Mansions
Hydra is famous for its traditional picturesque architecture, where the visitor can enjoy old stone mansions still standing strong. Some are used as public service bureau. The Tompazis mansion had been a School of arts and is now a quest house exclusively for art students. The Sahtouris mansion now shelters the National Merchant Marine Academy, the first Marine Academy in Greece.

The Koudouriotis mansion has been acquired recently by the Greek ministry of Defense and is currently being renovated. Other famous mansion are the Voudouris, the Voulgaris and the Rafalias.

Churches - Monasteries
The nearest church, right in the center of the harbour, is the Metropolis of Hydra, Assumption of the Virgin Mary, distinguished by its tall prominent clock tower, with the church's bells that announce religious events. There are also other churches with beautiful domes supported by marble arcs, like Agios loannis and Ipapanti.The newest church on the island is Agios Konstantinos of Hydra, which is built upon the Saint's old family house.

This is an elaborate church with wooden sculptures and a gold-plated temple. Among the multitude of churches on the island, there are also a number of monasteries and convents, like the monastery of Prophet Elias, and convent of Agia Efpraxia, both lying on the top or mount Eros - 500 meters height. You can make your visit here, either by a lovely one-and-a-half hour hike, or a rnerriorable donkey ride. Other monasteries are Agia Trias (Holy Trinity), and Agios Nikolaos: and convents are Agia Matroni and the convent of Zourva.
PLACES TO MOOR
Hydra Main Harbor – If you want to tie in the main harbor I suggest you get in early, especially on the weekends as it is a favorite for the Greeks. Care must be taken when they are N-NW winds and you should opt for the N mole. Due to the harbor is overcrowded in the summer it is usually for yachts to be three out from the quay. Crossed anchors are a common event so don't be surprised. Water is available on the quay, as well as provisioning.
Mandraki – This bay is located ? of mile E of Hydra. It is a nice bay for a swim There are taverns ashore. The bay is fairly sheltered except to northerly winds. Petassi - There are several small coves in the area that can be used.
Ag. Nikolaos – This is a beautiful bay with nice surroundings and crystal clear water for a swim but can only be used in calm weather.
Nisis Dhokos – A barren island SW end of Hydra. The winds in the channel vary and usually die down. A safe anchorage which is well protected.
Beaches
Kaminia, Molos, Palamida and Bitsi are some of the sandy beaches of Hydra. Hydra is better known for the rocky beaches. Swimming in such waters is a unique experience.

Sports
The island is suitable for all kinds of water-sports.

Night Life
Hydra offers a wide variety of pubs, bars, restaurans and taverns.