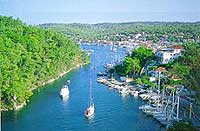 God made Paxi in a man's measure -you can easily sail around the island's perimeter as it is only 10 kilometres long and four kilometres wide. Silver-green olive groves reach down to the foot of the cliffs on the south western coast and sandy beaches surround the capital. Antipaxi is an easy sail, and the beaches at Voutourni or Vrikei invite you to swim. A number of small islands are located near Gaios the capital, with fortresses (Agios Nikolaos), monasteries and phantasmagoria sea caves (Grotto of Ipapantis).
PLACES TO MOOR
Gaios -There is a large quay which stretches from one side of the town to the other. The port can be fairly noisy if you are tied close to the cafes. It offers good shelter and a picturesque port. There is water available at the quay and fuel is available. Most provisioning can be found in town.
Lakka - Anchor in the bay where on convenient. It offers good shelter from the wind and a nice place for a swim. There is a small quay but it is used for the day-tripper boats. You can get water at the quay sometimes. Provisioning is available as well as several tavernas and bars.
Longos – This small harbor is located on the E coast of Paxos. You must moor in the bay as the quay is reserved for the local boats. You can find several tavernas and bars ashore.
Mongonisi – This bay offers the best shelter in Paxos. There is a small quat to moor onto. The bottom offers good holding. There are several tavernas and bars.
PETALAS - This large island offers good shelter from prevailing winds. You can anchor behind the SE corner of the island. There is a cave located above which is home to a pair of vultures.