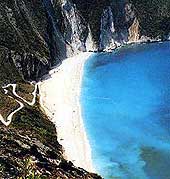 The largest island in the Ionian is Kefalonia. It is a rugged and mountainous island. Kefalonia has the most sunny days in Greece, after Lesvos. Besides from mountains, Kefalonia has small lakes with beautiful scenery.In ancient time it was part of the kingdom of Odysseus and evidence at archaeological sites mentioned by Homer have been found. The ruins of most interest are those at Krani.

The landscape is varied; smiling terraces by the sea contrast with the more arid mountain slopes which nonetheless support clumps of cypresses among the olives. Local specialities include the delicious Robola wine, dishes composed of meat and rice and thyme-flavoured honey. The Cephallonians are reputed to be a spirited people whose patriotism was praised by Byron.
| | |
| --- | --- |
| | |
Beaches
Some of the wonderful beaches on the island can be found in Vinares, Agio Theodoro, Paliostafida, Plati Gialo, Argostoli, Avitho, Ammes, Agia Pelagia, Mirtos, Pessada. and Agios Thomas. Katelios and Scala are the right places to enjoy sitting by the sea and having fresh fish with ouzo at the local taverns.
Night Life
Restaurants can be found all over the island. Night clubs and discos in Viniares, Agio Theodoro and Fanari.
PLACES TO MOOR
Argostoli – Until 1953 Argostoli was ver much like Fiscardo, due to the earthquake the town was rebuilt. Some remains show what the capital was like. You can get water and fuel on the quay, provisions are in an abundance. You can tie on the quay but might opt for the cove on the east side near the entrance but this is recommended only in calm weather.
Lixouri – Across the gulf from Argostoli is Lixouri. The prevailing NW winds can make anchoring uncomfortable. Fuel and water can be obtained.
Fiscardo -- The north east village of the island and the only one that survived during the 1953 earthquakes. Fiskardo is considered as one of the most traditional villages in Europe due to its architecture and all the traditions that it carries. Cosmopolitan surroundings, luxurious shops, beautiful bars and food for all tastes and ages is what Fiskardo has to offer its visitors. The beachside restaurants, tavernas and bars which you will find situated side by side, are decorated with beautifully glowing lit candies which give you the colour of festivity at its best. Walk along the beautiful pathways of the village and witness the Ionian beauty at its best. Take a swim in the ever enchanting beaches of Emblisi, Foki and Andrea limani. Join the hustle and bustle of Fiscardo, a picturesque bay where you can find the best food in the famous "Captain's Bar" that serves the best food in the area.
Poros – A small harbor with winds from the north. Fuel and water can be obtained. If you are the adventurous type a walk to gorge is quite a spectacular site.