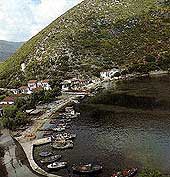 The beautiful, mythical country of Odysseus. Stop for a swim and a tasty meal at the local tavern at southernmost tip of Andri. Keep sailing north-west until you reach the majestic bay of Molos, where Vathi, lthaki's main harbour is located. Kioni and Frikes are worth a visit too, as well as Stavros from where Odysseus is said to have sailed for Troy. Ithaki is located southeast of Kefallonia.

It's a beautiful island with countless small gulfs. The steep west coast contrasts with the eastern shoreline which is less stark and more welcoming. Ithaca is famous as the island of Odysseus and corresponds closely to the descriptions in Homer's Odyssey. Schliemann began his archaeological career on Ithaca in 1860 by digging on what he judged to be the sites described in the Odyssey. Subsequent research by scholars and excavations carried out in 1930 by the British School at Athens have confirmed the Homeric story and identified the places where Odysseus, his father Laertes, his wife Penelope and their son Telemachos lived.
| | |
| --- | --- |
| | |
Beaches
Tsirimbis, Paliokaravo, Aetos and Piso Aetos are some of the beaches on the island.
Sports
The gulf in Frikes and the gulf of Molos are Ideal for windsurfing and sailing.
Night Life
Ithaki is a quiet island. Therefore discos and bars can be found in Vathi. Discos can also be found in Stavro and in Frikes.
PLACES TO MOOR
Frikes – A small harbour which some caution must be taken when entering especially the rocks which are above and below around the islets under Ag. Nikolaos. If there is a strong wind anchorage is not recommended.
Kioni – An attractive bay with whitewashed houses. There are no dangers in entering the bay. There are no water or fuel facilities but you can find provisions as well as tavernas.
Porto Vathi – The main port of Ithaca. Even though most of the buildings are recent (due to the earthquake in 1953) the harbour offers a pleasant atmosphere. Fuel and water are available as well as provisioning. The harbour itself is fairly protected and if there are strong gusts they usually die down by the evening.
Pera Pigadhi - There is a small quay on the islet if there is no room then anchor off just south of the islet. This bay can get a bit rough mid afternoon. The waters here are extremely clear so do miss out on a swim.
Ag Andreou – Is located South of Ithaca. It is deserted here which makes it an ideal spot for a barbecue.
Port Polis – This large bay is located NW of Ithaca. You have the choice of anchoring at the small mole or you can anchor off the beach. When they are southerly winds we do not recommend it.